Greek PM acknowledges defeat in general elections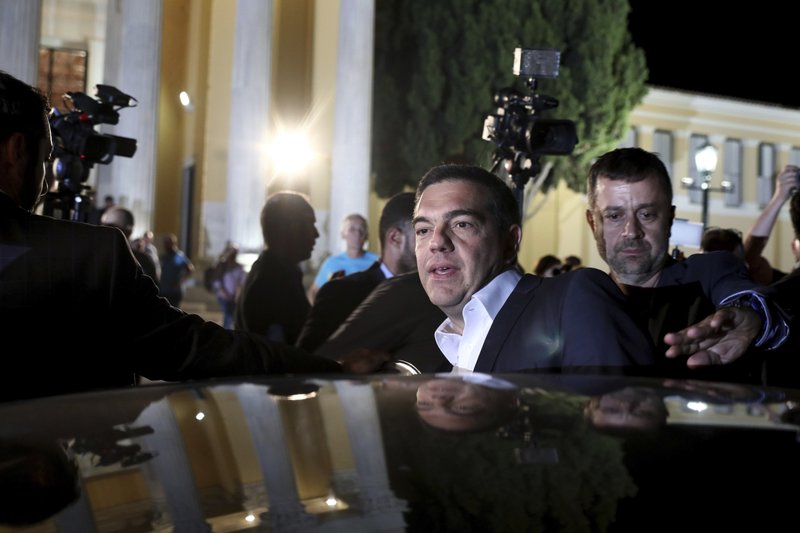 (Photo: AP)
ATHENS, July 7 (Xinhua) -- Greek Prime Minister Alexis Tsipras acknowledged his Radical Left SYRIZA party's defeat to the conservatives in Sunday's general elections, the first to be conducted since Greece emerged from the bailout programs last summer.
"We are handing over to the new government an entirely different Greece compared to the country handed over to us," he said in statements made at Zappeion hall in the center of Athens after the announcement of the estimates based on the first official results by the Interior Ministry.
"Citizens made their choice. Tomorrow I will welcome Mr. Mitsotakis to hand over the Prime Minister's office. We are paying the political cost for difficult decisions we made," Tsipras said during the remarks which were broadcast live on Greek national television ERT.
With 66.6 percent of the votes counted, ND wins 39.6 percent of votes and a clear parliamentary majority, while SYRIZA receives 31.6 percent of the votes.
The final official results are expected to be announced on Monday. Also on Monday Mitsotakis will be sworn in at the Presidential mansion, while the new parliament which will give a confidence vote to his cabinet will open on July 17.
According to the early projections by the Interior Ministry, six parties will most probably enter the new parliament, clearing the three percent threshold needed under Greece's electoral law.
ND will win an outright majority with 158 seats and SYRIZA 86 seats.
In the September 2015 elections SYRIZA had won 36 percent and 145 seats and formed a two-partite ruling coalition, and ND won 28 percent of votes and 75 seats.
A total of 20 parties competed in this Sunday's electoral battle, the third in less than two months.
ND's clear victories in May's European parliament elections and June's local government elections forced Prime Minister Alexis Tsipras to head to early general elections, three months before the expiry of his government's term in office.
A big winner in Sunday's electoral contest was abstention. According to the Interior Ministry's estimates, participation reached 57 percent.
The economy was once again by far the main issue for voters' as they chose their representatives, according to pollsters.
Greece sank in an acute debt crisis in 2009 and signed three harsh bailout programs with international lenders since 2010 to avert default.
The country exited the bailout program last August after having lost a quarter of its GDP. Despite the improvement of financial indexes under SYRIZA's government, which were presented as a great achievement by Tsipras also on Sunday evening, the average Greek household and business are still struggling.
ND has pledged as a priority policies to attract more investments to further boost growth and create more jobs to reduce unemployment rates.