Trump signals deal with Mexico on asylum seekers, incoming government denies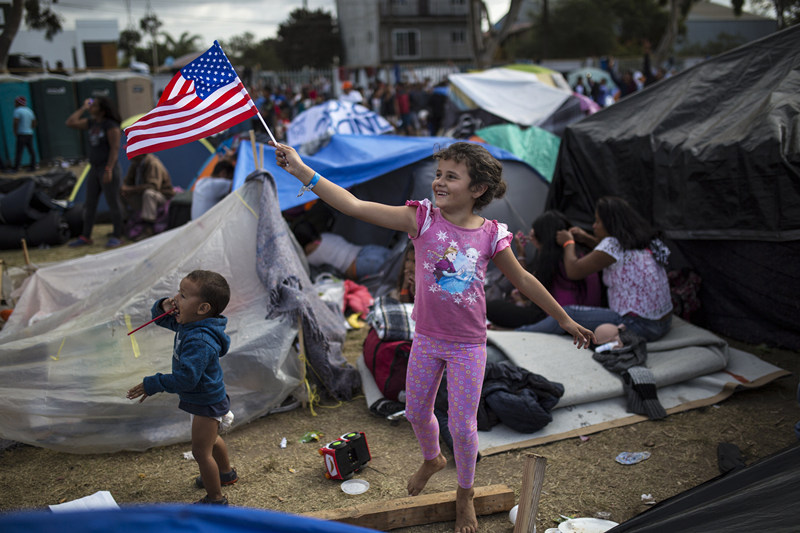 File photo: AP
President Donald Trump said Saturday that migrants seeking asylum in the United States via the southern border would wait in Mexico while their claims move through legal procedures, but the Mexican incoming government denied the two sides had reached any deal.
"Migrants at the Southern Border will not be allowed into the United States until their claims are individually approved in court," he tweeted Saturday evening. "All will stay in Mexico."
The president also renewed a threat to close the US-Mexico border "if for any reason it becomes necessary."
The tweets came after The Washington Post reported Mexico's incoming government has agreed to support the White House's plan to remake US asylum policy.
However, Mexico's incoming Interior Minister Olga Sanchez Cordero, who will take office next month, denied any type of agreements between the two sides in a statement on Saturday.
"There is no agreement of any type between the future federal government of Mexico and that of the United States of America," the statement said, but did not explain why the Post had quoted her as saying that there had been agreement.
"For now, we have agreed to this policy of Remain in Mexico," Sanchez was quoted by the US newspaper as saying in an interview, while calling it a "short-term solution."
The newspaper said the plan, known as "Remain in Mexico", would require those seeking refuge at the border to stay in Mexico while their cases are processed, potentially terminating the system, which Trump has decried as "Catch and Release" that has generally allowed asylum applicants to wait on US soil.
Caravans of migrants, many of whom say they are fleeing from persecution, poverty and violence in Honduras, Guatemala, and El Salvador, were making their way through Central America towards the US border for weeks. Many of them want to claim asylum.
Several thousands of migrants, including women and children, are reportedly in the Mexican border city of Tijuana living in a makeshift shelter.
US Secretary of State Mike Pompeo made no mention of a deal with Mexico in a statement issued earlier this week but reiterated that "the caravans will not be permitted to enter the United States."
Thousands of US troops have been deployed along the country's southern border with Mexico to help strengthen border security while offering only engineering, logistic and medical support.
However, Trump said earlier this week that he has given the troops the "OK" to use lethal force against migrants "if they have to."
The president issued a proclamation earlier this month, saying that only people who enter the country at official checkpoints can apply for asylum, but it was temporarily blocked by a federal judge.
Border patrols registered over 400,000 illegal crossers this year, according to figures compiled by the US Department of Homeland Security.