'Our Miracle': Girl rescued 4 days after Turkey quake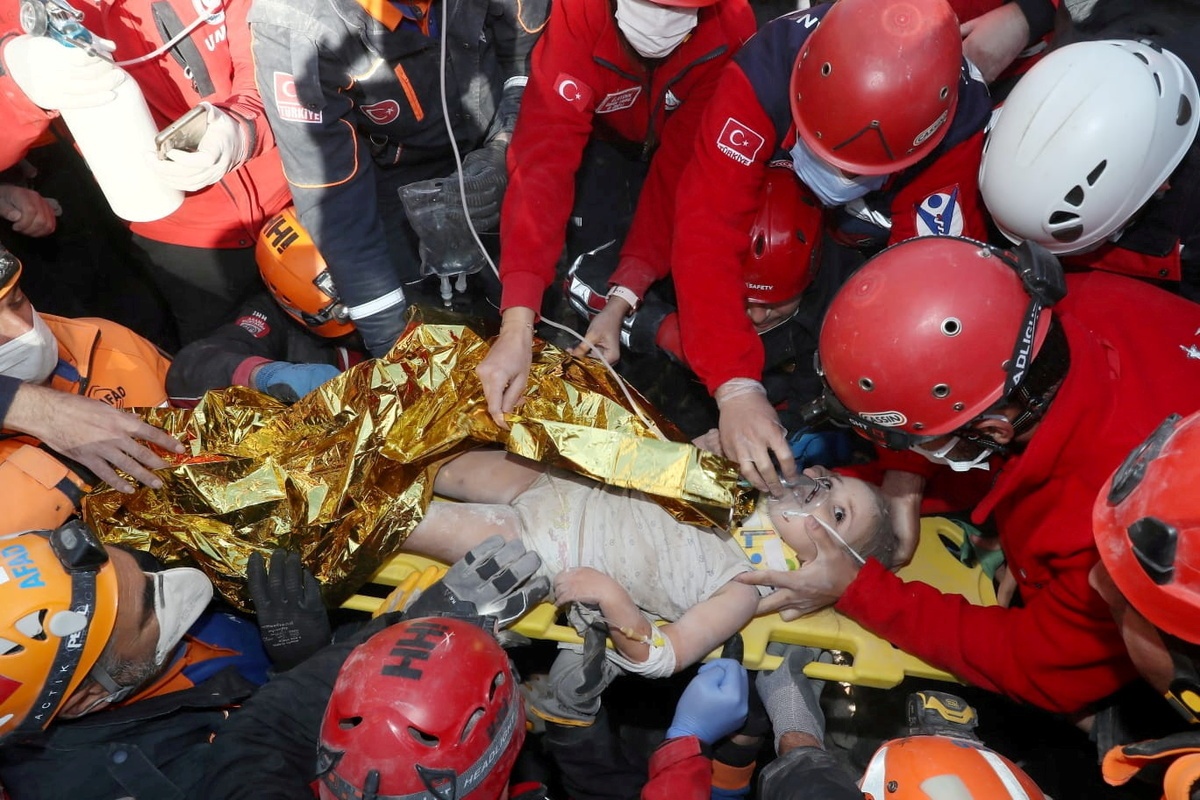 ISTANBUL-The death toll from Friday's earthquake in the Aegean Sea has reached 100, with the deaths of 98 people in Turkey's western city of Izmir, the country's disaster authorities said.
Two teenagers also died on the Greek island of Samos, authorities said. It was the deadliest quake to hit Turkey in nearly a decade.
Even as hopes of reaching survivors began to fade, rescuers pulled a young girl out alive from the rubble of a collapsed apartment building on Tuesday, four days after the strong earthquake.
Wrapped in a thermal blanket, the girl was taken into an ambulance on a stretcher to the sounds of applause and chants of "God is great!" from rescue workers and onlookers.
Health media Fahrettin Koca identified her as 3-year-old Ayda Gezgin on Twitter and shared a video of her inside the ambulance. The child had been trapped inside the rubble for 91 hours since Friday's quake struck in the Aegean Sea and was the 107th person to have been pulled out of collapsed buildings alive.
Rescuer Nusret Aksoy told reporters that he was sifting through the rubble of the toppled eight-floor building when he heard a child's scream and called for silence. He later located the girl in a tight space next to a dishwasher.
The girl waved at him, told him her name and said that she was OK, Aksoy said.
"I got goose-bumps and my colleague Ahmet cried," he said.
"She smiled, she was waiting for us," said Levent Onur, another rescue worker pulling Ayda out, adding the child had been stuck behind a washing machine which shielded her from injury.
"The name of our miracle after 91 hours is Ayda. Thank God," tweeted Cabinet Minister Murat Kurum.
Her rescue came a day after a 3-year-old girl and a 14-year-old girl were also pulled out alive from collapsed buildings in Izmir, Turkey's third-largest city.
The quake injured 994 people in Izmir, with 147 still being treated, the Disaster and Emergency Management Authority, or AFAD, said on Tuesday, adding that rescuers were still combing five buildings in the search effort.
More than 3,500 tents and 13,000 beds are being used for temporary shelters in Turkey, where relief efforts have drawn in nearly 8,000 personnel and 25 rescue dogs, the agency said.
Turkey is crossed by fault lines and is prone to earthquakes. More than 500 people were killed in a 2011 quake in the eastern city of Van, while another in January this year killed 41 people in the eastern province of Elazig.
In 1999, two powerful quakes killed 18,000 people in northwestern Turkey. The AFAD said Friday's earthquake had a magnitude of 6.6, with nearly 1,400 aftershocks.