Belgian zoo welcomes twin giant panda cubs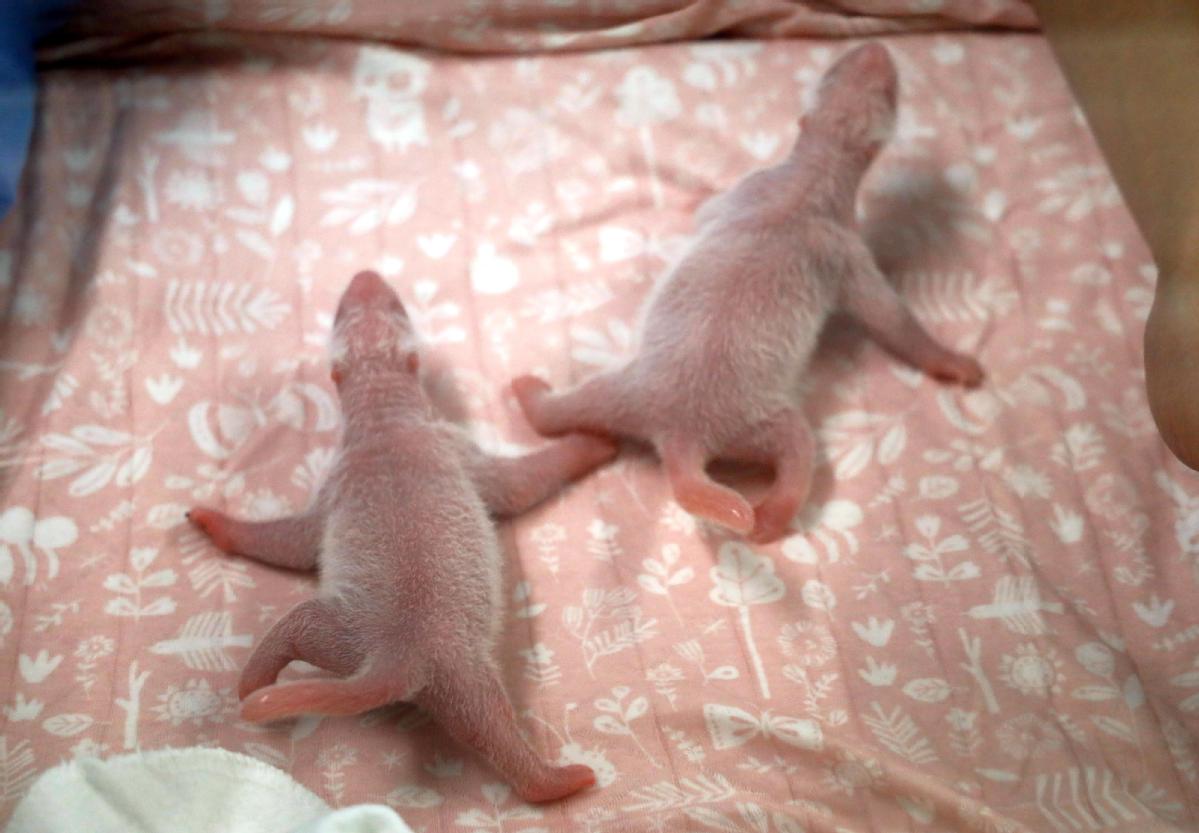 Newborn twin baby giant pandas at Pairi Daiza zoo in Brugelette, western Belgium on Friday. (Photo: Xinhua)
Staff at the Pairi Daiza zoo in Brugelette, about 60 kilometers south of Brussels, were both tired and excited on Friday at the news conference announcing the birth of giant panda twins on Thursday afternoon.
The twin cubs, a male and a female, were born two hours part, and weighed 160 and 150 grams, respectively.
"It's fantastic to have a dragon and a phoenix", said Eric Domb, president and founder of the zoo, using the Chinese words to describe twin babies that include a boy and a girl.
He admitted to not sleeping much in the past days. "But it's nice. It was so wonderful to stay awake for such a wonderful event."
Domb said the second cub was not expected. For the first birth, he waited for four hours in front of the mother, named Hao Hao. "Two hours later, we were a little bit tired. Somebody shouted, 'There is another one'," Domb said, with excitement in his eyes.
Hao Hao was artificially inseminated on April 9 with sperm from Xing Hui, the male panda at the zoo. Both pandas turned 10 years old last month.
The twin cubs born on Thursday are the second and third ones for Hao Hao. She gave birth to Tian Bao, a male cub, on June 2, 2016, also after artificial insemination from the sperm of Xing Hui.
Tim Bouts, the zoo director, spent two days sleeping in the zoo. He said his staff worked very closely with Chinese colleagues at the China Conservation and Research Center for the Giant Panda.
The first thing he did after the cubs were born was to send a photo to friends in China via social media platform WeChat. "They were so happy for us, and said congratulations," said Bouts.
To Bouts, every animal baby is important. "But a panda baby is so special, so rare. And to have two is absolutely incredible," said Bouts, who went to China to fly back in the same plane with giant pandas Hao Hao and Xing Hui in February 2014.
Jella Wauters, a researcher of giant pandas for the Pairi Daiza Foundation at the University of Ghent, said it was difficult for a long while to tell whether Hao Hao was truly pregnant because she slept a lot and did not provide a sufficient sample of urine.
Female giant pandas usually only have a window of one or two days when they can become pregnant.
Cao Zhongming, the Chinese ambassador to Belgium, declared Hao Hao the first giant panda to give birth to outside of China this year.
He said he got a call from Domb on Thursday, Aug 8. "August 8 was an auspicious day to Chinese," he said.
Domb said he was very grateful to colleagues at the China Conservation and Reserve Center for the Giant Panda. "Without their support, it's impossible," he said of the breeding work at the zoo.
Hao Hao and Xing Hui have been on loan to Belgium for a period of 15 years. On March 30, 2014, visiting Chinese President Xi Jinping and his wife Peng Liyuan joined Belgian King Philippe and Queen Mathilde to inaugurate the panda garden at Pairi Daiza.
Under the agreement, giant panda cubs born in Belgium also belong to China and will return to China at age four. Tian Bao is expected to go back to China next year.
Domb said it's sad, but that's the rule of the game. "The fact that we have two babies now, if everything is fine, will help us," he said.
Bouts, the zoo director, said it would be somewhat sad, but also exciting. "You know, how cool is it to send a panda back to China?" he said.
"I hope he (Tian Bao) finds a girlfriend and goes back to nature," Bouts said.