Fights, escapes, harm: Migrant kids struggle in facilities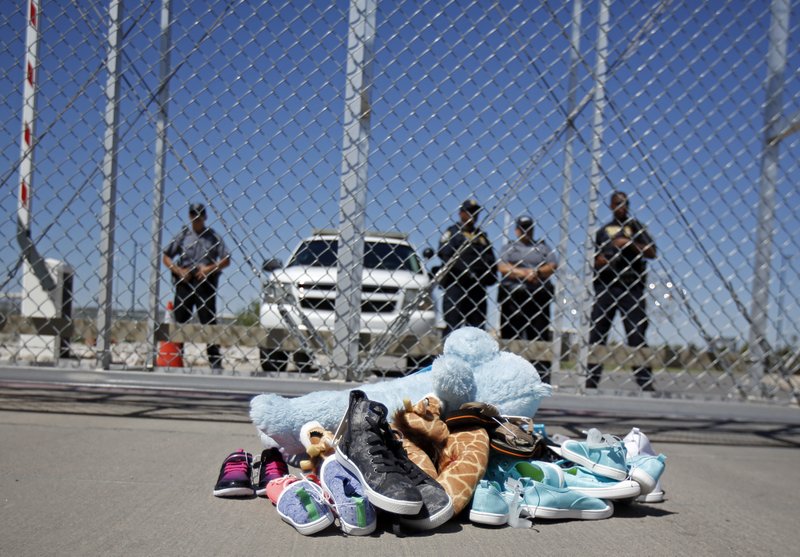 (Photo: AP)
In one government facility for immigrant youth, a 20-year-old woman who had lied that she was 17 sneaked a needle out of a sewing class and used it to cut herself.
In another, cameras captured a boy repeatedly kicking a child in the head after they got into an argument on the soccer field.
One 6-year-old tried to run away from the same facility after another boy threw his shoes into the toilet. Three employees had to pull the boy off a fence and carry him back into a building.
Records obtained by The Associated Press highlight some of the problems that plague government facilities for immigrant youth at a time when President Donald Trump's administration has been making moves in recent weeks that could send even more migrant children into detention.
About 14,000 immigrant children are currently detained in more than 100 facilities nationally, with about 5,900 in Texas. Many crossed the border without their parents and are having to wait longer in detention to be placed with relatives or sponsors, who are being dissuaded to come forward out of fear they'll be arrested and deported.
Hundreds of children who were separated from their parents earlier this year were also detained in these facilities, but most of them have since been released to their parents.
Amid the global uproar over family separation, the Trump administration presented the facilities as caring, safe places for immigrant children.
But as records obtained by the AP show, the child detention system is already overtaxed. Children are acting out, sometimes hitting each other and trying to escape, and staff members struggle to deal with escalating problems.
Doctors have warned for months about the consequences of detaining children for long periods of time, particularly after most of them had fled violence and poverty in Central America and undertaken the dangerous journey to the US
"Being in detention can be a form of trauma," said Dr. Alan Shapiro, a pediatrician who works directly with immigrant children. "We can't treat children for trauma while we're traumatizing them at the same time."
Southwest Key Programs, a Texas-based nonprofit, operates the facilities where the three incidents occurred. In Arizona, the organization agreed in October to close two facilities and stop accepting more children at others as part of a settlement with the state, which was investigating whether the organization conducted adequate background checks of staff. One former employee was convicted this year of sexually abusing multiple boys.
Meanwhile, in Texas, Southwest Key is pushing to expand. It has sued Houston after local officials tried to stop the opening of a facility.
In a statement, Southwest Key said it reported all three incidents on its own and that it was committed to correcting any problems.
"As long as immigrant children are forced to leave their homes due to violence and poverty, we want to provide them with compassionate care and help reunify them with family safely and quickly," the group said.
Southwest Key's facilities are licensed by the Texas Health and Human Services Commission, which inspects child detention centers and released inspection records to the AP.
The US government has also set up a temporary facility in Tornillo, Texas, that isn't licensed by the state because it's located on federal property. There, roughly 1,800 children are housed in large tents at much higher costs than the licensed facilities. That's up from 320 in June, at the height of the family separation crisis.
One facility that was repeatedly flagged was Casa El Presidente in Brownsville, Texas, operated by Southwest Key.
As parents were being arrested and separated from their infants and young children, Casa El Presidente became one of three Texas "tender age" facilities that took in their kids. A group of congressmen who visited in June said the facility had an infant room with high chairs and toys, where staff members were caring for babies.
Casa El Presidente multiplied in size during the family separation crisis. According to the state's monthly head counts, the facility went from 56 children in June to 367 in the most recent count taken Nov. 15.
A shift supervisor told a state inspector on June 26 that more staff were quitting and that workers "struggle with implementing healthy boundaries for children of this age."
"He admitted staff are afraid to touch the children," the inspector wrote in a report.
The supervisor said Casa El Presidente had to change its policy on restraining young children who were misbehaving, because holding them for too short a time was "escalating instead of de-escalating." Southwest Key said an example of a typical restraint would be holding a child's arm or shoulder, and that it doesn't use mechanical restraints.
The facility was cited for improperly restraining a 6-year-old boy who tried in July to climb a playground fence and run away.
The boy was identified in an inspection report by his first name, Osman. Staff members told an inspector that two days before Osman ran to the fence, two other boys had placed his shoes in a toilet. Osman "also expressed frustration about being in the shelter away from his family," the report said.
Three staff members eventually carried Osman away from the fence and back into the building.
The same month, two boys named Luis and Franklin got into a fight after Luis apparently kicked a soccer ball that Franklin said belonged to him. An inspector who viewed the facility's video wrote that Franklin chased Luis and punched him, causing Luis to fall.
"Franklin starts to kick him, once again making contact and kicking Luis in the face," the inspector wrote. Employees "never make efforts to move Franklin away from Luis; the staff just hold him."
The inspector cited the facility for not properly intervening to stop the kicks.
At Casa Rio Grande in San Benito, Texas, one of the people living there was a 20-year-old who told the staff she was 17. An investigation report identified her as Julia.
Julia told an inspector that she took a needle from a sewing class and used it to cut herself because "she felt alone." She hid her wrist for around two weeks under a sweater, but when she forgot to wear her sweater one day, a staff member spotted the marks.
In each case, inspectors interviewed other minors detained at the facility. According to the reports, the other youth said they were treated well, had enough food, and felt respected by the staff.
Jeff Eller, a spokesman for Southwest Key, acknowledged that staff morale has suffered this year due to the unprecedented demands.
"We are against family separations at the border," Eller said. "Keeping families together is better for the children, parents, and communities."