Cambodian PM hails China-sponsored dam "precious gift"
People's Daily Online Original
1550569653000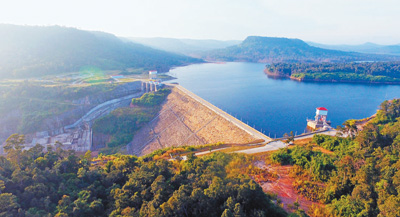 The dam on the Stung Russei Chrum (Photo courtesy of China Huadian Lower Stung Russei Chrum Hydro-Electric Project Company)
The China-built Lower Stung Russei Chrum Hydropower Project, the largest hydroelectric project in Cambodia generating more than 5.2 billion kilowatt hours since 2013, was hailed as "a precious gift from Chinese people" by Cambodian Prime Minister Hun Sen, People's Daily reported on Feb. 18.
The hydropower station, consisting of two parts, namely the upper dam and lower dam, is located on the Stung Russei Chrum in Koh Kong province in southwest Cambodia. The BOT project, which is an investment project of China Huadian Corporation, was inaugurated during April 2010 and electricity production started from December 2013, with an annual generation capacity of almost 1.2 billion kilowatt hours on average over the years.
The annual output of the plant accounted for over 30 percent of Cambodia's national electricity in peak years, said Xie Yiming, general manager assistant of China Huadian Lower Stung Russei Chrum Hydro-Electric Project Company.
In the past four years from 2014, the figure remained around 20 percent, Xie added.
Le Jianhua, general manager of China Huadian Lower Stung Russei Chrum Hydro-Electric Project Company, noted that the power project has been a key power supply project in Cambodia, ensuring the electricity in both work days and major holidays such as Cambodian New Year and Sea Festival.
The Lower Stung Russei Chrum Hydropower Project will provide one billion kilowatt hours of electricity annually for Cambodia at a lower price after being put into use, Prime Minister Hun Sen announced at the completion ceremony, adding that the electricity price will be lowered year by year from 2015.
At present, Cambodian residents have easier access to low-priced electricity, paying only $0.16 per kilowatt hour, and an increasing number of families are willing to buy televisions, electric fans, air conditioners and other home appliances. Before that, the majority of Cambodians could not afford electricity, which was as expensive as $0.9 per kilowatt per hour, and blackouts were prevalent nationwide.
In addition, thousands of job opportunities were created thanks to the China-sponsored hydropower projects, and the low-priced electricity has contributed to the development of other sectors in Cambodia, including the textile industry, architecture, and manufacturing.
Now, China Huadian Lower Stung Russei Chrum Hydro-Electric Project Company has nearly 100 Chinese staff and more than 100 employees from Cambodia. More than 2,000 local workers were recruited for the hydropower project in the construction phase. It can be expected that more job opportunities, such as maintenance staff along with professional training sessions will be provided for locals.
The company has become a star enterprise in Cambodia, said General Manager Le, who believed that the hydropower station will become a demonstration project of friendly cooperation between peoples from China and Cambodia. Many open-day activities have been held for Cambodian people to better know China's projects and technology.