Biden seen falling short on bid to sway ASEAN leaders at summit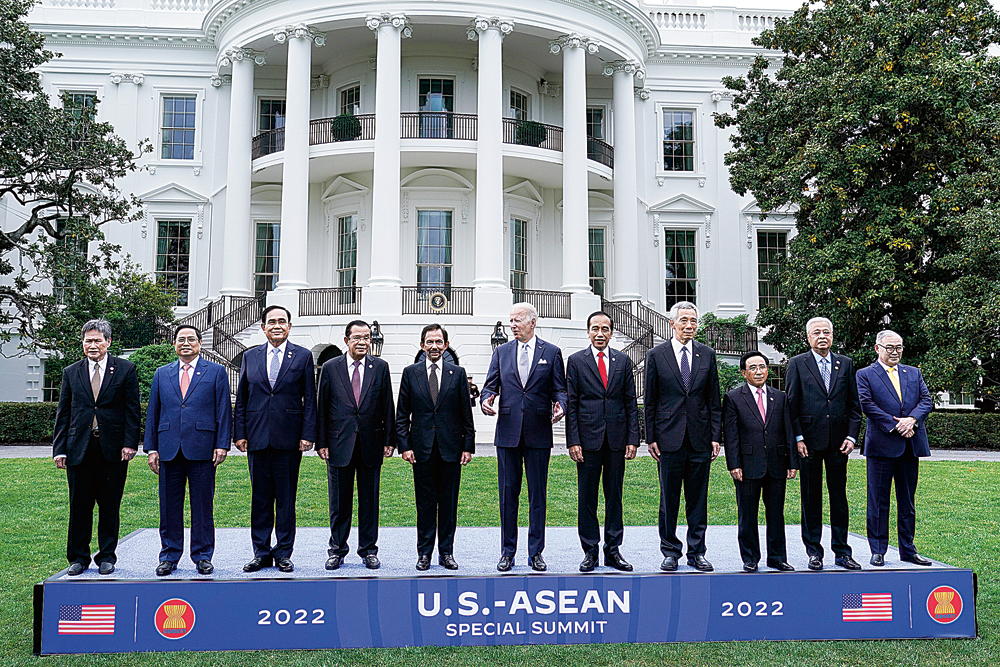 KUALA LUMPUR-US President Joe Biden on Thursday kicked off the first Association of Southeast Asian Nations summit held in Washington, in a move widely seen as an attempt by the United States to pull members of the bloc into its camp amid the Russia-Ukraine crisis.

The gathering marked the group's first meeting at the White House in its 45-year history. Leaders were scheduled to take part in more formal talks at the State Department on Friday.
As Biden welcomed leaders and representatives from nine ASEAN nations for a dinner to start the two-day summit, the White House announced the US would commit to more than $150 million to be invested in Southeast Asia's climate, maritime and public health infrastructure.
But Biden knows that finding consensus with ASEAN members on Russia's special military operation in Ukraine could prove to be difficult.
White House press secretary Jen Psaki on Thursday said Ukraine would be on the agenda for the leaders' talks, but she couldn't make a prediction on whether the group would touch on the conflict in the summit's communique.
Analysts believe that US attempts to court support among ASEAN leaders in pursuit of its geopolitical interests are unlikely to gain traction.
ASEAN leaders are more willing to emphasize their economic interests, analysts have said, adding that the bloc's recovery-focused members always put ASEAN centrality at the forefront while deflecting any attempt to draw them into a US sphere of influence.
The summit was initially scheduled for late March but was postponed due to scheduling issues.
Azmi Hassan, a senior research fellow at Nusantara Academy for Strategic Research, said on Wednesday that the US has been unable to exert pressure on ASEAN over the Russia-Ukraine conflict, with most of the 10-member bloc abstaining from voting in favor of a resolution to suspend Russia from the United Nations Human Rights Council last month.
"I think Biden must be wondering why ASEAN nations did not outright condemn Russia and did not support it wholeheartedly. This can especially be seen during the resolution to remove Russia from the UNHRC on April 7: Malaysia, Singapore, Indonesia, Thailand, Cambodia and Brunei abstained while Vietnam and Laos voted against it," Hassan told Xinhua News Agency in a phone interview.
He also said that the US will find itself unable to make any headway among ASEAN members, especially after Malaysia and Indonesia voiced concerns over the AUKUS trilateral security partnership involving Australia and Britain.
Overall, despite the concerns over geopolitical maneuvering, economic issues still top the bloc's agenda, such as "how to spur the trade between the ASEAN and the US post-pandemic", said Hassan, adding that it is still the most important subject matter from the ASEAN point of view.
The summit also comes before Biden's trip this coming week to the Republic of Korea and Japan-his first visit to Asia as president. He will hold talks with those countries' leaders and also meet during the trip with leaders from the Quad, made up of Australia, India, Japan and the US.