No Brexit breakthrough, Juncker and May to talk again this month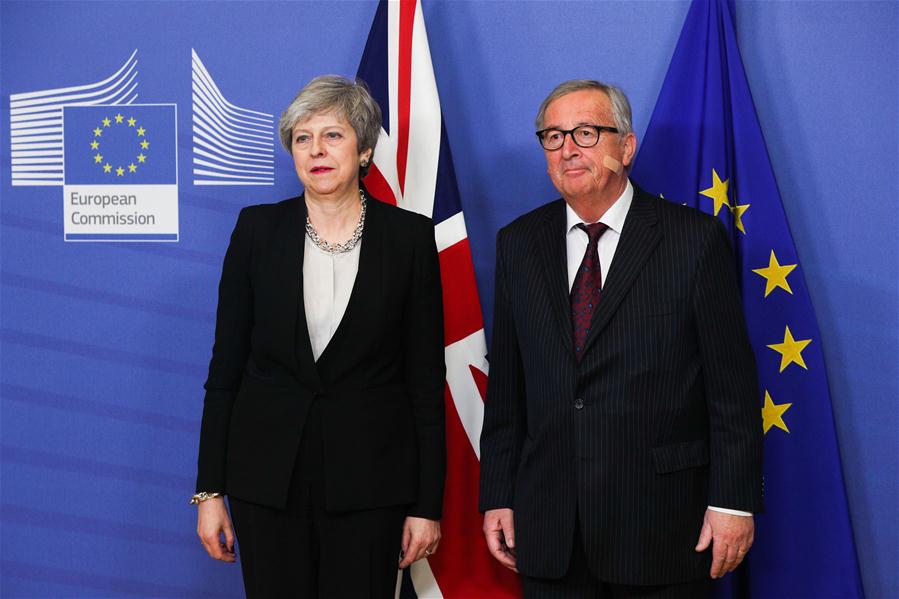 European Commission President Jean-Claude Juncker (R) meets with British Prime Minister Theresa May in Brussels, Belgium, on Feb. 20, 2019. (Photo: Xinhua)

BRUSSELS, Feb. 20 (Xinhua) -- European Commission President Jean-Claude Juncker and British Prime Minister Theresa May made fresh efforts on Wednesday to unlock the Brexit stalemate. Without a breakthrough, as expected, they pledged to talk again before the end of the month.
The two leaders talked about "which guarantees could be given with regard to the backstop that underlines once again its temporary nature and give the appropriate legal assurance to both sides", said a joint statement published on European Commission website.
They reconfirmed their commitment to avoiding a hard border on the island of Ireland and to respect the integrity of the European Union's (EU) internal market and of the United Kingdom, said the statement.
They also discussed the role alternative arrangements could play in replacing the backstop in future and whether additions or changes to the Political Declaration can be made that are consistent with each other' positions while increasing their confidence in the focus and ambition in delivering the future partnership envisaged as soon as possible.
May arrived in Brussels at around 6am (1700 GMT) on Wednesday. Her latest visit came after Brexit Secretary Stephen Barclay updated the British cabinet on his talks with the EU's chief Brexit negotiator, Michel Barnier, who reportedly "expressed concerns" over the issue of the Irish backstop.
The backstop is the insurance policy for preventing the return of a hard border in Ireland after Britain leaves the European Union on March 29.
The backstop, which is part of May's Withdrawal Agreement, became one of the main reasons her deal was voted down in Parliament in January. In a vote, MPs later gave their backing for May to renegotiate the policy with the EU.
May is set to return to Parliament in London to update MPs again on Feb. 26. In absence of a deal by then, she will give the House of Commons a say on the next steps in non-binding votes.