China, Hungary vow to lift ties to higher levels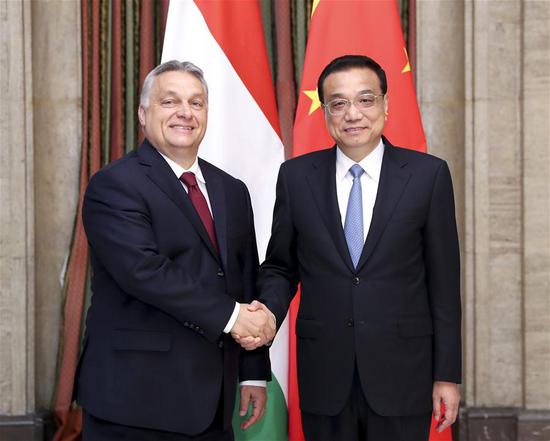 Chinese Premier Li Keqiang meets with Hungarian Prime Minister Viktor Orban in Sofia, Bulgaria, July 6, 2018. (Xinhua/Ding Haitao)
Chinese Premier Li Keqiang on Friday met with Hungarian Prime Minister Viktor Orban, and the two leaders pledged to further strengthen bilateral relations and cooperation.
China will work with Hungary to maintain and strengthen the momentum in high-level exchanges, Li said, adding that as the next year marks the 70th anniversary of their diplomatic ties, the two sides should take the opportunity to advance bilateral relations.
China will work with the Hungarian side to continue their cooperation on major projects, including a new railway line between Hungary and Serbia, said the premier.
Both of the leaders are in the Bulgarian capital to attend the seventh leaders' meeting of China and 16 Central and Eastern European (CEE) countries.
China and the 16 CEE countries are at similar development levels, Li said, adding that their cooperation is "open, inclusive and transparent," and it not only benefits China and the CEE countries, but also facilitates European integration.
Orban, for his part, said the two countries share a high degree of mutual trust, and Hungary is willing to seize the opportunity of the 70th anniversary next year to work with China to make long-term plans and lift their mutually beneficial cooperation to higher levels.
The 16+1 cooperation mechanism is not only beneficial to the region but also conducive to the overall development of Europe, and it helps strengthen the European Union instead of weakening it, he stressed.
Hungary, said the prime minister, will work more closely with China to promote 16+1 cooperation.