UK mulling aid budget cut because of virus cost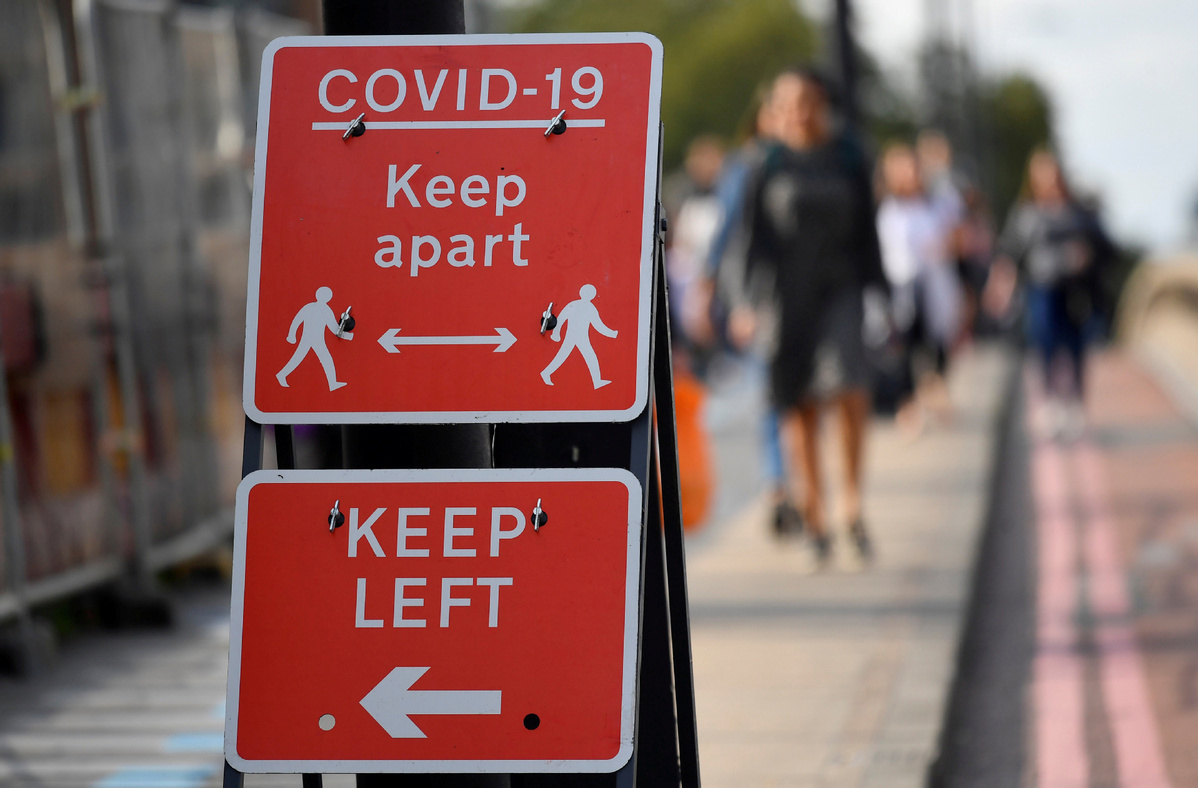 Critics say move would harm efforts to showcase vision of 'Global Britain'

The United Kingdom may reduce its overseas aid budget by billions of pounds as it looks to recover from the serious economic slump caused by the novel coronavirus pandemic, The Times newspaper reports.
The paper claims Prime Minister Boris Johnson is considering temporarily cutting the amount of money given to other nations, from 0.7 percent of gross national income, to 0.5 percent.
Chancellor of the Exchequer Rishi Sunak could announce the change in next week's comprehensive spending review, but a final decision has not yet been made.
The Guardian newspaper noted that Foreign Secretary Dominic Raab had praised his nation's ongoing commitment to spend 0.7 percent of income on overseas aid when he spoke to officials connected to the incoming United States president, Joe Biden, on Monday.
Overseas aid spending was already set to fall by 2.9 billion pounds ($3.8 billion) this year because the UK's income on which it is based had shrunk dramatically.
The nation spent around 15 billion pounds on overseas aid in 2019.
Robert Jenrick, secretary of state for housing, communities and local government, said on LBC radio that, with income down and spending up on healthcare and other commitments, the government has some hard choices to make.
"I think it is a legitimate question for us to ask at this moment in time whether or not it would be wise to spend somewhat less in light of the fact public finances are in a really challenging situation," he said.
Sarah Champion, chair of the House of Commons' international development select committee, told the Daily Mail newspaper: "This would do untold damage to our international reputation at the exact moment we are trying to showcase Global Britain."
But the nation's economy is likely to be struggling for some time and the business sector's worries will not have been eased when Health Secretary Matt Hancock said on Radio 4's Today program that the lockdown that is scheduled to end on Dec 2 could be extended.
"We've seen in the last week that there is still a very high number of cases but we do absolutely want to come out of this national lockdown," he insisted.
The Evening Standard newspaper said Hancock will be hoping that mass rapid testing, when fully rolled-out, will offer a way out of lockdown by ensuring asymptomatic people who are spreading the virus are identified and asked to self-isolate.
When the UK does emerge from its lockdown, the three-tier warning system in place before it began may be replaced, the BBC said. It reports the government is looking for a better way of deciding which restrictions are appropriate in which part of the nation.
Susan Hopkins, from Public Health England, said during the government's novel coronavirus briefing on Monday that the three-tier system was inconsistent.
"When we look at what tiers may be there in the future, we will have to think about strengthening them to get us through the winter months until the vaccine is available for everyone," she said as the UK announced another 21,363 daily COVID-19 cases and 213 daily deaths.
The Office for National Statistics said Tuesday there were 1,937 COVID-19 deaths in England and Wales during the week ending Nov 6, making it the deadliest week since May 22.The death toll was 40 percent higher than that of the previous week.
Elsewhere in Europe, Chancellor Angela Merkel has said she does not yet have enough support among politicians to impose a stricter lockdown in Germany.
Der Spiegel newspaper said she wants to greatly limit social interactions within homes until Christmas Eve, make people quarantine for common cold symptoms, and ensure school hygiene requirements are tighter.
"Infection numbers aren't growing exponentially anymore, but are still far too high," she said on Tuesday. "So, we have to reduce contacts."
Germany's neighbor Austria returned to a strict lockdown on Tuesday after recording 7,000 new cases a day during the preceding week, making it one of the hardest-hit nations, per capita, in the world.
Schools there are closed and, other than banks and post offices, the only stores allowed to open are those that sell food and medicine.
In Denmark, political parties have now backed the government's plan to cull the country's population of mink over fears they harbor and spread the novel coronavirus.
And in France, where there were 508 daily deaths on Monday, Health Minister Olivier Veran said there are signs that the situation is improving, cracking the door to gatherings during the festive season.