Bill and Melinda Gates share 2019 Annual Letter
People's Daily app
1550043395000
(Video source: Bill & Melinda Gates Foundation)
Bill and Melinda Gates Tuesday shared their 2019 Annual Letter, "We didn't see this coming." They highlight nine things that have surprised them along their journey to philanthropy.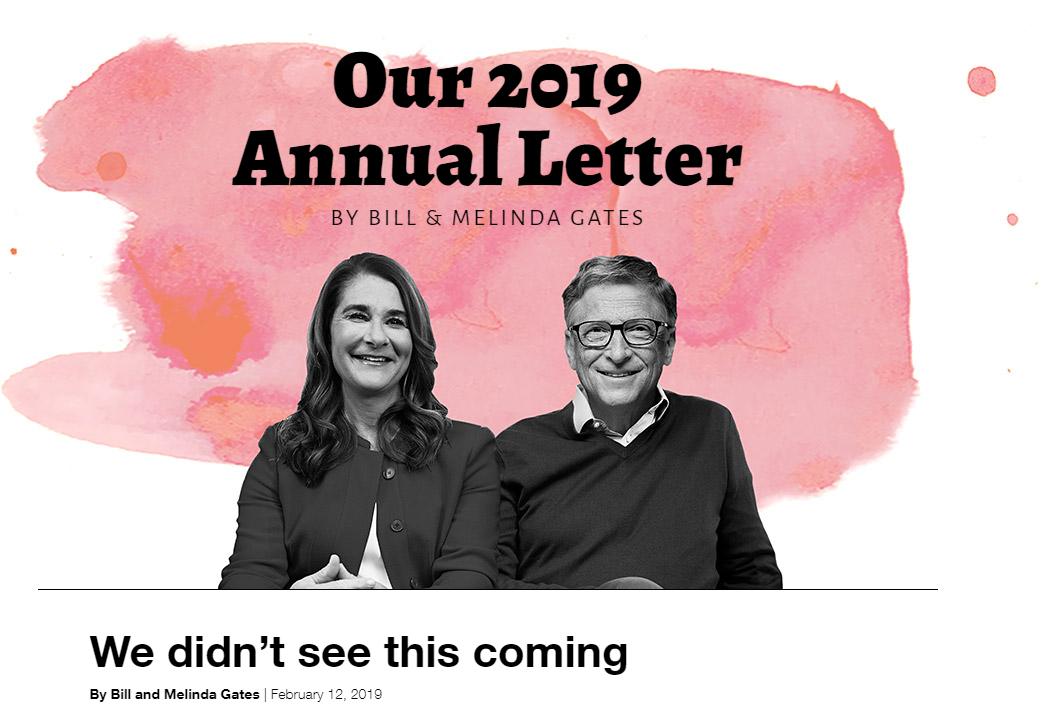 (Screenshot from gatesnotes.com)
The annual letter affirms the remarkable progress in global poverty eradication and disease prevention in 2018, and called on the international community to pay more attention to global issues such as climate change, health and welfare.
The Gates couple believes that near-zero emissions in five areas – agriculture, electricity, manufacturing, transportation, and buildings – is required when dealing with climate change. Part of the solution, they think, is to invest in innovation in all five sectors. They also called on governments across the world to recommit to funding the Global Fund in 2019 to combat AIDS, TB, and malaria.
This year's annual letter stressed that Africa is the youngest continent in the world. They believe that right investments will unlock the continent's enormous potential and young Africans will shape the future of not only their own communities but the entire world.
The Gates couple expressed optimism in the future. For one thing, they believe in the power of innovation; for another, they've seen firsthand that for every challenge they've written about in the letter, there are people devoting their ideas, resources, and even their lives to solving them.