Under martial law, Ukraine troops dig trenches, pack bags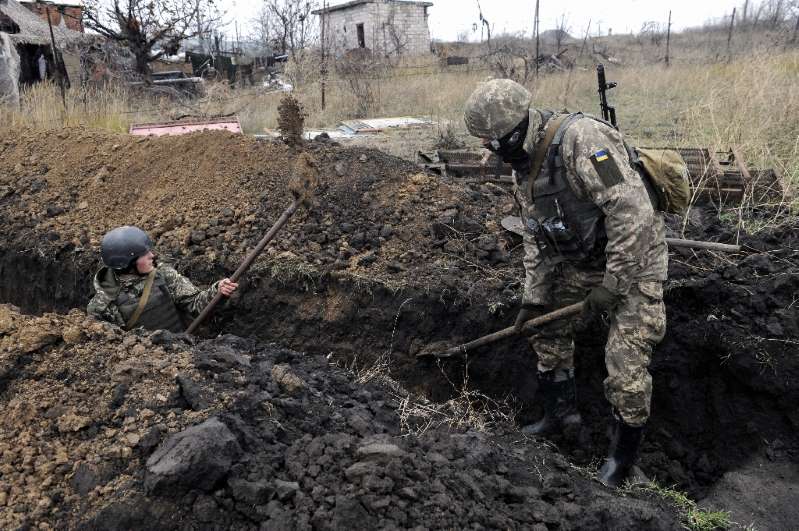 Ukrainian troops are positioned in the ruins of eastern Ukraine's flashpoint village of Shyrokyne, one kilometre from the frontline. (Photo: AFP)
Ukrainian soldiers busily dug trenches and stuffed rucksacks with emergency rations and ammunition after an unprecedented state of martial law came into force on Wednesday.
"It's better to dig a trench 10 metres long than two metres deep," a 22-year-old soldier, Timokha, joked -- referring to the depth of a grave.
The troops are positioned in the ruins of eastern Ukraine's flashpoint village of Shyrokyne around a kilometre from the frontline, facing regular gunfire from Russia-backed separatists in the self-proclaimed Donetsk People's Republic.
Just 800 metres away is the Sea of Azov, shared between Russia and Ukraine. While trying to reach this strategic location, three Ukrainian navy ships were seized by Russian forces on Sunday in a clash that has sharply worsened relations.
Ukraine's President Petro Poroshenko has triggered martial law in 10 regions, including areas close to separatist-controlled territory and the Sea of Azov's coast.
"We've been digging since early morning, as soon as martial law began," Timokha said.
Poroshenko has warned that the country is now facing the threat of "full-scale war" with Russia, even if Russian President Vladimir Putin has played down the "small incident."
Though the region has been at war since 2014, for Timokha and his fellow soldiers, martial law means a major build-up in their operation.
"Under martial law, we're watching the enemy more closely, we've put up more observation posts," he said.
Troops were packing emergency rations and ammunition "so if something comes up, we can counter an attack by the enemy and move in various directions, not be tied to one place," said balaclava-clad Timokha.
Yet he was scathing about Poroshenko's move now, saying "they should have brought in martial law when Crimea happened," referring to Moscow's annexation in 2014.
- 'Leave us in peace' -
Russian military showed themselves then, but now is just another spike in the hostilities," he said.
Behind him on the wall someone had scrawled "Glory to Ukraine" in felt-tip pen.
A 21-year-old machine-gunner nicknamed Trotsky stood inside a trench fortified with sandbags.
Since the clash at sea, the troops have begun to sense a new threat from the Sea of Azov, rather than the frontline, he said.
"It's like we're boxed in, like we're surrounded."
No civilians have lived in Shyrokyne since it was devastated by heavy fighting including tank battles in 2015.
Streets are strewn with burnt-out cars and children's toys. The soldiers have set up a field kitchen and washing area in the yard of a house, with machine gun ammunition hanging on the gate.
In Kiev-controlled Mariuopol, a strategic port town about 20 kilometres (12 miles) to the west, around 100 residents held a rally in support of Ukrainian sailors captured in the clash. Their boats had been heading for Mariuopol from Odessa.
"We can't stay silent when our sailors are held prisoner," said the organiser, Galyna Odnorog.
"We came to the protest to tell Putin: leave our country in peace."
The town's border guards were all out on patrol in the Sea of Azov, only returning to refuel and grab food.
Otherwise, the town seemed to be working normally and the Kiev-backed authorities in the region say they have not introduced any changes such as curfews or shutting checkpoints because of martial law.
A Ukrainian soldier stationed at Mariupol's commercial port, Sergiy, 26, said simply: "Nothing has changed for us with the introduction of martial law. We're already into our fifth year of war."