Fighting climate change needs global, collective action: UNGA president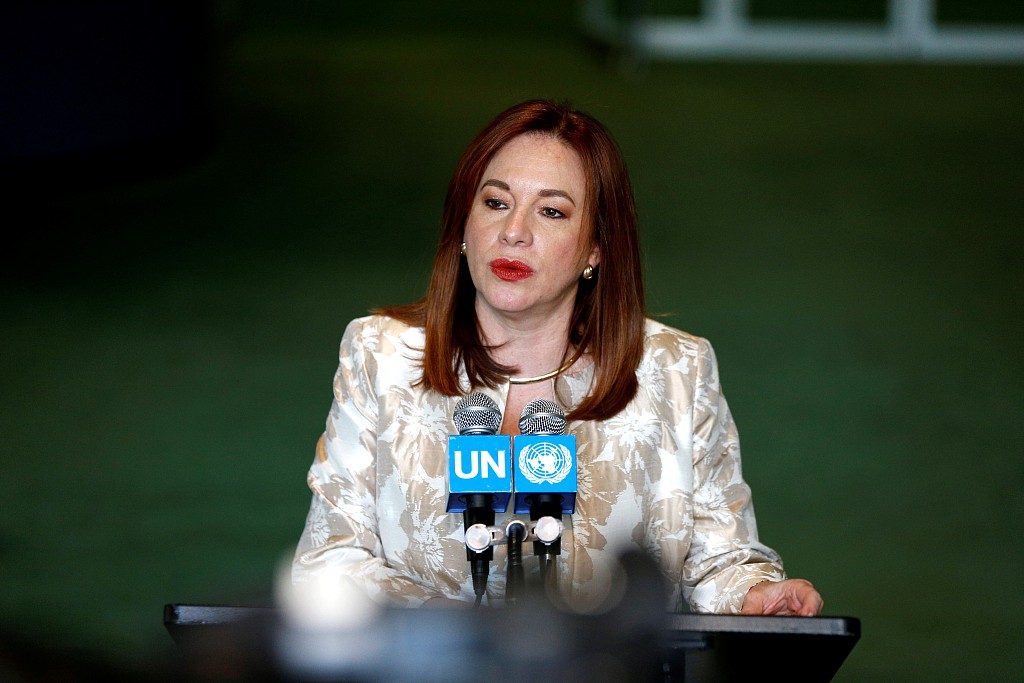 73th President Of General Assembly Maria Fernanda Espinosa Garces, delivers a speech after she was elected at the United Nations Headquarters in New York, United States on June 05, 2018. (File photo: VCG)
UNITED NATIONS, Feb. 14 (Xinhua) -- United Nations General Assembly (UNGA) President Maria Fernanda Espinosa Garces said on Thursday that fighting climate change needs global, collective action.
"The fight against climate change will not be successful unless it enjoys the support and constructive input of all," the UNGA president said when addressing a joint briefing together with Luis Alfonso de Alba, the UN secretary-general's special envoy for the 2019 Climate Summit.
Citing the African proverb "If you want to go quickly, go alone. If you want to go far, go together," Espinosa Garces said the collective action against climate change "will not only prove to be a benefit in our fight against climate change, but it will also serve to strengthen multilateralism."
"This is the only effective tool available to us to combat global challenges," she added.
"The intention of this meeting today is to discuss the preparations for the High-Level Meeting on Climate and Sustainable Development for All, which will be held on March 23," the UNGA president said.
"Climate change is one of the top priorities that we share with the secretary general, and I am firmly persuaded that it is equally a top priority for all member states," said Espinosa Garces, adding that "climate change represents the determining factor both for our present and our future."
Noting that "the rate of climate change is outpacing our efforts to combat it," she said that "should we fail to redouble our efforts and to increase our levels of ambition ... the world will not deliver on the targets of the Paris Agreement."
The year 2019 is "a critical year" and the international community "stands at crossroads" as far as fighting climate change is concerned, the UNGA president said, adding that 2019 "is one of the last opportunities that we will have to reaffirm our commitment to climate action."
"Such action is all the more critical as we are rapidly approaching the deadline for achieving the first targets and goals under the 2030 Agenda for Sustainable Development," she said, noting that "two thirds of the targets and goals under the sustainable development agenda depend on action being taken at the climate and environmental level."
To boost ambition and accelerate actions to implement the Paris Agreement on Climate Change, UN Secretary-General Antonio Guterres will host the 2019 Climate Summit on Sept. 23.