Macron vows more 'progress' in rally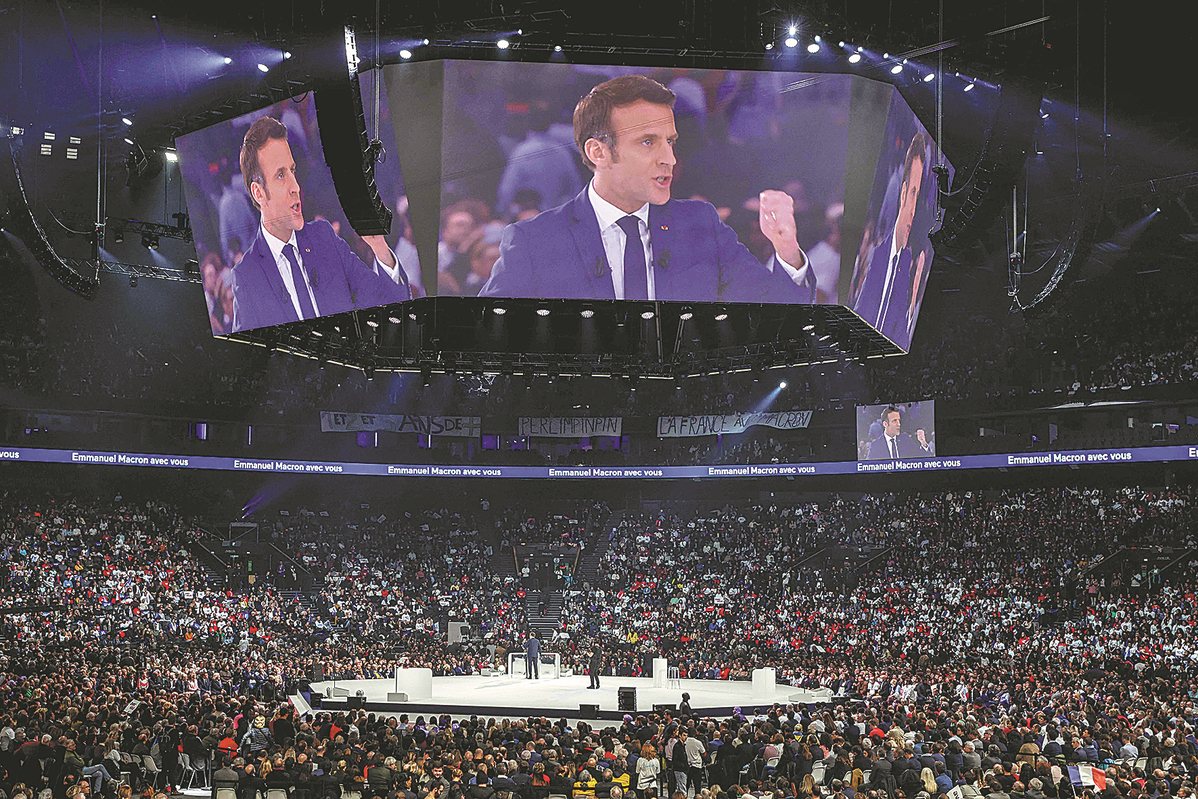 PARIS-French President Emmanuel Macron on Saturday held his first rally of the French election campaign, promising the French more "progress" over the next five years, with challenges ahead barely a week before the ballot.

Macron, a centrist and La Republique en Marche party candidate, has been at the forefront of diplomatic efforts to end the conflict in Ukraine. Macron has a lead in polls over far-right candidate Marine Le Pen and other challengers.
"We are here to make possible a project of progress, of independence, for the future, for our France," Macron told a crowd of about 30,000 at a stadium that usually hosts rugby matches.
Speaking to those who see "all their salary go into gasoline, bills, rent" as the Ukraine conflict drives up food and energy prices, Macron promised to let companies give a tax-free bonus to employees of up to 6,000 euros ($6,627) as soon as this summer.
He also promised to raise the minimum pension to 1,100 euros ($1,214) a month for those who have worked full time-up from about 700 euros now. The retirement age will need to be progressively raised from 62 to 65 to finance the plan, he said.
Supporters welcomed him, chanting "Macron, president!" and "One, two, five more years!" and waving the French tricolor flag.
Although Macron is still projected to win a second mandate, he has lost ground in the polls, a dip that some aides attribute to a manifesto that includes tough, conservative measures such as raising the state pension age.
'McKinsey Affair'
Also, Macron's campaign has hit a speed bump, with controversy stemming from "the McKinsey Affair", named after a US consulting company hired to advise the French government on its COVID-19 vaccination campaign and other policies.
A French Senate report questions the government's use of private consultants and accuses McKinsey of tax dodging. The issue is energizing Macron's rivals and dogging him at campaign stops ahead of the first-round presidential vote on April 10.
Critics describe the government's 1 billion euros spent on consulting firms like McKinsey last year as privatization and the Americanization of French politics and are demanding more transparency.
With the first round to be followed by a runoff vote on April 24, polls have shown Le Pen in second place in the initial stage and narrowing the gap on Macron for round two.
Le Pen, who lost to Macron in the 2017 polls runoff, has sought to moderate her image in the past half-decade in a process helped by the emergence of Eric Zemmour as a fellow candidate on the far right.
While Zemmour risks taking votes from Le Pen in the first round, his more radical stances on immigration and Islam have helped her project a more mainstream image.
The left's main hope is Jean-Luc Melenchon, with the polls suggesting he will finish third on current trends. The hard-left leader was expected to address an open-air meeting in Toulouse on Sunday.
The Republicans' candidate Valerie Pecresse is in fourth or fifth place, while Socialist Anne Hidalgo could finish on around 2 percent.