Relatives identify victims of deadly Thai tourist boat sinking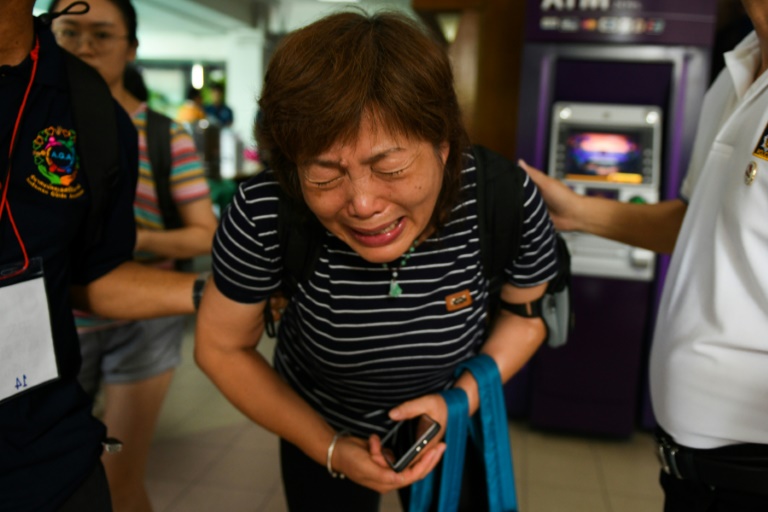 Recovery divers have pulled 42 bodies from the sea off the resort island of Phuket, but authorities have said 14 other passengers remain unaccounted for (Photo: AFP)
Distraught relatives descended on a Thai hospital Sunday as many waited for news of missing family members who disappeared when a tourist boat sank in rough weather, killing dozens of Chinese passengers.

Recovery divers have pulled 42 bodies from the sea off the resort island of Phuket, but authorities have said 14 other passengers remain unaccounted for.
The Phoenix was carrying 105 people -- mostly Chinese tourists -- when it sank on the way back from a popular snorkeling spot on Thursday.
The latest victim was found Sunday, officials said.
Relatives have been asked to identify their next-of-kin through photographs and to provide DNA samples.
The ashen-faced families wiped back tears in a waiting area of the Vachira Hospital on Sunday while several got increasingly agitated when asked for further information.
"I've already told you the name, why can't you take me there now?" a man was heard shouting at hospital staff.
A Chinese woman who only wanted to be identified by her family name, Su, said she was still waiting to claim the body of her sister, Su Jiao Min.
"There should definitely be compensation (for the accident)," she told AFP while waiting to be signed into the hospital.
"But I don't want to talk about that right now. All I want is to identify and claim (my sister's) body and return home."
Some have called for legal action to be taken after the boat was among three that ignored a bad weather warning against day trips to the islands surrounding the tourist magnet of Phuket.
Search ongoing
Gao Kai, who arrived in Phuket on Saturday, said the bodies of his eight-year-old daughter and seven-year-old nephew were identified on Saturday, but he was still waiting for news of his wife, sister and brother-in-law.
"The adults still haven't been found. We're waiting for them to return so we can take them home," he told AFP, breaking down several times during the interview.
The Thai navy has said it will coordinate the continuing search with a fishermen's network.
"Navy is preparing personnel and equipment to dive to check on the sunken boat for possible more victims trapped inside the boat," it said in a statement, adding that 25 of the bodies retrieved so far were found on the vessel, which is submerged over 40 metres below the surface of the Andaman Sea.
Seventeen Chinese divers joined the operation on Saturday to recover bodies.
On Sunday the Chinese ambassador to Thailand said in a briefing that investigators would also arrive to probe the cause of the accident.
Some 48 people -- passengers and crew -- were rescued on Thursday, while a Chinese woman was plucked from the churning waters Friday and rushed to hospital in Phuket after spending the night in the water.
It is one of the worst boating disasters in recent history in Thailand, a nation with a poor health and safety track record despite being heavily dependent on tourism.
Thailand is already in the global spotlight for a dramatic diving rescue mission that started Sunday in the north of the country for 12 boys and their football coach who are trapped in a flooded cave complex.
Last year 9.8 million Chinese tourists visited Thailand, with five million more arriving between January and May this year.