New drug slashes death rates among drug-resistant TB patients: scientists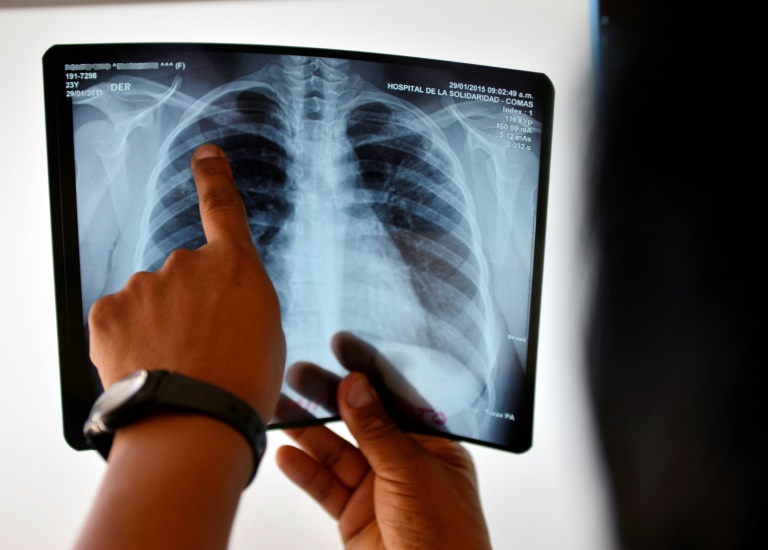 Tuberculosis killed at least 1.7 million people in 2017, according to the World Health Organization, making the airborne infection the world's deadliest infectious disease. (Photo: AFP)
A new treatment for a deadly drug-resistant strain of tuberculosis can cure more than 90 percent of sufferers, according to a landmark clinical trial whose results were revealed exclusively to AFP.

Doctors in Belarus -- a country with one of the world's highest rates of multidrug-resistant tuberculosis -- treated 181 patients with the new drug, bedaquiline, in combination with other antibiotics.
Of these, 168 -- 93 percent -- were cured, compared to just over half of people treated with existing drugs, according to the study results.
The success rate was largely replicated in bedaquiline trials in other countries in eastern Europe, Africa, and Southeast Asia, according to trial abstracts due to be unveiled at a major tuberculosis conference later this week, but showed to AFP beforehand.
"The results from this study... that newer drugs like bedaquiline can cure and are game changers for people living with multidrug-resistant and extremely drug-resistant tuberculosis," Paula Fujiwara, scientific director of The International Union Against Tuberculosis and Lung Disease commented on the findings.
She was not involved in the research.
Tuberculosis killed at least 1.7 million people in 2017, according to the World Health Organization, making the airborne infection the world's deadliest infectious disease.
It kills more than three times as many people as malaria every year.
Despite the huge death toll, tuberculosis received roughly a tenth of the global research funding that goes to HIV/AIDS.
Multidrug-resistant tuberculosis is immune to two of the antibacterial drugs most commonly used to treat the disease.