Summers will only get hotter, experts warn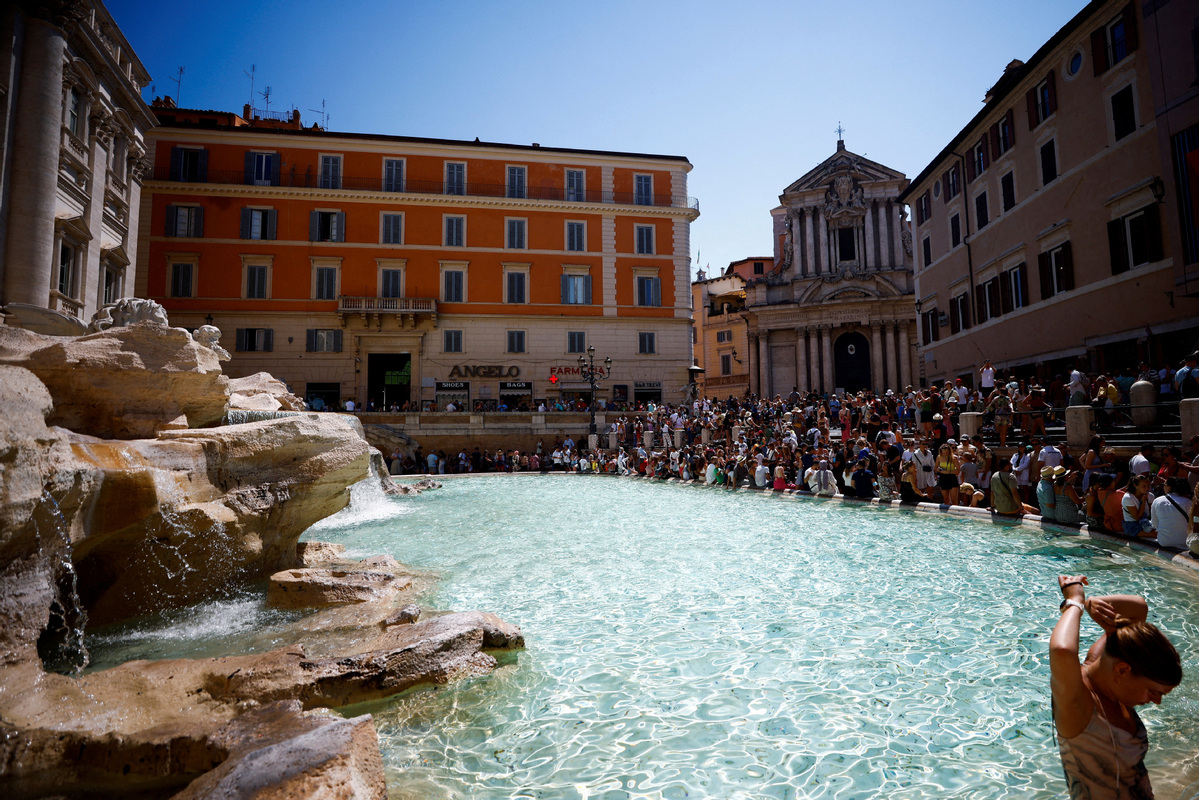 Heat waves forecast to strike more often, with threat to lives increasing in Europe
The soaring temperatures that have left people sweltering across Europe this summer will become more frequent due to climate change, experts say.
Temperatures have broken records across Western Europe in July-perhaps most strikingly in the United Kingdom where the mercury exceeded 40 C for the first time.
Though more accustomed to hot weather, people in France and Spain have been among those enduring punishing heat waves, and Portugal has logged highs of up to 46 C.
"The loss of the Arctic Sea ice means the global circulation patterns are changing," said Deirdre McKay, professor of sustainable development at Keele University in Staffordshire, Britain. "In the northern hemisphere, increases in mean global air temperature actually mean these pockets of very hot air-heat domes-will form more frequently.
"A heat dome formed over Siberia last year, then one covered the Pacific Northwest, and, finally, one formed in Europe. This year, we have had a heat dome that's formed over southwestern Europe and moved through France and into the UK."
Experts say heat waves are becoming longer, more frequent, more widespread, and more intense as a result of climate change.
Cristina Gomez Garcia-Reyes, lead for urban nature-based solutions at the World Economic Forum, said: "We are sensing this change on our skin. The average global surface temperature in Europe this June 2022 was the sixth highest for June since global records began in 1800, and UK maximum temperature records have already been broken three times this century and could continue to do so as global warming relentlessly swells.
"And while Europe and the UK are experiencing heat anomalies this summer of 2022, so are other regions in the world, but with heavy rainfall and flooding, colder than average temperatures, sea ice extent reaching an all-time low and cyclone activity peaking in strength."
Decadeslong trend
The world's average temperature has increased by 1.1 C since the Industrial Revolution began and continues to rise by around 0.15 C every decade. Experts say the past eight years have been the hottest on record, and temperatures will keep rising in the decades to come.
"The primary driver is climate change," McKay said. "It is producing a discontinuity in our expected weather patterns. Compared to historical records, there's quite an abrupt shift toward much warmer summer temperatures in northern Europe."
According to the Intergovernmental Panel on Climate Change, or IPCC, the United Nations' climate science body, temperatures will rise more quickly in Europe than elsewhere.
The IPCC Special Report on Extremes also shows that heat waves will be more frequent, longer and more intense in the 21st century, adding that early warning systems and reinforced health systems will be needed.
Figures from the World Health Organization found more than 166,000 people died due to heat waves from 1998 to 2017, including more than 70,000 who died in 2003 when Europe was gripped by intense heat.
"The hot weather is incredibly dangerous for people who are not equipped to deal with it," McKay said. "That danger arises in terms of people's ability and their mobility. So it is the very old, the very young, and the ill who are going to struggle to cope with the heat."
It's believed that half of the world's population will be heavily affected by increased temperatures in the next 50 years. This amounts to more than 3.5 billion people, with 1.6 billion living in urban areas.
"Increased temperatures aggravate water insecurity and air pollution events, and may limit the functioning of basic utilities and key urban infrastructure such as transportation, sanitation and energy systems," Garcia-Reyes said. "The latest IPCC report states that heat waves are deteriorating natural ecosystems structure and functions as well as changes in seasonal timing, undermining nature's capacity to provide minimum ecosystem services such as air quality, heat reduction, water provision and food security."
She added that if natural ecosystems further deteriorate and the rates of nature loss continue to grow at the current pace, 44 percent of global GDP in cities, or $31 trillion, is estimated to be at risk of disruption from nature loss.