Meghan Markle's father: wedding was 'emotional and joyful'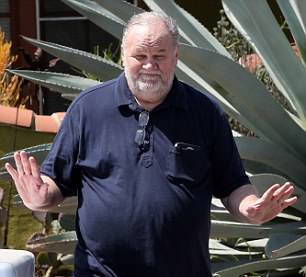 Thomas Markle, Meghan Markle's father. File photo
Meghan Markle's father, who followed his daughter's wedding to Prince Harry on TV from California, described it as "emotional and joyful," and voiced regret he was unable to attend, TMZ reported Saturday.
"My baby looks beautiful and she looks very happy. I wish I were there and I wish them all my love and all happiness," Thomas Markle said, according to the US celebrity news website.
Markle is recovering from heart surgery, and in the absence of her father, Meghan was brought to the altar by Prince Charles, now her father-in-law.
Even before the announcement of the surgery, Thomas Markle's presence was in doubt after controversy erupted over the publication of seemingly staged photos showing him preparing for the wedding.
Thomas Markle complained about being hounded by paparazzi before apparently agreeing to stage his own photos, an apparent bid to control his own image that backfired badly.