In New York, a clash over how vaccines should be distributed
chinadaily.com.cn
1610096312000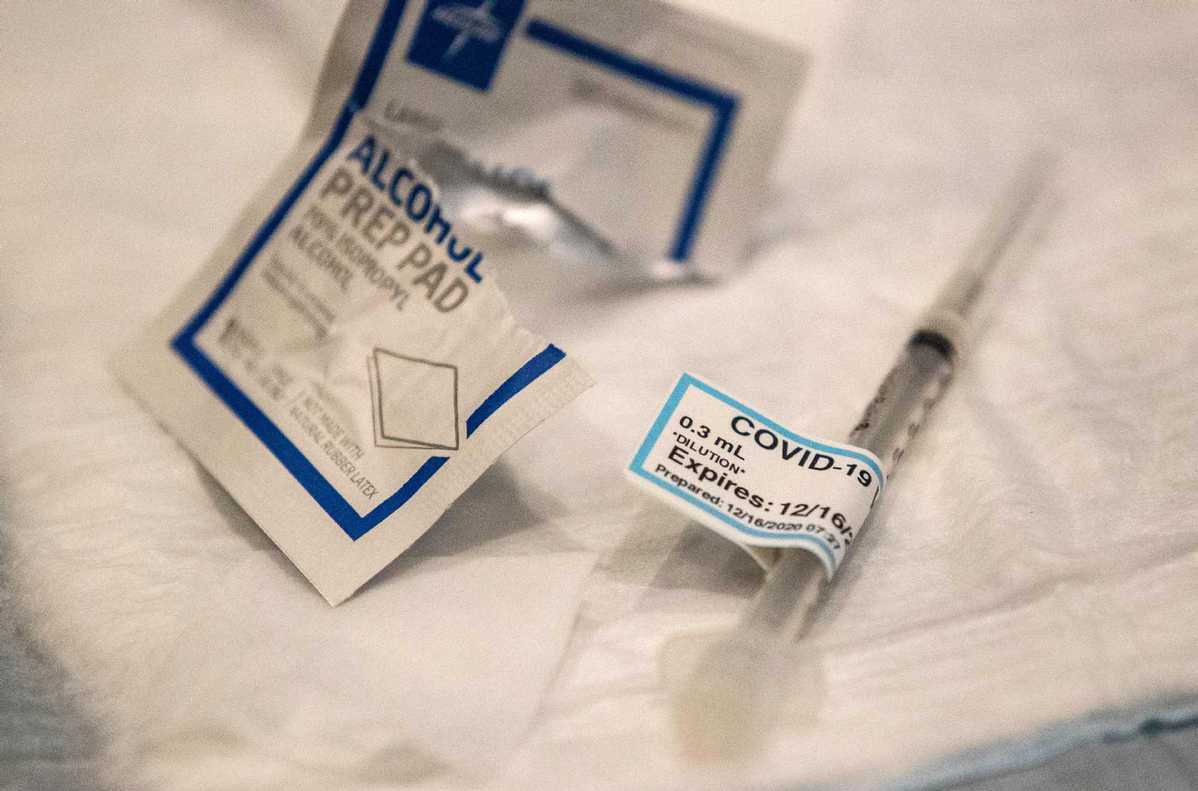 New York's two famously feuding politicians are in disagreement again — over the distribution of the coronavirus vaccine.
On Thursday, New York City Mayor Bill de Blasio demanded that Governor Andrew Cuomo expand the number of people who can be vaccinated for COVID-19 "today".
The mayor explained why he announced on Wednesday that 25,000 NYPD officers and a number of corrections officers would be able to receive vaccines.
But shortly after the mayor's statements, the governor disagreed.
"We were ready to go and do a huge vaccination effort at the Department of Correction and the NYPD, but we were told by the state that they would not allow that," de Blasio said Thursday.
De Blasio said Albany's criteria include first responders who "perform CPR," "use basic life support equipment" and "treat people in shock".
"What do patrol officers do? Of course, they have to be ready to be able to perform CPR at a moment's notice," the mayor said. "Of course they have to be able to use lifesaving equipment and deal with any kind of emergency of any type. What is gray here?"
At the crux of the dispute is that if enough people prioritized to receive the vaccine first decide not to get it, then should it go to the next prioritized group?
Phase 1A, which includes front-line hospital workers and people in nursing homes, is underway. But de Blasio has argued that phase 1B, which includes people 75 and older and first responders, should begin now because about 30 percent of the 1A category in the city not registered to receive the vaccine.
"The state has NOT conveyed when or how 1B will begin. There are not clear guidelines about remaining doses or recipients from 1A," mayoral spokesman Bill Neidhardt said.
"We're at the front line," de Blasio said. "Like in war, the generals are at back at the headquarters. … At the frontline, here's what we're seeing — a lot of people aren't ready to take the vaccine, there are some people adamantly opposed to taking the vaccine in those categories within 1A.
"If I've got an essential worker or a first responder who is ready right now and we have really efficient ways to reach them because they're part of the government — we can organize within our agencies very efficiently — there's no reason to hold that back," the mayor said.
"If you had a world where everyone said, 'I 100 percent want the vaccine' ... then the governor's theory would make a lot of sense."
De Blasio said that vulnerable people who are over age 75 and are currently hospitalized are not eligible to receive the vaccine under the state's rules. "It makes no sense. If they're in the hospital ... give them the vaccine," de Blasio said.
"The rules of the COVID vaccine distribution have been clear for many weeks and agreed to by virtually all credible federal and state leaders," the governor's office said Thursday. "The first priority is '1A,' healthcare workers who are on the front lines."
Dr Michael Katz, CEO of NYC Health + Hospitals, addressed the lack of response from healthcare workers. "When we opened vaccine slots there was tremendous interest ... as the days moved on, we found that demand began to decrease," he said.
He said many healthcare workers who had been working with COVID-19 patients for 10 months said they weren't getting the vaccine because they either have had the virus, had a stronger immune system because they haven't had, or are just not ready to take the shot.
"All of a sudden we now have appointments available, but we don't have arms to give that injection to," he said.
"Any healthcare worker left behind when you open 1B, it's going to be very hard to catch up," Cuomo said on a phone call with reporters.
"If they don't get it while they're still priorities, they go to the back of the line," Secretary to the Governor Melissa DeRosa said. "The question is, are you inadvertently pushing people who are in 1A, not because they don't want to get it but because of an incompetent or ineffective system of delivery."
As of midnight Wednesday, according to NYC Health, the city had administered 149,932 doses of the vaccine, out of its supply of 487,375. As of July 2019, before the pandemic, the city had an estimated population of 8.34 million.
New York on Thursday reported its biggest one-day increase in coronavirus cases since the start of the pandemic and its deadliest day since May.
In neighboring New Jersey, Governor Phil Murphy said Wednesday that vaccinations are being offered to people in the 1B category, including law enforcement and firefighters, as well as other front-line essential workers.
"It is not necessary to vaccinate all individuals in one phase before moving on to the next phase," said Judy Persichilli, the state's health commissioner.
Only 5.4 million Americans have been vaccinated so far despite 17.2 million doses being shipped.
The US as of Thursday had more than 21.5 million cases of the coronavirus, with a total of 364,218 COVID-19 deaths, according to the John Hopkins University Coronavirus Dashboard.
On Wednesday, the pandemic claimed its highest US death toll yet, killing more than 4,000 people as COVID-19 hospitalizations reached 132,051, a Reuters analysis of public health data showed.
On Wednesday, US health officials announced plans to start distributing the vaccines through pharmacies nationwide.
US Health and Human Services Secretary Alex Azar also said that states should not let recommendations to prioritize certain groups slow the vaccine pace. He urged states not to keep vaccines sitting in freezers too long for distribution to priority workers and has encouraged governors to skirt government recommendations for who should receive vaccines first if it can speed inoculations of others.