Explosion rocks Turkey-held area in northern Syria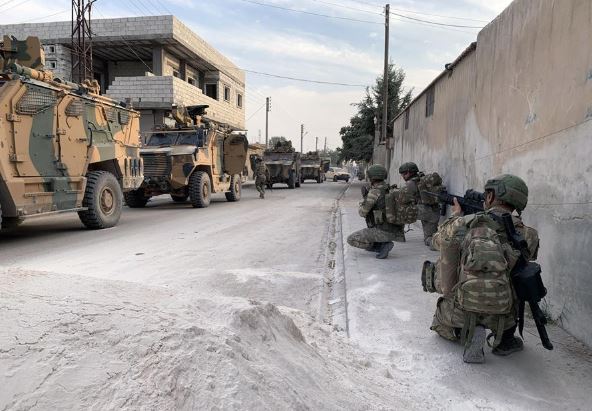 Turkish forces are seen in Tal Abyad in northern Syria on October 18, 2019. (Photo: Xinhua)

DAMASCUS, Jan. 8 (Xinhua) -- An explosion rocked an area controlled by the Turkish forces and Turkey-backed rebels in northern Syria on Wednesday, leaving casualties among the Turkish forces and allied rebels, state news agency SANA reported.

The explosion was caused by a booby-trapped vehicle that tore through the village of Arabayeen in the countryside of the city of Ras al-Ayn in the countryside of the northeastern province of Hasakah, said SANA.
It said there were killed and wounded fighters from the Turkish forces and Turkey-backed rebels.
The report said the wounded were taken across the border to Turkey to receive treatment.
It's the latest in a series of explosions targeting Turkey-held areas in northern Syria, particularly in the Ras al-Ayn city and its vicinity, which were stormed by Turkey following a wide-scale offensive in October last year.
The Turkish campaign was targeting the Kurdish militia groups, which are deemed by Turkey as terrorists.
The Syrian government has accused the Turkish forces of being forces of occupation, stressing that there will come a time when they will be forced to leave Syria.