Pressure rises on Air France as strike forces early CEO exit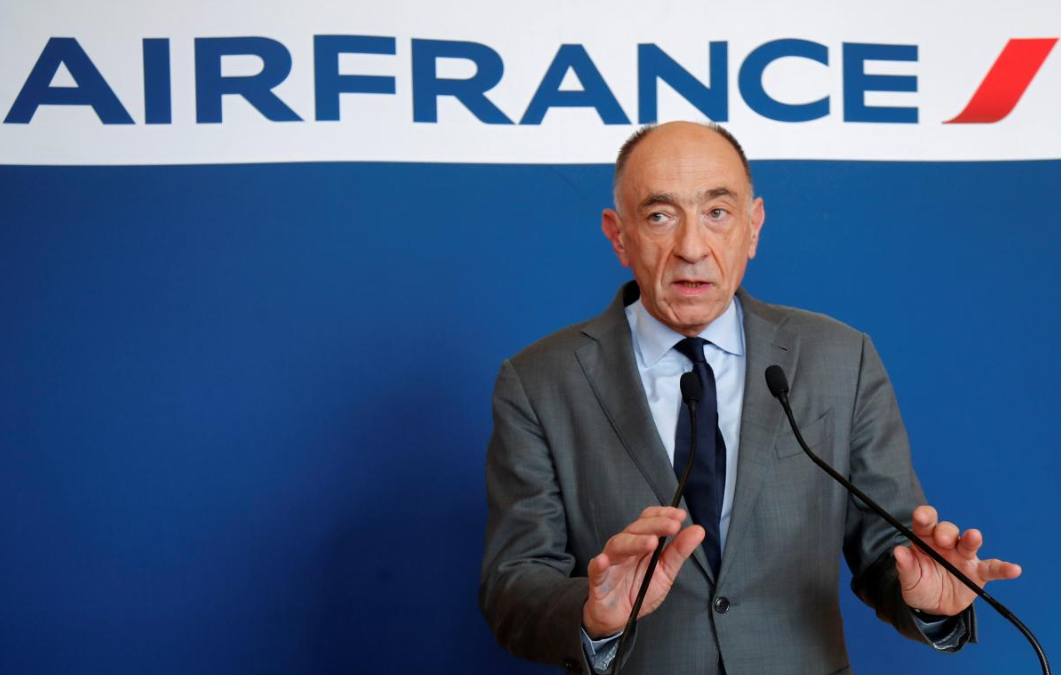 Jean-Marc Janaillac, Chief Executive Officer of Air France-KLM Group, attends a news conference in Paris, France, May 4, 2018 (Photo: Reuters)
Pressure on Air France-KLM (AIRF.PA) grew on Monday as its shares fell by more than 10 percent after chief executive Jean-Marc Janaillac said he would resign over the rejection of a pay deal by the airline's staff.
French Finance Minister Bruno Le Maire had urged the airline and its workers to resume talks on Sunday, saying that if Air France did not become more competitive it "will disappear".
However, pilots, cabin crew and ground staff were on strike for a fourteenth day since February on Monday and Air France said one in five flights would be canceled on Tuesday. It estimates the industrial action has so far cost it 300 million euros ($357 million)..
Janaillac had been CEO for less than two years, running into the same union resistance to reform as his predecessor. His exit raises questions over Air France's ability to cut costs to compete with Gulf carriers and low-cost airlines.
"The future looks turbulent for the company," said Gregoire Laverne, fund manager at Roche Brune Asset Management, who sold his Air France-KLM shares in September 2017.
Last year Italy's Alitalia filed to be put under special administration for the second time in less than a decade, starting a process that will lead to the loss-making airline being overhauled, sold off or wound up.
The French government, which is the national carrier's largest shareholder with a 14 percent stake, has said it will not ride to the rescue and a meeting of Air France-KLM's board has been called for May 15 to decide on a management transition plan.
Air France-KLM shares fell more than 14 percent before recovering some losses to trade down 10 percent at 7.28 euros ($8.68) at 1230 GMT, their lowest level since April 2017.
The stock is down almost 50 percent since the start of 2018, versus a 3.7 percent gain on the broader Paris SBF-120 .SBF120 index and a 4 percent fall on the pan-European STOXX 600 Travel & Leisure index .SXTP.
This is in sharp contrast to its performance last year, when the shares rose 160 percent as Janaillac initiated reforms to restructure and improve the finances of its French brand, said Roche Brune Asset Management's Laverne.
UNDONE BY CUTS
During Janaillac's tenure, Air France-KLM struck deals with Delta Air Lines (DAL.N) and China Eastern (600115.SS), which each acquired stakes of just under 9 percent.
He also oversaw the launch of Joon, a low cost subsidiary of Air France, and growth in its maintenance business. But his efforts to bring down costs proved his undoing.
Air France had offered workers a salary increase of 2 percent in 2018 and a further 5 percent over the following three years, but French unions, which have demanded 5.1 percent this year, have complained management is not serious about talks.
After negotiations reached deadlock, Janaillac called a vote last Friday, the results of which went against him.
Profits at the Dutch sister company KLM, which has succeeded in cutting costs, rose in the first quarter, contrasting with losses at Air France.