Immigrant mom heads to court to get her son back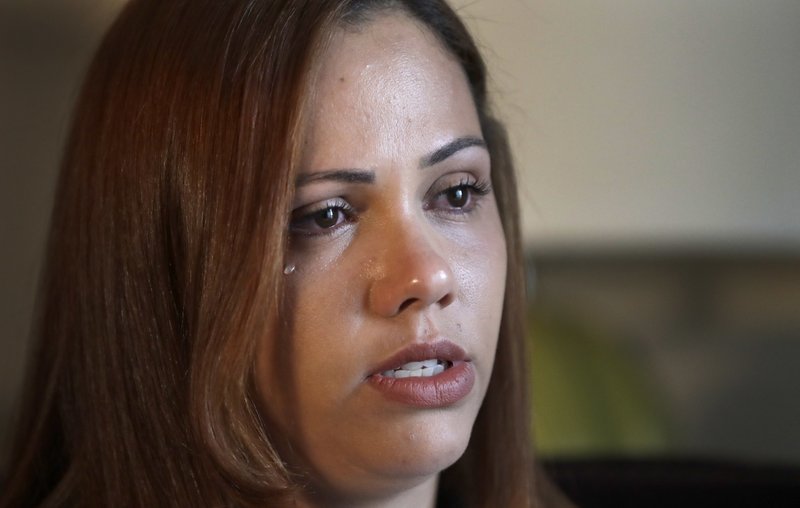 (Photo: AP)
When Lidia Karine Souza would call her 9-year-old son — allowed just 20 minutes per week — he would beg his mom though tears to do everything in her power to get him out of US government custody and back to her.
The 27-year-old Brazilian mother, who is seeking asylum, has been trying with all her might.

She searched for weeks to find Diogo after the two were separated at the border in late May. When she was released June 9 from a Texas facility, she filled out nearly 40 pages of documents that US officials told her were required to regain custody.

Then they told her that the rules had changed and that she needed any family members living with her in the United States to be fingerprinted and still more documents. This was not the safety she had sought for herself and her son. This was not the American dream.

"This ... is a nightmare," she said, sitting in a suburban Chicago hotel, still waiting to be reunited with Diogo, from whom she'd never spent more than a week apart before this.

On Tuesday, Souza's attorneys filed a lawsuit against the Trump administration to demand her son be immediately released. He has spent four weeks at a government-contracted shelter in Chicago, much of it alone in a room, quarantined with chicken pox. He spent his ninth birthday on Monday without his mom.

Her lawyers moved forward with an emergency hearing Thursday morning in US District Court in Chicago despite a federal judge's order forcing the government to reunite more than 2,000 children with their families within 30 days, or 14 days in the case of those younger than 5. The judge in Souza's case heard arguments but declined to immediately rule. A decision could come later Thursday.

Jesse Bless, an attorney from Jeff Goldman Immigration in Boston, one of two firms representing Souza, said he had trouble getting excited over Tuesday's injunction because the government could still delay further. "We struggle to trust at this point," he said.

For days and weeks now, some of the hundreds of parents separated from their children at the Mexican border by the Trump administration have been battling one of the world's most complex immigration systems to find their youngsters and get them back.

For many, it has been a lopsided battle, and a frustrating and heartbreaking one. Most do not speak English. Many know nothing about their children's whereabouts. And some say their calls to the government's 1-800 information hotline have gone unanswered.

Huge logistical challenges remain, and whether the US government can manage to clear away the red tape, confusion and seeming lack of coordination and make the deadline remains to be seen.

The Justice Department and the Department of Health and Human Services, which is in charge of the children, gave no immediate details Wednesday on how they intend to respond to the ruling.

Anthony Romero, executive director of the American Civil Liberties Union, said he believes the deadline is realistic. "It's a question of political will, not resources," he said.

Among the complicating factors: Children have been sent to shelters all over the United States, thousands of miles from the border. And perhaps hundreds of parents have already been deported from the US without their children.

A woman in Guatemala who was deported without her 8-year-old son has had to find a US lawyer from her cinderblock home on the outskirts of Guatemala City to help her get Anthony back. Elsa Johana Ortiz applauded the federal judge's ruling but added, "As long as he's not with me, I will not be at peace."

In El Paso, three dozen parents released Sunday from a US detention center started a feverish search for their children, using a single shared landline phone at a shelter run by Annunciation House.

Some at that shelter rushed to catch buses bound for New York, Dallas and the West Coast to live with family members in the hope that establishing residency will make it easier to get their kids back. Those who left for other cities carried little more than shopping bags stuffed with sandwiches and folders of birth certificates and asylum paperwork.

One asylum-seeker at Annunciation House, Wilson Romero, hoped to be reunited with his 5-year-old daughter, Nataly, in California — at the home of his mother, a recent immigrant herself. He said Nataly appeared to be recovering from chickenpox, also contracted in detention, as Diogo did. She told him she had been vomiting and not wanting to eat.

The 26-year-old father was separated from Nataly by US authorities in El Paso in May. In Honduras, he worked at a textile factory making logos for US brands on the outskirts of San Pedro Sula, one of Latin America's most violent cities. He said he left his homeland so his daughter would have a chance at having a career someday. Now he just wants to see her again.

"I pray to God it is soon," said Romero, who has a tattoo of his daughter's name on his right arm.

Souza also has a tattoo of her son's name on her wrist.

Her lawyer, Bless, said some parents who are trying to get their children placed with friends or relatives in the US are being asked by the government to provide, along with fingerprints of relatives, utility bills and lease information, which many newly arrived immigrants don't have.

Souza and her son were separated about four weeks ago after she requested asylum, arguing her life was in danger in her native Brazil. "I came out of necessity," she said in an interview with The Associated Press on Wednesday.

After her son was taken, she had no idea where he was until another detained mother said her child knew a boy named Diogo in a Chicago shelter. She talked to him for no more than 20 minutes a week and has been told the soonest he could be released would be in late July.

But she hopes her lawsuit will help reunite them sooner.

Souza, who moved in with relatives outside Boston, visited Diogo for the first time since May on Tuesday. They embraced, and she kissed him several times on the head and face, then grabbed his cheeks gently with her hands as they both cried.

"I missed you so much," she said in Portuguese.

Asked how he was, Diogo said: "I am better now."

Their visit lasted an hour. Then he returned to US government custody.

"He cried a lot when the time came to say goodbye," she said. "He thought we would be taking him home."