EU again rejects Italy budget, opens disciplinary procedure
BRUSSELS, Nov. 21 (Xinhua) -- The European Commission on Wednesday rejected Italy's draft budgetary plan for 2019 again, paving the way for disciplinary procedures against the eurozone's third-largest economy.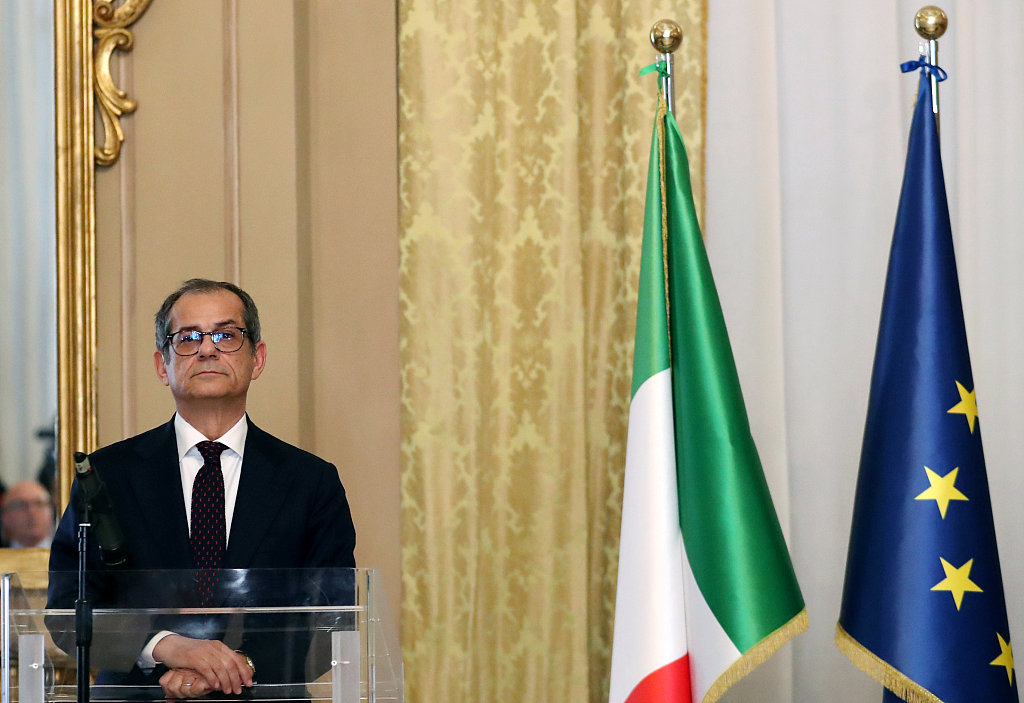 Italian Economy Minister Giovanni Tria looks on before a joint news conference with Eurogroup President Mario Centeno at the Treasury ministry in Rome, Italy, November 9, 2018. (Photo: VCG)
European Commission Vice-President Valdis Dombrovskis said in a press briefing at noon that "with regret, that today we confirm our assessment that Italy's draft budget plan is in particularly serious non-compliance with the Council recommendation of 13 July."
"We conclude that the opening of a procedure for excessive deficit based on the debt is thus warranted," Dombrovskis added.
Italy presented its initial draft budgetary plans (DBP) on Oct. 16. The European Commission on Oct. 23 identified the initial DBP as having "a particularly serious non-compliance."
Italy then presented a revised DBP on Nov. 13. But that was again shot down by the European Commission on Wednesday.
Italy's DBP sees a deficit of 2.4 percent of its gross domestic product, a level seen as too high by Brussels.
"At 131.2 percent of GDP in 2017, the equivalent of 37,000 euros per inhabitant, Italy's public debt exceeds the 60 percent of GDP reference value of" EU rules, according to a European Commission press release, which criticized Italy's "risk of significant deviation" from the path to reduce its debt.
"Let me stress that the situation in Italy is of common concern. Euro area countries are in the same team and should be playing by the same rules. These rules are here to protect us, to provide certainty, stability and mutual trust," Dombrovskis said.
"And in the situation of very high debt, Italy is essentially planning significant additional borrowing instead of the necessary fiscal prudence," he added.
Proportionally, Italy's debt - at more than 130 percent of GDP - is the second highest in the eurozone after Greece's.
But in Rome, the Italian government of the right-wing League and the anti-establishment Five Star Movement believes that increased borrow-and-spend is the way to boost its economy. Between its initial and revised DBP, only minor changes were made, not satisfying Brussels.
According to EU rules, the excessive deficit procedure requires the country in question to provide a plan of the corrective action and policies it will follow, as well as deadlines for their achievement. Euro area countries that do not follow up on the recommendations may be fined.
As the clash between Rome and Brussels escalates, the EU is entering uncharted territory. No country has actually been fined pursuant to the excessive deficit procedure.