Khashoggi death a 'mistake,' MBS not involved, says Saudi FM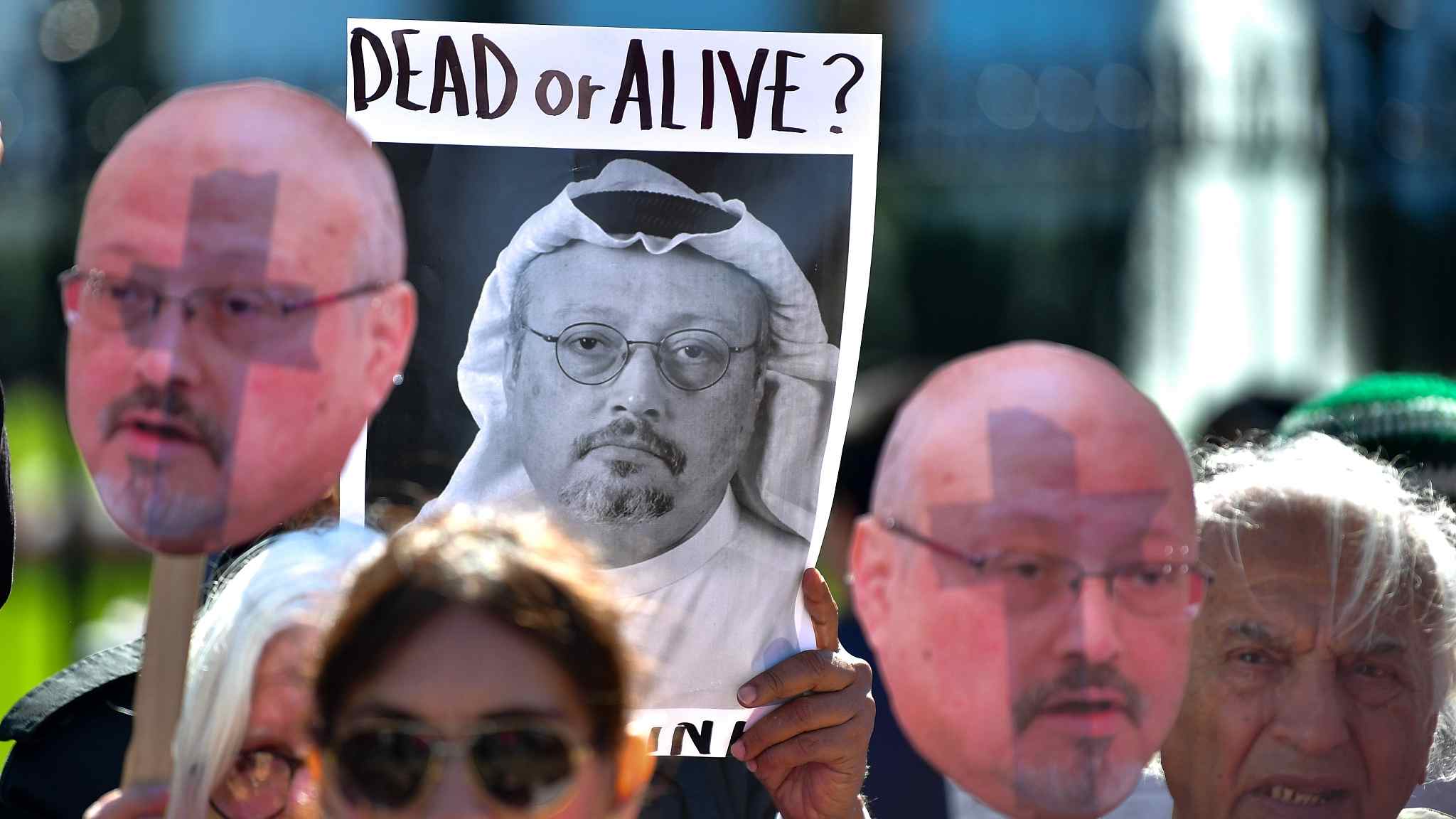 Protesters demonstrate outside the White House over the disappearance of Saudi journalist Jamal Khashoggi, in Washington, DC, October 19, 2018. (Photo: VCG )
Saudi Foreign Minister Adel al-Jubeir said the killing of journalist Jamal Khashoggi was a "tremendous mistake" but insisted Crown Prince Mohammed bin Salman, also known as MBS, was in no way involved, as Western powers called on Sunday for clarity over the incident.
Here are the latest updates on the story.
Was MBS involved in Khashoggi's death?
Two days after Saudi Arabia first admitted that Khashoggi was killed inside the kingdom's consulate in Istanbul, Jubeir told Fox News that this was a "rogue operation," unsanctioned by Riyadh.
"The individuals who did this, did this outside the scope of their authority. There obviously was a tremendous mistake made, and what compounded the mistake was the attempt to try to cover up," he said.
Khashoggi, a Washington Post contributor and critic of Prince Mohammed, was last seen entering the Saudi consulate in Istanbul on October 2. Turkish sources quickly alleged he had been killed and his body dismembered and disposed of.
Saudi Arabia initially denied the claims but on Friday finally acknowledged that the journalist was killed during what it said was a fistfight at the consulate.
"This was an operation that was a rogue operation, this was an operation where individuals ended up exceeding the authorities and responsibilities they had," Jubeir said on Sunday.
This explained why Riyadh initially claimed Khashoggi had left the consulate alive: only after Turkish reports started to emerge did Saudi Arabia launch an investigation and discover he had been killed, the minister said.
Saudi authorities did not however know where the body was, he noted.
Jubeir also insisted that the crown prince, was not involved, amid reports that some of the men who carried out the killing were close associates of his.
Riyadh said on Friday that 18 people had been arrested and five top officials, including aides to Prince Mohammed, had been fired as part of the investigation into Khashoggi.
"We want to make sure that those who are responsible are punished, and we want to make sure that we have procedures in place that prevent it from happening again," Jubeir said on Sunday.
The Saudi Press Agency meanwhile reported that both King Salman and Prince Mohammed had called Khashoggi's son to express their condolences.
What is the 'naked truth'?
In Istanbul, Turkish President Recep Tayyip Erdogan vowed to shed light on the case. "We are looking for justice here and this will be revealed in all its naked truth," he said.
During a phone call with US President Donald Trump on Sunday, the two leaders agreed on the need to clarify what happened to the journalist, who moved last year from Saudi Arabia to the US.
Riyadh has been criticized for repeatedly changing its story regarding Khashoggi's fate and in an interview over the weekend, Trump noted that "there's been deception and there's been lies."
"Their stories are all over the place," he told the Washington Post.
However, he described Prince Mohammed, who took over the kingdom's day-to-day affairs last year, as a "strong person".
"He's seen as a person who can keep things under check, I mean that in a positive way," Trump added.
The US president has gone back and forth over the past week, threatening "severe punishment" if it was proven Riyadh was involved in Khashoggi's death, then emphasizing Saudi Arabia's important role as a partner in the fight against terrorism.
Is the Riyadh summit still happening?
Britain, France and Germany said on Sunday there was "an urgent need for clarification" about Khashoggi's fate, and this needs to be "backed by facts to be considered credible."
They joined the European Union, the United Nations and Australia in calling for a proper probe into the incident.
The Khashoggi case has cast a shadow over a major investment conference to be held in the Saudi capital starting Tuesday, with CEOs of top companies and European and US ministers pulling out in the past few days.
The Future Investment Initiative summit is nevertheless expected to go ahead.
How is the Turkish probe progressing?
In Turkey, prosecutors continued to question witnesses, media reports said. Last week, Turkish police searched the Saudi consulate and consul's home, as well as areas outside Istanbul where it was believed Khashoggi's body may have been dumped.
Khashoggi's Turkish fiancée – the journalist went to the consulate on October 2 to get papers in preparations of getting married – has also been placed under 24-hour protection, according to Anadolu news agency.
Newsweek magazine meanwhile published comments Khashoggi made to one of its reporters shortly before his death, in which he wished for "a better Saudi Arabia" and called for reform of the regime.
Comparing Prince Mohammed to "an old-fashioned tribal leader," he noted however: "He is moving toward a Saudi Arabia according to him, a Saudi Arabia according to Mohammed bin Salman only."