Missiles land across Ukraine, with blasts in Kyiv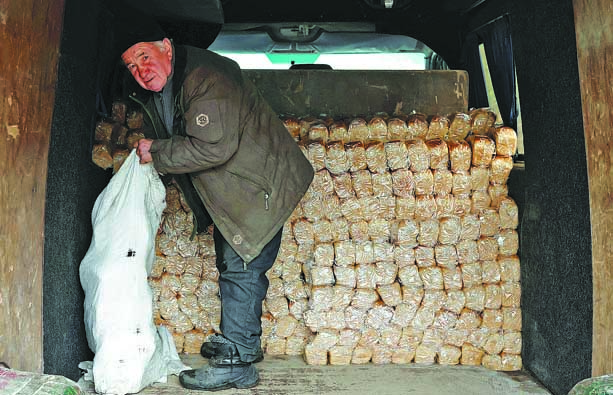 Blasts were heard in Kyiv on Monday and Ukrainian authorities reported Russian missile strikes around the country, after Moscow blamed Kyiv for an attack on its Black Sea fleet and pulled out of a deal to allow Ukrainian grain shipments.
Ukrainian Foreign Ministry spokesman Oleg Nikolenko said missiles had hit energy infrastructure in Kyiv and other cities, causing electricity and water outages.
The mayor of Kharkiv said missiles had targeted "a critical infrastructure facility" in the northeastern city.
There was no immediate response from Moscow, which has accused Kyiv of attacking its Black Sea Fleet in a Crimean port with 16 drones on Saturday.
Earlier last month, Russia launched airstrikes on Kyiv and other Ukrainian cities, in what it said was a response to an attack on its bridge to Crimea.
Ukraine has neither confirmed nor denied it was behind the attack on the Russian fleet, its typical policy for incidents in Crimea.
Gennady Gatilov, Russia's permanent representative to the United Nations headquarters in Geneva, told Russian daily Izvestia on Monday that there is no platform for holding negotiations on the Ukrainian crisis settlement and no active proposals from Kyiv in this regard.
"There are no active proposals, which can serve as a basis for future political contacts," he said. "Unfortunately, we must acknowledge that there is currently no platform for holding diplomatic negotiations on the settlement of this crisis."
On Sunday, Moscow pulled out of a UN-brokered grain deal after its Black Sea Fleet in Crimea was targeted by a drone attack.
"The marine drones were moving in the safe zone of the 'grain corridor'," Russia's Defense Ministry said in a statement on Sunday, adding that it had "lifted" some of the drones' debris from the sea.
Ukrainian President Volodymyr Zelensky accused Russia of "blackmailing the world with hunger" by pulling out of the food export deal negotiated by the UN and Turkiye.
Russia has also accused Kyiv of planning the Sevastopol attack with the help of British military specialists.
Kyiv and the West condemned Moscow's decision to exit the grain deal, which had been agreed to ease a global food crisis.
Russia's blockade of grain exports makes it "impossible" for fully loaded ships to leave port, Ukrainian Infrastructure Minister Oleksandr Kubrakov tweeted.
The agreement, which established a safety corridor through which vessels could travel to Istanbul for inspections, had already allowed more than 9 million metric tons of Ukrainian grain to be exported and was due to be renewed on Nov 19.
Two cargo ships loaded with grain and other agricultural products on Monday left Ukrainian ports, according to a marine traffic website.
The ships, Admiral de Ribas and Mount Baker, were among the 12 ships that were due to leave Ukrainian ports on Monday, according to the Joint Coordination Center that has been overseeing the agreement.