No-deal Brexit must be avoided, says IMF
China Daily Global
1587092182000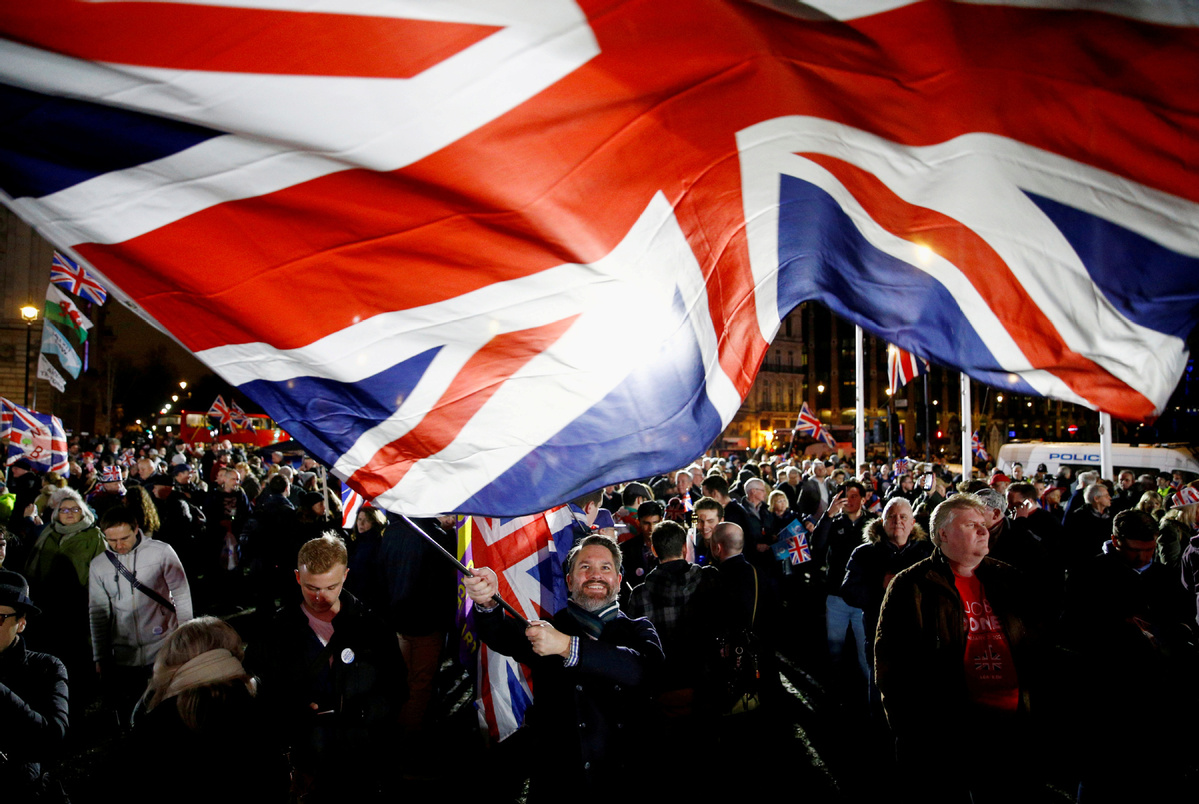 A man waves a British flag on Brexit day in London, Britain, Jan 31, 2020. (Photo: Agencies)
UK and EU urged to take time to reach agreement and avert economic chaos
The United Kingdom should ask for an extension to its post-Brexit transitional period, to minimize economic chaos unleashed by the novel coronavirus, said the chairwoman of the International Monetary Fund.
Kristalina Georgieva said an extension would ease uncertainty as the world economy hurtles toward "a global recession we have not seen in our lifetimes".
"My advice would be to seek ways in which this element of uncertainty is reduced in the interests of everybody, of the UK, of the EU, the whole world," she said during a radio interview with the BBC that was broadcast on Thursday.
She urged the nation and the bloc not to "add to the uncertainty".
The UK officially left the European Union on Jan 31 but will continue to behave much as if it were still a member, until the end of a transitional period that concludes on Dec 31. During this transitional period, which was devised to allow time for both sides to negotiate a future trade deal, the UK continues to follow EU rules and customs arrangements, ensuring trade flows freely.
Georgieva urged the UK and the EU to persist with the arrangement because, with much negotiating time lost due to the pandemic, the prospect of a so-called no-deal Brexit, in which a trade deal is not inked, is looming.
"It is tough as it is," she said. "Let's not make it any tougher."
The UK has enacted legislation that means it would revert to World Trade Organization terms if it fails to negotiate a trade deal with the EU before Dec 31. Reverting to WTO terms in that no-deal scenario would mean new taxes and checks on trade would be introduced, starting in January.
The IMF said before the novel coronavirus outbreak began that a reversion to WTO terms would lead to the UK economy shrinking by around 5 percent.
The Reuters news agency noted that Georgieva made the comments hot on the heels of the IMF warning on Tuesday that the world economy was heading for its steepest downturn since the Great Depression of the 1930s.
The UK and the EU announced on Wednesday that trade talks that had been heavily hit by the novel coronavirus outbreak would resume.
Bloomberg said the two sides were seeking "tangible progress" by June.
Also on Thursday, Georgieva lauded steps the UK had taken to mitigate the economic impact of the virus, which she said were well coordinated and introduced quickly. The steps include government money for stricken businesses, payments for employees who are no longer able to work because of the lockdown, and stimulus spending.
"That very strong package of measures is helping the UK, but, given the UK's sizeable role in the world economy, it's actually helping everyone," she said.