Africa urges investment in healthcare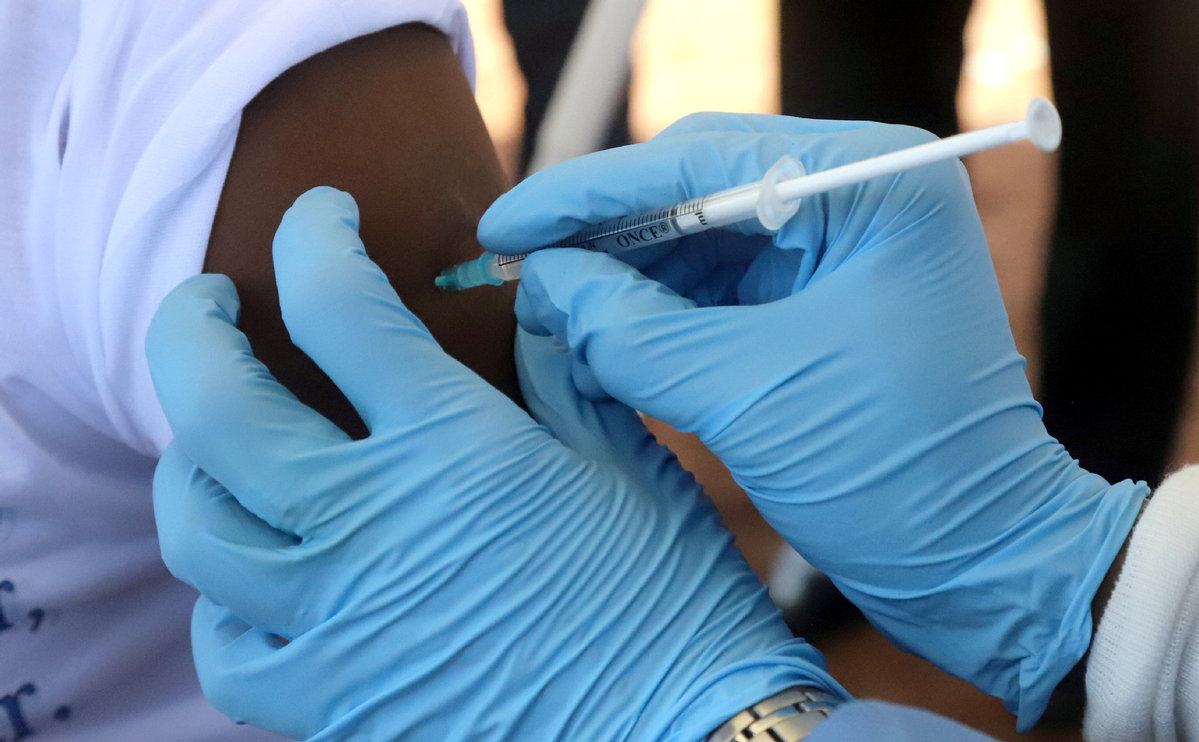 A World Health Organization (WHO) worker administers a vaccination during the launch of a campaign aimed at beating an outbreak of Ebola in the port city of Mbandaka, Democratic Republic of Congo, May 21, 2018. (Photo: Agencies)
R&D partnerships result in discoveries, but still little impact on the continent
The lethargic participation of the global business community in Africa's health sector puts the future of human productivity in peril, said experts who met in Addis Ababa on Tuesday, a day after government leaders concluded the African Union Summit.
Despite strong indications that partnerships with African governments in research and development have produced huge breakthroughs, the cases are still too sparse to have an impact on the continent.
The UN Economic Commission for Africa puts the continent's current health financing gap at $66 billion per annum. Africa accounts for 24 percent of the world's health burden and 16 percent of the global population, but it receives just 1 percent of global health spending, said the World Health Organization.
While other countries are on their way to eliminating certain diseases, measles and malaria cases are rising in Africa, while outbreaks such as Ebola are proving hard to contain. Recent data shows more than 800 people have died in the second largest outbreak of Ebola, which occurred in the Democratic Republic of Congo in August.
"Given our incomes levels, it is no surprise that healthcare spending in Africa is grossly inadequate. It is clear that African governments alone cannot solve this challenge, which is further exacerbated by our growing population and Africa's changing portfolio," said Aigboje Aig-Imoukhuede, the founder of Africa Initiative for Governance.
There is a radical shift in demographic trends that puts Africa as the future of humanity. While Africa accounted for 9 percent of the world's population in 1950, it will add nearly 1.3 billion to the global population by 2050. It will record the fastest and dramatic demographic changes in history, said a UN report.
Tedros Adhanom, director-general of the World Health Organization, said investments in health could unleash the power of human capital needed to meet Africa's current challenges and realize the world's future possibilities.
"Universal health coverage has the power not only to improve the health of entire populations, but also transform economies and change the trajectory of nations," he said.
Pledging to continue supporting Africa's health sector, Microsoft founder and philanthropist Bill Gates, said investments in healthcare have a significant socio-economic impact: "A dollar invested will result in $20 more in socio-economic benefits. The key to innovation and development is in investing in human capital."
African dynamics therefore present opportunities and challenges to investors. Nancy Wildfier-Field, president of GBCHealth, a global coalition of 200 enterprises, said Africa is at a tipping point where scarcity in funding and a large and young population is catching investors' attention. "There is also opportunity to tap into technology-driven youths and leverage on opportunities presented here."
But this is not without challenges. Lack of data caused investors to shy away from the continent. said Mamadou Biteye, managing director of the Rockefeller Foundation's Africa Regional Office.
Front-runners are, however, needed to test the ground and bring them to bankability. "We need to strengthen the role of philanthropy to build business cases and show efficacy, impact, scalability and success. This will attract both big, medium and small enterprises who are the backbone of Africa's economies," he said.
It is also critical to rope in small enterprises in the informal sectors who are nimble and have skills that large corporates lack. "They are also good in identifying new innovations by youths because our secondary goals is providing jobs to millions of young Africans," Biteye said.