EU legislators approve final hurdle for UK exit
China Daily Global
1580433072000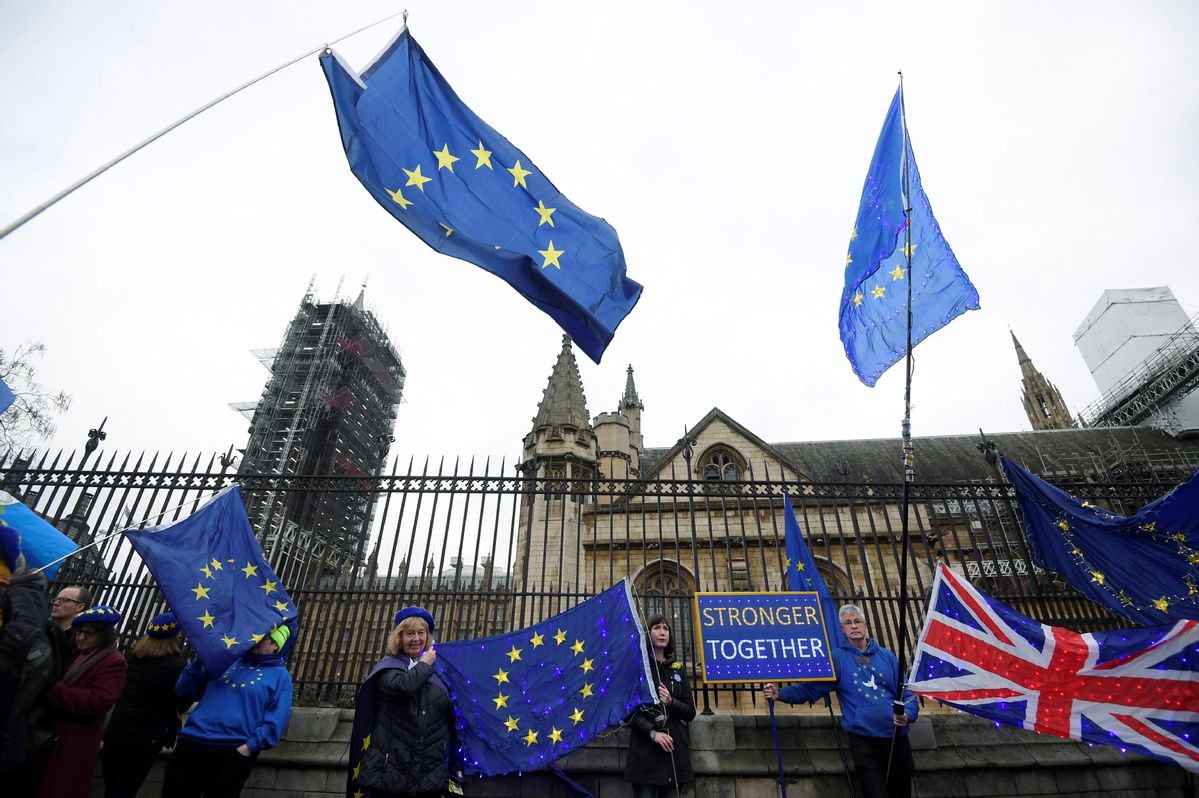 Anti-Brexit protesters holding an illuminating banner, EU and Union Jack flags protest outside the Houses of Parliament in London, Britain Jan 30, 2020. (Photo: Agencies)
Tears fell in the European Parliament on Wednesday as legislators accepted the terms of the United Kingdom's exit from the European Union, concluding a three-and-a-half-year journey that began with the British public narrowly deciding in a 2016 referendum to seek a divorce from the bloc.
After Friday's official exit at 11 pm, London time, the really hard work begins, as the two sides seek a trade deal. If they fall short by the end of the transitional period concluding at the end of this year, the UK will lunge into the long-feared "hard Brexit" that would resurrect hard borders, customs tariffs, and passport checks.
During the 11-month transitional period beginning Feb 1, the UK and the EU will carry on as if nothing has changed, with Britain following EU rules and regulations.
The Financial Times noted on Saturday there will be "few immediate consequences for citizens and businesses on either side" but added that negotiations on the trade deal likely will be "extremely difficult".
The divorce deal ratified on Wednesday commits the UK to pay a 39-billion-pound ($51 billion) separation settlement to the EU, protects the rights of citizens abroad, and prevents a hard border between Northern Island and EU member Ireland.
Emotional scenes followed the vote, as members of the European Parliament, or MEPs, burst into the Scottish lament Auld Lang Syne. Many British MEPs hugged their continental counterparts and wiped away tears as they said goodbye, although the chief architect of the UK's withdrawal, Brexit Party leader Nigel Farage, was jubilant.
"I want Brexit to start a debate right across Europe," he said, calling on people to ask whether "trade, friendship, cooperation, and reciprocity" between European nations could be achieved without the creation of a bureaucratic quasi-state.
The European Parliament President, David Sassoli said all parties should remember there is "more that unites us than divides us".