Turkey mulls whether Hagia Sophia should be repurposed as a mosque
China Daily Global
1593742580000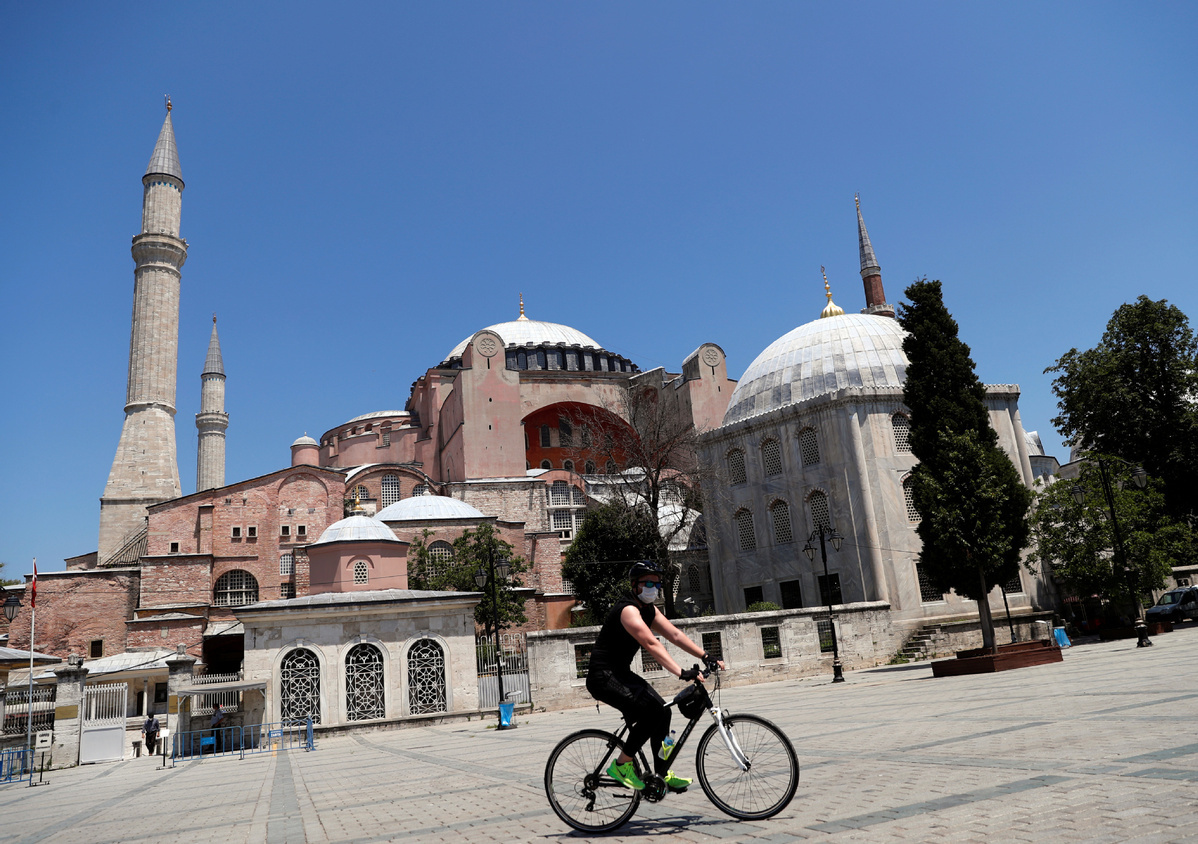 A cyclist rides past Hagia Sophia, or Ayasofya, a UNESCO World Heritage Site that was a Byzantine cathedral before it was converted into a mosque and then a museum in Istanbul, Turkey, July 2, 2020. (Photo: Agencies)
Turkey's highest court will soon decide on whether the 6th century Hagia Sophia, a UNESCO World Heritage site in Istanbul, can be converted into a mosque.
The Council of State evaluated the case in a first hearing on Thursday and is expected to announce its decision within 15 days.
President Tayyip Erdogan has proposed restoring the mosque status of the building, which was at the heart of both Christian Byzantine and Muslim Ottoman empires.
The 1,500-year-old site, one of Turkey's most visited monuments, was originally a cathedral before becoming a mosque and then a museum in the 1930s. The court case disputes the legality of that conversion.
The Daily Telegraph reported that Erdogan, a devout Muslim, hopes to reverse the conversion so he can retain support from hardline conservatives amid challengs brought by the novel coronavirus outbreak.
According to one opinion poll published earlier this month, Erdogan's popularity has dropped from 48 to 43 percent, and tourism has been decimated since the arrival of COVID-19.
The Turkish president's decline in popularity has been linked to his military offansives in Syria and Northern Iraq, where dozens of Turkish soldiers have died this year.
Islamists in Turkey have long called for the Hagia Sophia site to be converted, but secular opposition groups have opposed the move. The proposal has prompted international criticism, from religious and political leaders worldwide.
The head of the Eastern Orthodox Church has criticized the proposal, as has Greece, which is home to many millions of Orthodox followers.
But Turkish Foreign Minister Mevlut Cavusoglu insisted that Athens had no say in the decision as the building was on Turkish territory.
"What we do in our country and with our property is up to us," he reportedly told Turkish broadcaster 24 TV.
Greece's Culture Minister Lina Mendoni has accused Turkey of reviving "fanatical nationalist and religious sentiment", insisting no change to a UNESCO World Heritage site can take place without being approved by the body's own intergovernmental committee.
UNESCO Deputy Director Ernesto Ottone Ramirez agreed that wider approval was needed, in an interview with Greek newspaper Ta Nea.
The head of the Eastern Orthodox Church, Patriarch Bartholomew I, warned on Tuesday that the conversion of the building would "disappoint millions of Christians" and fracture two worlds.
United States Secretary of State Mike Pompeo warned that any change in the Hagia Sophia's status would diminish its ability to "serve humanity as a much-needed bridge between those of differing faith traditions and cultures".