No changes now in US Postal Service
chinadaily.com.cn
1597813890000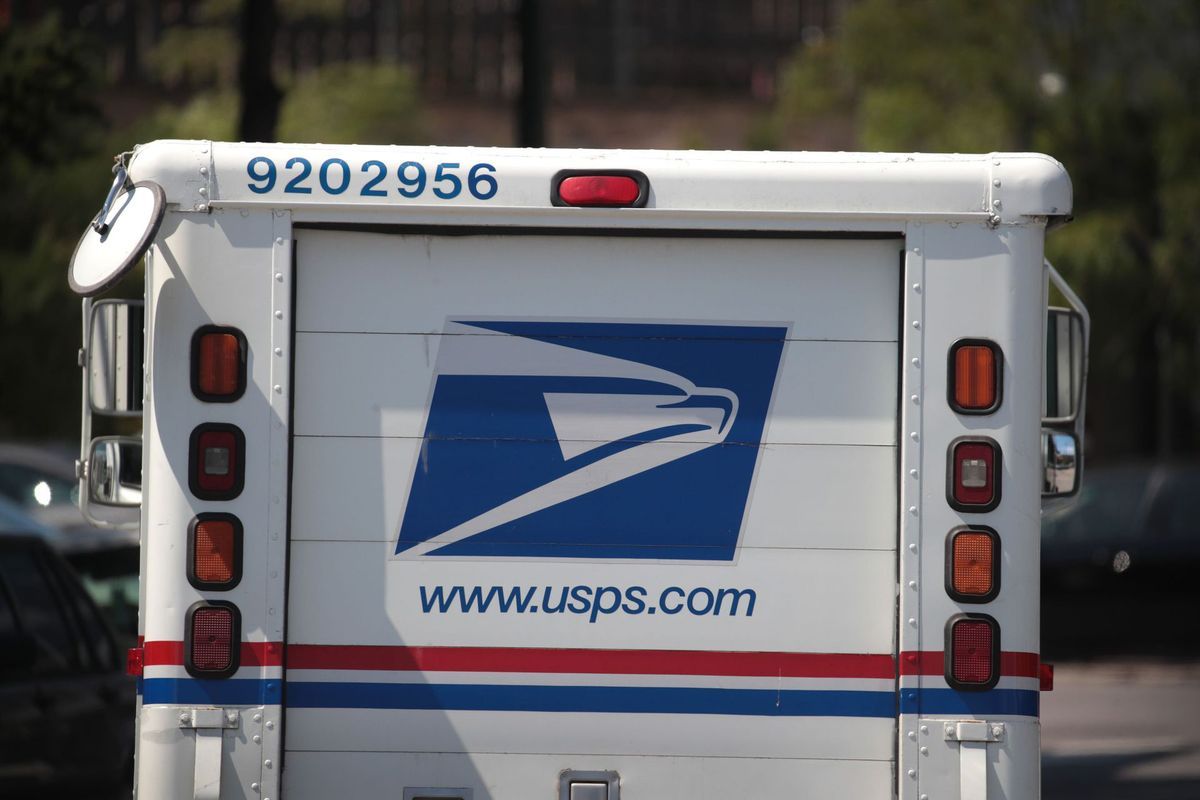 A postal worker leaves a United State Postal Service facility in Chicago, Illinois, US, on Aug 13, 2020. (Photo: Agencies)
With political turmoil bubbling less than three months before a presidential election, the US Postal Service chief moved to take a contentious issue off the table Tuesday, saying no changes would be made to the system before the Nov 3 vote.
US Postmaster General Louis DeJoy suspended all mail service changes, acceding to pressure by Democrats, who interpreted the moves as fashioned to boost President Donald Trump's re-election chances.
The reversal follows complaints that the cuts could slow the handling of mail-in ballots, which could account for as many as half of all votes cast in the election as the coronavirus pandemic raises fears of crowds at polling places.
Trump has expressed concerns about ballot fraud and has cited a May incident in Paterson, New Jersey, in which four men, including a City Council member, were charged with voting fraud related to mail-in ballots.
Nineteen percent of the votes in the May contest were disqualified by the county election board.
"In Paterson, New Jersey, they had a massive amount of voter fraud," Trump said last week. "And it's been a disaster."
Republicans have argued that if people can go to a supermarket, they can vote in person.
Critics say Trump has exaggerated the impact of the incident.
"When it's done in absentee ballots or in mail-in ballots, the reason why it's so easy to find out is because you literally have a paper trail," US Senator Cory Booker, a new Jersey Democrat, said Sunday on CNN's State of the Union. "It was easy to expose and to hold people accountable."
Proposed cost-cutting changes that could slow mail delivery include reductions in overtime, restrictions on extra mail transportation trips, and new mail sorting and delivery policies.
"I am suspending these initiatives until after the election is concluded," DeJoy said in a statement, adding that the changes are to "avoid even the appearance of any impact on election mail".
More than 20 states have announced they plan lawsuits to stop the changes at the Postal Service.
DeJoy also said that the Postal Service will not change retail hours at post offices, that mail collection boxes will remain where they are, and that no mail processing facilities will be closed.
The reversal followed a call by the postal board of governors on Monday night, two people briefed on the matter said. They said the board told DeJoy to focus only on election integrity between now and Election Day, not operational changes.
DeJoy, a political donor to Trump, took the job in June.
Trump said last week he was against Democratic efforts to include funds for the Postal Service and election infrastructure in coronavirus relief legislation because he wanted to limit mail-in voting during the pandemic.
"It will end up being a rigged election or they will never come out with an outcome," Trump told reporters on Tuesday. "They'll have to do it again, and nobody wants that. You can't have millions and millions of ballots sent all over the place, sent to people that are dead, sent to dogs, cats, sent everywhere."
One in 4 ballots in 2016 were cast by mail.
"It's good they've recognized the problems they've caused but we need a PERMANENT rescission of ALL of DeJoy's harmful policies - and they MUST treat all election materials as first class," US Senate Democratic Leader Chuck Schumer of New York wrote on Twitter.
Trump said last week that he was blocking $25 billion in emergency aid to the Postal Service, acknowledging he wanted to curtail election mail operations, as well as a Democratic proposal to provide $3.6 billion in additional election money to the states to help process an expected surge of mail-in ballots.
In the pivotal election swing state of Ohio, US Senator Rob Portman and other Republicans in Ohio's congressional delegation urged DeJoy to "ensure timely and accurate delivery of election-related materials".
House Speaker Nancy Pelosi, a California Democrat, said she is calling lawmakers back to Washington on Saturday for the "Delivering for America Act", which would prohibit the Postal Service from implementing any changes to operations or the level of service it had in place on Jan 1.
"I don't, frankly, trust the postmaster general," Pelosi said in San Francisco.
The Postal Service has been hurt financially by declines in first-class and business mail.
First-class mail volume peaked in 2001, and was down by more than 40 percent in 2017, according to the Postal Service, as the use of email and the internet continued to increase. Delivery services such as FedEx and UPS also have taken an increasing share of letters and package shipments.
The president has criticized the Postal Service's business model, and on Tuesday tweeted: "@Amazon, and others in that business, should be charged (by the US Postal System) much more per package, and the Post Office would be immediately brought back to "good health", now vibrant, with ALL jobs saved. No pass on to customers. Get it done!"