AIIB invests to solve long existing blackouts in South India
People's Daily Online Original
1530270171000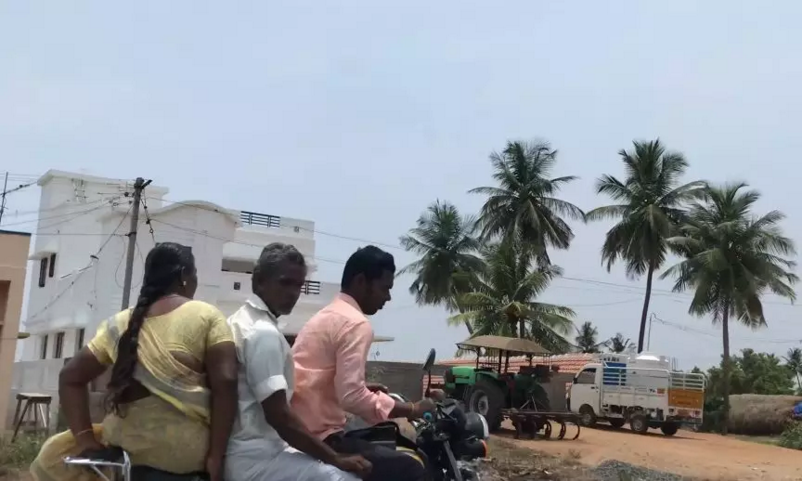 Local people ride a motor bike in Pugalur, an area of Tamil Nadu in southern India (Photo by Zhang Xingjun from Xinhua News Agency)
Southern India will say goodbye to frequent blackouts thanks to a transmission project sponsored by the Asian Infrastructure Investment Bank (AIIB), Xinhua News Agency reported on Thursday.
Electricity is as important as water for us, said farmer Kumar in Pugalur, an area of Tamil Nadu in southern India, where power failures have often occured over the last thirty years.
Frequent outages add difficulties to the lives of local people, said the farmer, explaining that it affects industries such as agriculture during the dry season.
The transformer substation in Pugalur, now looking shabby with rusty lines embedded in wild grass, was built in about 1987, providing power for surrounding residents and enterprises, said a woman in charge who chose not to be named.
When it reaches peak season, the substation will break down more frequently, causing blackouts, said the woman.
However, an upcoming transmission project aided by AIIB will solve the blackout dilemma in southern India, and Pugalur will be an important link in the project.
The project will cover a long distance, connecting the power network in northern, western and southern India, so as to provide 4,000-5,000 megawatt power to Tamil Nadu.
AIIB's investment to the project, scheduled to be completed by early 2020, will account for 33 percent of the total $300 million, said Yang Hongliang from AIIB.
AIIB, as a new type of multi-lateral development bank initiated by China, has so far provided members with loans worth $4 billion, said the AIIB President Jin Liqun at the bank's third annual meeting in Mumbai, India.
Jin added that loans of $1.2 billion have gone to India, making it AIIB's largest borrower and biggest beneficiary.
It is of profound significance for India, a country with the world's second largest population, to become AIIB's largest borrower, said UK's Danny Alexander, the Vice President of the bank.
Related infrastructure projects will bring huge difference to local people, noted the Vice President. More importantly, the high-quality infrastructure will play a key role in driving the country's economic development.
Besides the current seven projects, India plans to apply AIIB investments to another nine projects, said Indian finance minister Piyush Goyal at a news conference, speaking highly of the achievements made by AIIB.