Pompeo says sanctions "in place" until N.Korea achieves final fully-verified denuclearization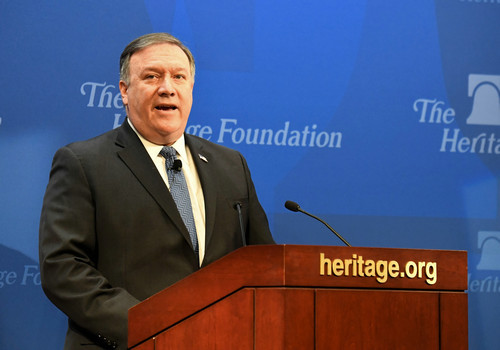 (Photo: Sohu.com)
US Secretary of State Mike Pompeo said on Sunday in Tokyo that sanctions against the Democratic People's Republic of Korea will remain in place until the North Korea achieves "final, fully-verified denuclearization."
Pompeo made the remarks at a joint press conference following a trilateral meeting between foreign ministers of the United States, Japan and South Korea in Tokyo.
"As we build on the momentum of President Trump and Chairman Kim Jong Un's historical summit, the United States, the Republic of Korea and Japan continue to strengthen our trilateral cooperation to achieve the goal set out in Singapore," Pompeo said.
Japanese Foreign Minister Taro Kono, for his part, said at the joint press conference that the three sides "were able to reaffirm our unwavering commitment to the continued strengthening of our trilateral cooperation toward the common goal of North Korea's complete, verifiable and irreversible dismantlement of all nuclear weapons and missiles."
Pompeo arrived in Tokyo on Saturday after wrapping up a visit to the North Korea, during which the two sides had "productive conversations" according to Pompeo.
"During the visit, we intended to build upon the agreement made by President Trump and Chairman Kim, and we made progress," Pompeo told reporters in Tokyo.
The North Korea "reaffirmed its commitment to complete denuclearization, and we had detailed and substantive discussions about the next step towards fully-verified and complete denuclearization," said Pompeo.
"North Korea also reaffirmed its earlier commitment to destroy its missile engine test sites, which will make the region and the world safer," he said.
Pompeo also said that the two sides had established a working level team that will deal with the details.
In the meantime, "sanctions will remain in place until final fully-verified denuclearization as agreed by Chairman Kim Jong Un occurs," he added.
Before the trilateral meeting, Pompeo had also met with Japanese Prime Minister Shinzo Abe, who called for resolving the issue of the North Korea's abductions of Japanese nationals in the 1970s and 1980s.
Abe said that the settlement of outstanding issues surrounding the North Korea will be extremely important to Japan as well as peace and stability of the region and expressed thanks to the US side for mentioning the abduction issue at talks with the North Korea.
Meanwhile, the North Korea has expressed deep regret over the result of Pompeo's visit, according to Korean Central News Agency.
The North Korea felt deep regret over the attitude of the US delegation led by Pompeo at the high-level talks held Friday and Saturday with the North Korea officials, a spokesman of the country's Foreign Ministry said.
The spokesman also expressed "deep worry over the result of the talks," saying that the talks have not only failed to be of any help in trust-building between the two sides, but also could result in the wavering of the North Korea's will to work for denuclearization on the Korean Peninsula.