Japan's Osaka to host 2025 World Expo, beating Russian city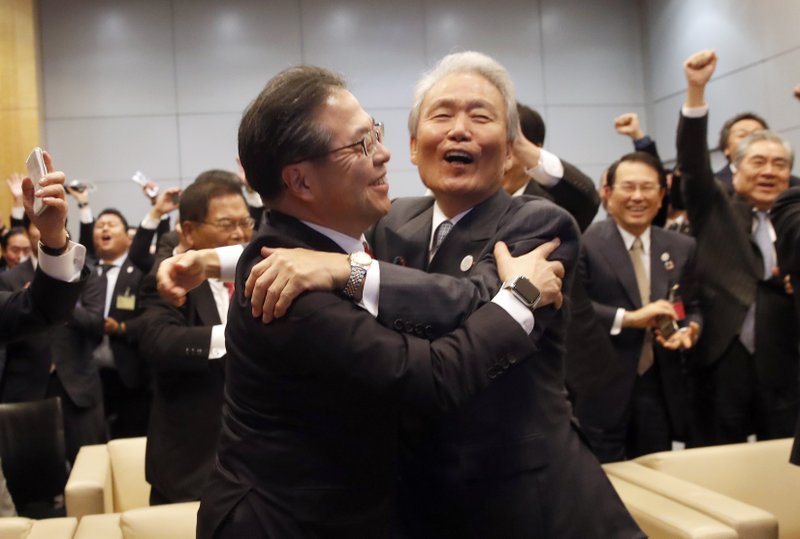 (Photo: AP)
The Japanese city of Osaka will host the World Expo in 2025, after beating out cities in Russia and Azerbaijan in the race to host an event expected to draw millions of visitors and showcase the local economy and culture.
Shouts of joy in Japanese erupted in the Paris auditorium when the 170 member states of the Bureau International des Expositions voted Friday in favor of Osaka's bid. Dark-suited officials hugged and jumped up and down, and Japan's economy and trade minister, Hiroshige Seko, said he felt "Excellent! I'm excited! I also feel a heavy responsibility to make Expo 2025 successful."
Back in Tokyo, Japan's prime minister, Shinzo Abe, said in a statement that the country will make an utmost effort to "achieve a magnificent expo in Osaka that would give dreams and surprises to everyone in the world." Hosting a world expo in Japan would be "a golden opportunity to promote fascinating charms of Japan to the rest of the world," Abe said.
Past world's fairs introduced such wonders as the Eiffel Tower, the Ferris Wheel and Seattle's Space Needle. Today's version is aimed at finding solutions to challenges facing humanity.
Osaka proposed an expo on a man-made island on the theme of "Society 5.0" and how to leverage robotics and artificial intelligence for the public good.
World Expos, which are held every five years, can last up to six months and cost millions of dollars to host, but can help put a city on the global map by bringing in international visitors and attention. Milan hosted the last one in 2015, and Dubai in the United Arab Emirates is set to host the next one in 2020. No U.S. city has hosted a world's fair since the 1980s.
The Russian city of Yekaterinburg was runner-up — the second loss this week for Russia at an international organization, after the Russian candidate to be president of global police agency Interpol lost out to a South Korean rival.
The capital of the oil-rich former Soviet country of Azerbaijan, Baku, came in third in Friday's expo vote.
Osaka pitched itself as the safe, reliable choice — notably because it already held the 1970 Expo, while the other cities are lesser known and would have been first-time hosts.
Leaders in Osaka, Japan's third-largest city and the largest in western Japan, are hoping the expo will revitalize a city that has lost much of its luster to Tokyo, the nation's political and economic capital. They have plans to transform the site into a casino resort after the expo, though there is opposition from residents to bringing casino gambling to town.
Russian President Vladimir Putin had backed the Yekaterinburg bid via video message, and a Russian singer tried to rev up the crowd with song and dance. The Russian city, on the boundary between Europe and Asia in Russia's Ural Mountains, was one of several Russian sites that hosted World Cup matches this year.
The Russian reaction to the loss was muted.
Alexander Chernov, who led Yekaterinburg's bid, told Russian news agencies on Friday that it shows that "in some areas we didn't work hard enough." Asked if Russia may have been voted down because of the current political climate, Chernov said he didn't notice any political overtones during his talks with delegates.
Baku lost despite a lavish bid including a proposed venue designed to evoke the geometry of Azerbaijani carpets. The Caspian Sea city of 2.2 million has recently hosted a series of international events, including the Eurovision Song Contest and F1 Grand Prix . It is set to host some UEFA Euro 2020 matches.