May's Brexit deal defeated: What happens now?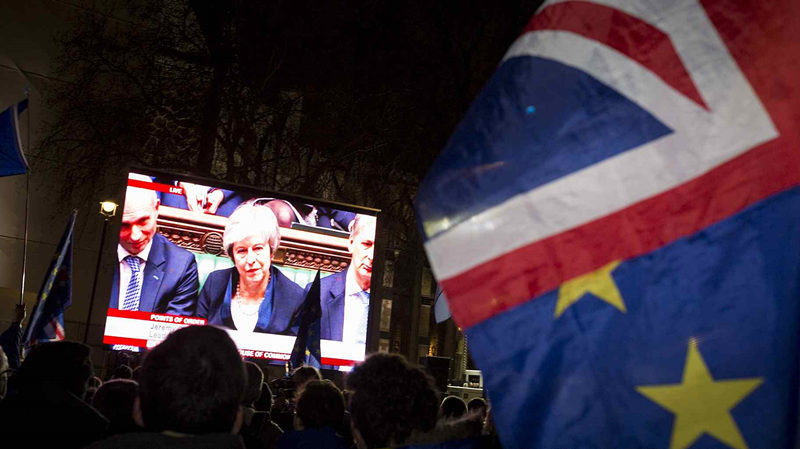 (Photo: CGTN)
British MPs crushed Prime Minister Theresa May's plan for Brexit on Tuesday evening and will now attempt to bring down her government.
The 230-vote defeat, the biggest for a UK government in modern history, is a clear sign that major changes are needed with 72 days to go until Britain is scheduled to leave the European Union.
A defeat of such an enormous scale would ordinarily lead to resignations – but these are not normal times, and May plans to continue to look for a deal which can be passed.
Before the prime minister can attempt to find a solution, and possibly delay the Brexit vote, her government faces a no-confidence vote in parliament. If it loses, a general election is likely.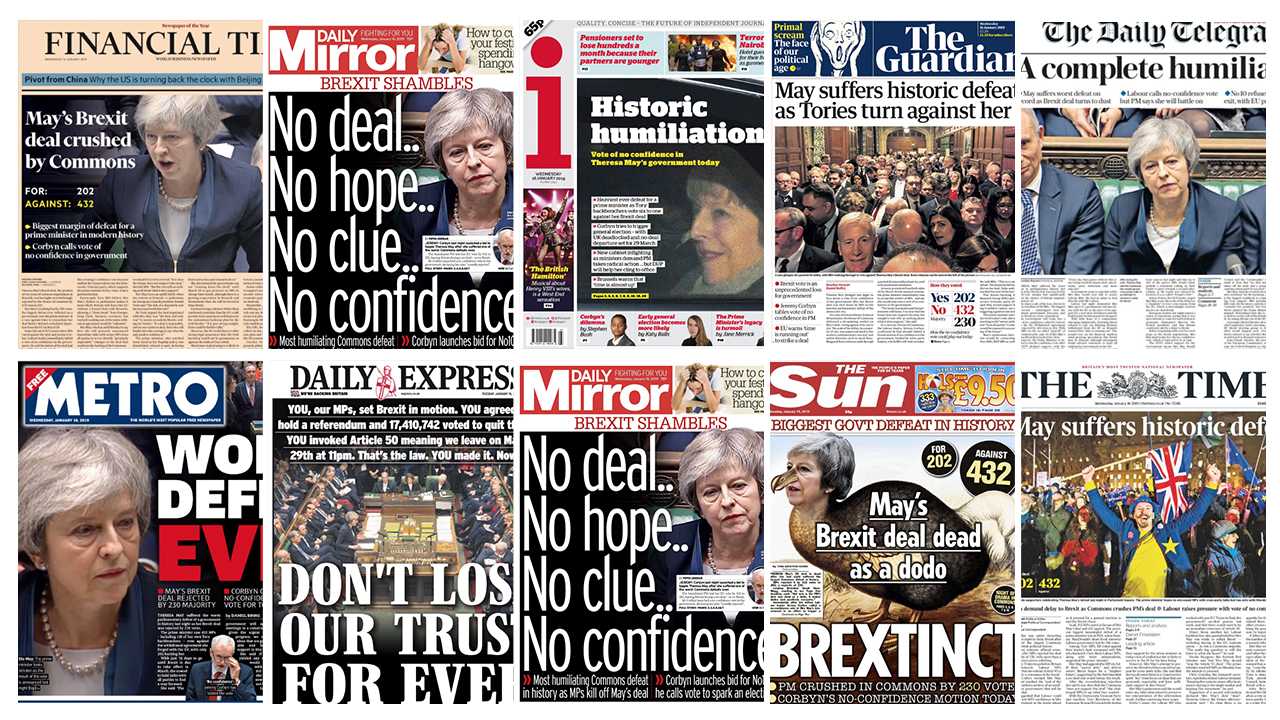 British newspaper front pages, January 16, 2019 /CGTN Compilation
Here's how the next few days could pan out.
No-confidence motion
Opposition Labour leader Jeremy Corbyn called a no-confidence vote in the government immediately after the defeat of May's Brexit plan was announced. It will be debated on Wednesday after the weekly prime minister's questions session in parliament and voted on at 19:00 GMT.
MPs will vote on the motion: "That this House has no confidence in Her Majesty's Government."

Twitter Screenshot
If a majority agrees, there will be 14 days for a new government to be formed via talks between parties.
If a majority does not vote in favor of a new government within those two weeks, a general election will be called and take place 25 working days later.
Will the motion be passed?
The no-confidence vote will be painstakingly close. The Conservative government only holds a majority with the support of the 10 Democratic Unionist Party (DUP) MPs. All members of opposition parties in the 650-seat parliament can be expected to vote in support of the motion.
The DUP opposed May's Brexit deal along with 118 of her Conservative colleagues, but has said it will vote against the no-confidence motion. So long as all 317 Conservatives vote to keep their party in government, May will remain in office. The leader of the hardline euroskeptic faction within the party has said its members will oppose the motion.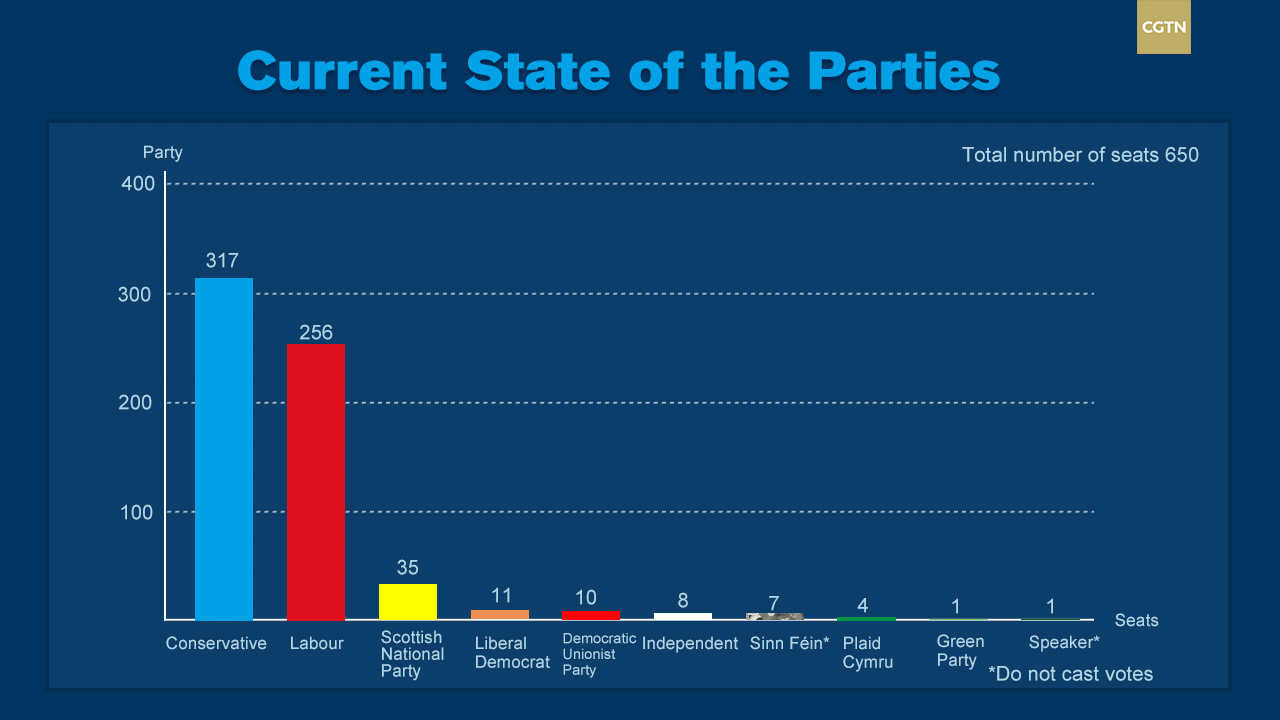 Corbyn must peel off a small number of Conservatives to win, but without promising a clear alternative – such as a second referendum – that will prove difficult.
If the no-confidence motion passes…
A 14-day period would start immediately during which parties and individual MPs could discuss how to form a government which had the confidence of parliament.
This opens the door to a "unity government," but Labour's Brexit strategy has long been geared towards provoking a general election and the party is unlikely to give up the opportunity.
If the two-week negotiation period proved fruitless, an election would be called and Brexit would be the main issue on the ballot paper.
If the no-confidence motion fails…
The government, led by May, would stay in power and negotiations with other parties and the EU would begin again in the hope of finding a way to break the deadlock.
Here are some of the likely scenarios:
Brexit delayed
The EU is reportedly prepared to allow Britain to extend the scheduled exit date – March 29 – until June 30, the date on which a new European Parliament sits.
The government has said it has no plans to do this, but it is widely expected a delay would be necessary to give time for fresh negotiations and finally pass a deal.
Cross-party talks and plan B
May must deliver a motion to the House of Commons on Monday setting out her "plan B."
In the wake of the Commons defeat, she promised to hold talks with other parties – something she has failed to do over nearly two years of Brexit negotiations, despite her Conservatives not holding a majority in parliament.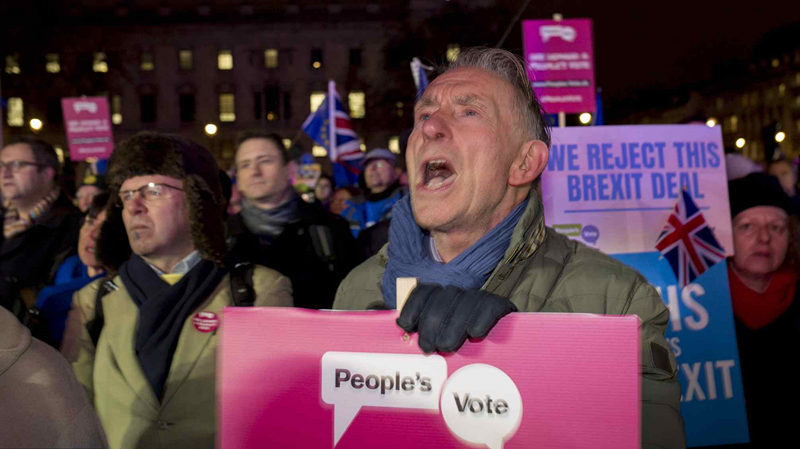 Remain supporters celebrate in Westminster, London, January 15, 2019. (Photo: VCG)
Opposition parties have suggested the offer is too little, too late.
Even in the wake of the largest defeat for a government in modern history, the prime minister has indicated she isn't prepared to deviate much from her existing plan – she is determined to leave the customs union and single market.
Any changes would require consent from the EU. Fresh negotiations with the bloc are inevitable, but probably wouldn't formally happen until after the cross-party talks.
Second referendum
Polling before Tuesday's vote suggested a second referendum – known as a "People's Vote" – was the public's favored way forward.
May is strongly opposed to another referendum and Corbyn has been reluctant to embrace the idea, despite the vast majority of Labour members backing the move.
If the no-confidence motion fails, however, the Labour leader will be under extreme pressure to call for another poll on Brexit. The option could get a majority in parliament: opposition parties support it, as do some Conservative MPs.
No-deal
The EU warned immediately after May's plan was rejected that the risk of a no-deal had heightened. It is the default option if nothing changes before March 29, and is favored by hardline euroskeptics.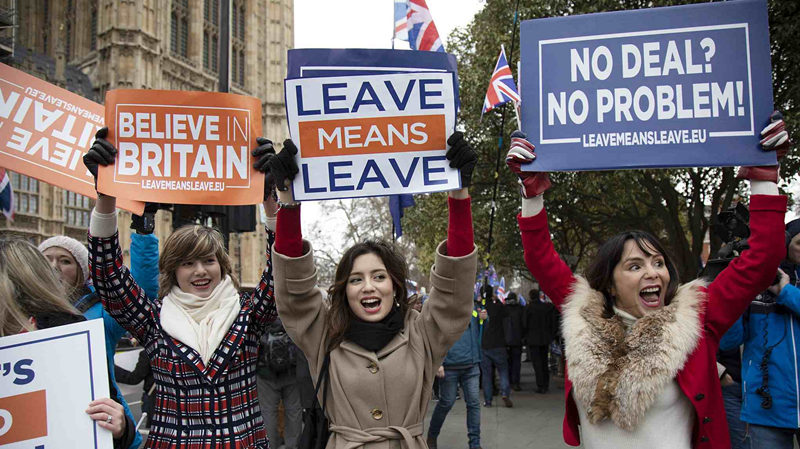 Vote Leave demonstrators protest in Westminster, London, January 15, 2019. (Photo: VCG)
However, a majority in parliament is against a no-deal Brexit – which analysts warn would be disastrous for the UK economy – so it is widely expected that MPs would find a way to prevent such an outcome.
Parliament takes control
A cross-party group of senior MPs is aiming to take control of the Brexit process away from the government. The group, led by former Conservative ministers, published a bill on Wednesday that would allow MPs to try to find a solution.
That could include a series of so-called "indicative votes" – putting a series of options to parliament until one is found for which there is a majority.
More no-confidence votes
Labour could continue to table votes of no-confidence in the government, even if Wednesday's attempt to force an election fails.