Chile, Brazil ink free trade accord
SANTIAGO, Nov. 21 (Xinhua) -- Chile and Brazil on Wednesday signed a free trade agreement (FTA) to promote e-commerce and the exchange in services.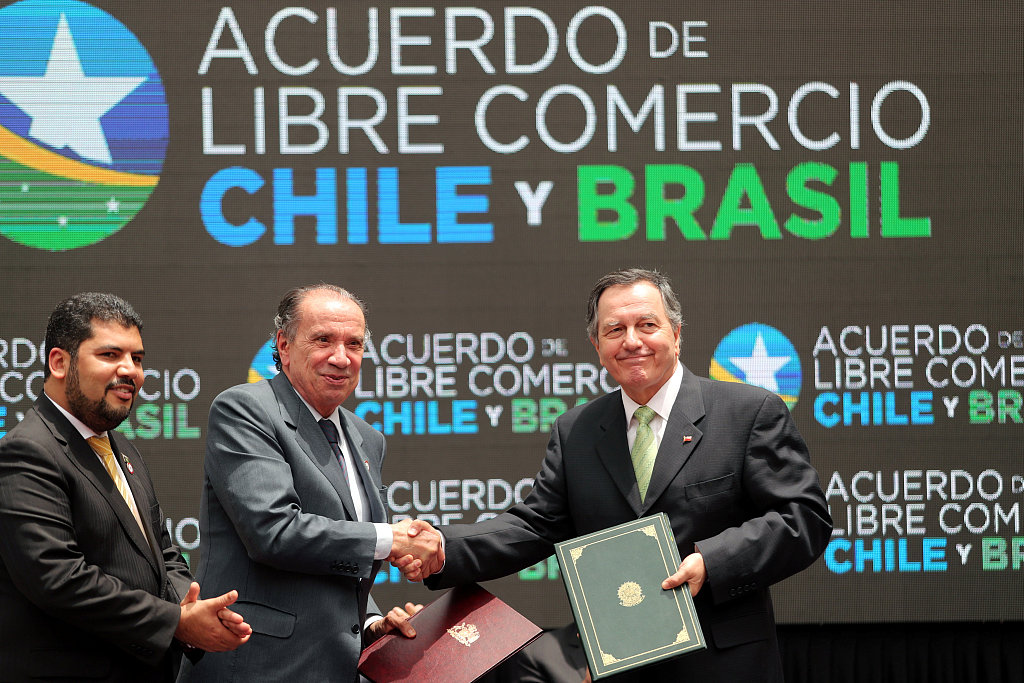 Brazil's Foreign Minister Aloysio Nunes Ferreira and Chile's Foreign Minister Roberto Ampuero shake hands after signing a trade agreement at the government house in Santiago, Chile, November 21, 2018. (Photo: VCG)
The agreement was signed during Brazilian President Michel Temer's visit to Chile's capital Santiago, where he met with his Chilean counterpart Sebastian Pinera.
The two presidents ratified the participation of Chilean companies in Brazil's public-sector purchases, and the elimination of telecommunications roaming charges between the two countries.
"This agreement goes beyond the strictly economic. It also seeks to integrate our countries and bring them closer together from the perspective of culture,(and) political cooperation," Pinera said in a joint statement with Temer.
Brazil is the leading destination for Chilean foreign investment, said Pinera, adding that the FTA, which expands trade in goods and services, is "a new major step forward in bilateral ties."
The agreement encompasses such areas as telecommunications, e-commerce, services, environment, employment and ect.
It also aims to benefit small and medium-sized enterprises (SMEs) by promoting their participation in bids for Brazilian government purchases, on an equal footing with local SMEs.
"The agreement incorporates new chapters on technology, cybersecurity, cooperation in the Antarctic," as well as "the two countries' strong willingness to unite" the capability of their ports by the Atlantic and Pacific oceans, said Pinera.
Brazil is Chile's leading Latin American trade partner, with the volume reaching $6.8 billion from January to August of this year.