Japan's new COVID-19 cases hit record high amid nationwide virus resurgence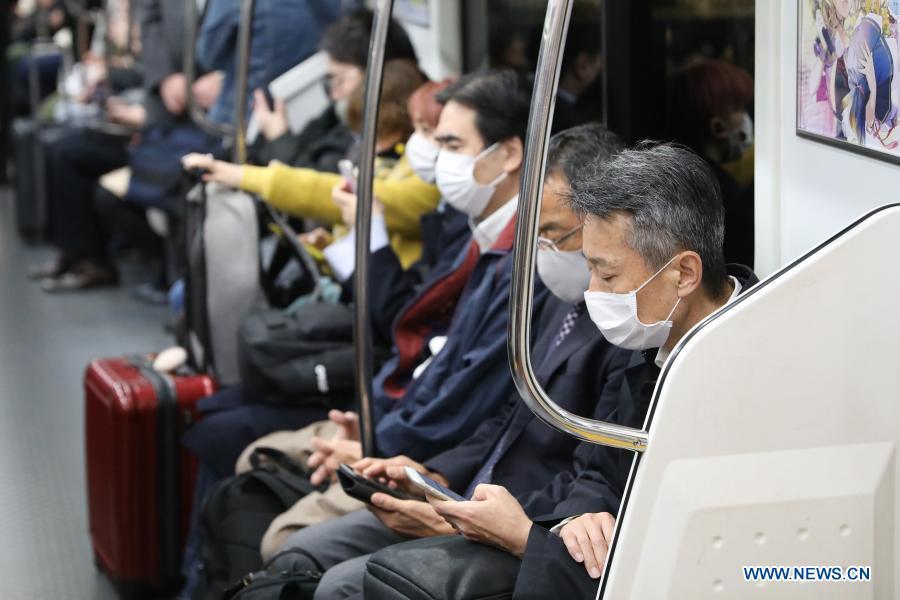 TOKYO, Nov. 12 (Xinhua) -- Japan on Thursday confirmed a record 1,643 daily new COVID-19 infections owing to a resurgence of cases nationwide as the temperature continues to drop and more people stay indoors.
The latest figure surpasses the previous nationwide record of 1,605 confirmed on Aug. 7.
Japan's cumulative total of COVID-19 infections stood at 113,808, not including those connected to a cruise ship that was quarantined near Tokyo early this year.
The Tokyo metropolitan government, meanwhile, reported 393 new daily coronavirus cases in the city of 14 million, with the caseload rising to 33,770 infections, the highest among Japan's 47 prefectures.
The daily tally in the capital has topped 390 for the first time since Aug. 8 and surpassed the 300-mark for the second straight day, the metropolitan government's figures showed.
Tokyo's highest daily infection figure of 472 was reported on Aug. 1.
Tokyo metropolitan government and experts on public health and infectious diseases held a meeting earlier in the day to discuss the resurgence of cases.
In a warning, the experts explained that the daily average of newly confirmed cases was 244 during the seven days through Wednesday, marking a sharp increase from the daily average of 165 in the previous week.
If the rise continues unchecked, the situation would turn "extremely serious" within a month.
Tokyo Governor Yuriko Koike told a press briefing that people need to pay special attention to anti-infection measures, describing the current situation as being at a "critical juncture".
She reiterated her calls for people to continue to regularly wash their hands, wear masks, avoid closed, crowded and close-contact settings.
She also said people should make sure that rooms are well ventilated and people make sure to disinfect hard surfaces at home and work such as tables and doorknobs.
Yasutoshi Nishimura, the minister in charge of the response to the coronavirus, meanwhile, said Japan may review its policy on capping the number of people attending large events.
Large crowds are currently limited to 50 percent of a venue's capacity. The cap, it was decided at the meeting, will be extended to the end of February after an initial deadline set on Nov. 30.
"We may review the policy to restrict the number of participants at events if the virus spreads further," Nishimura said of the matter.
Japan's northernmost prefecture of Hokkaido has seen a spike in COVID-19 cases and clusters recently, as more people are staying indoors in poorly-ventilated rooms as the temperature drops with winter approaching.
Hokkaido reported a new daily record of 236 COVID-19 cases on Thursday, with the number of positive cases topping the 100-mark for the eighth straight day.
Hokkaido's cumulative tally stood at 4,820 cases, according to the latest figures Thursday evening.
The nationwide death toll from the pneumonia-causing virus has risen to a total of 1,884 people, the figures showed. Enditem