Cycling event in Baghdad reflects security improvement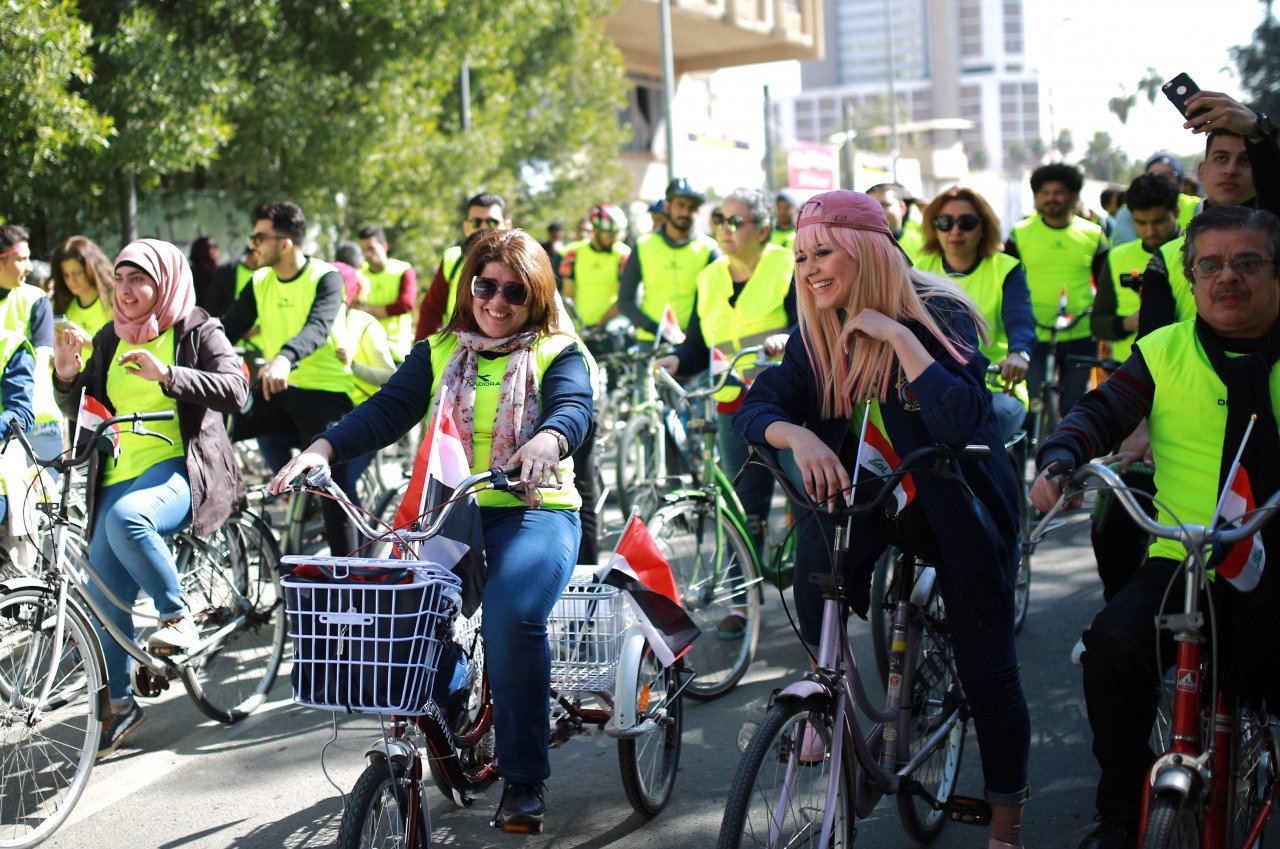 (Photo: Agency)
BAGHDAD, Feb. 16 (Xinhua) -- After decades of war and conflicts that tarnished the Iraqi streets, Iraqis held a rare cycling event with the participation of dozens of Iraqi women, reflecting the revival of life in the once war-torn city.
The security situation has improved dramatically after the defeat of the Islamic State (IS) group, and various events are held in the the capital Baghdad, showing happiness and passion of Iraqi people.
Burj Babel, or Babylon Tower, a non-governmental organization focusing on development of media culture in Iraq, organized a bike racing in Baghdad, to show security improvement.
Iraqis from various backgrounds gathered in Abu Nawas Street to start their journey toward al-Tahrir Square in downtown Baghdad.
Hundreds of jubilant onlookers and participants welcomed the start signal with smiles, as many women, for the first time, participated in the event in an attempt to combat sexism and challenge the traditional norms that prevent Iraqi women from riding bicycles in public.
"Riding a bike here in Baghdad has been one of my wishes since I was a little girl. To be given such an opportunity is truly a blessing," Linda Mustafa, one of the participants told Xinhua.
"The rush I get when I ride a bike is indescribable. Feeling fresh air hitting my face and filling my lungs while listening to the music is pure bliss," she said.
But Linda Mustafa's goal is not only riding bike. She has the motive of helping other women to bypass the old norms and to empower the women role in the Iraqi society.
"To be deprived from something as simple as this (bicycle) is unfair and we are finally given the opportunity to take actions. I am proud to be a part of this," Mustafa said.
The event held a banner of "I have a dream, I have a bicycle," showing that the Iraqi new generation is willing to give women better situation, regardless of how simple they might be.
Nearly 200 participants cycled to deliver one message that "Iraq is strong and stable," as the participants said.
The organizers of the event painted Abu Nwas Street with array of colors, while love songs could be heard all the way to their destination.
"Baghdad has changed. It is no longer the city of concrete barriers and weapons. Baghdad is breathing again. Many events are being held and we are no longer afraid to be out in the streets," said Imad al-Khafaji, one of the organizers.
"It's such a heartwarming sight to see a young lady with a bicycle. It's as if it's her weapon against all oppression and violence," he said.
Iraqi security forces and police motorcycles escorted the participants to secure the event, which ended with safety.
"The Ministry of Interior and Baghdad Police Command have secured the area of the event, aiming at conveying a clear message to the world that Baghdad will forever remain lively," said Nibras Mohammed Ali, head of media office of Baghdad police command. Enditem