'China-India Plus' plan set in motion with joint training for Afghan diplomats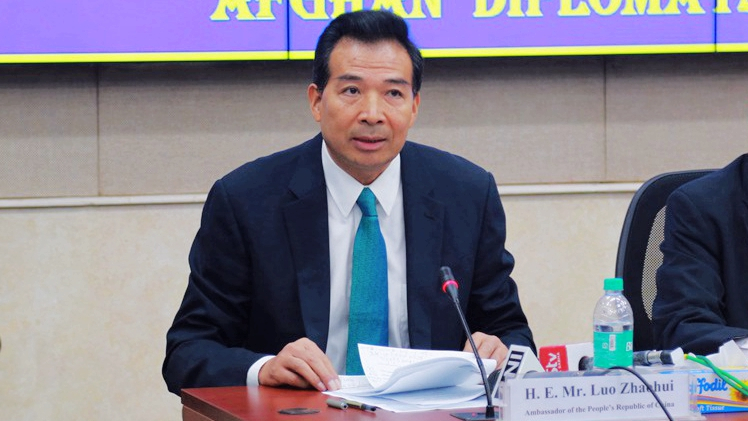 Luo Zhaohui, China's Ambassador to India, delivering his speech at the launch event for China-India joint training program for Afghan diplomats in New Delhi, India, October 15, 2018. (Photo :Chinese Embassy in India)
Afghanistan has become the key hub for "China-India Plus" cooperation plan agreed upon by Chinese President Xi Jinping and Indian Prime Minister Narendra Modi following their informal Wuhan summit in April this year.
Amid reports of an Uzbek-Afghan rail link project that could see both Beijing and New Delhi collaborate, both the Asian countries on Monday announced a joint training program for Afghan diplomats setting into motion the China-India Plus cooperation, which was hailed by Kabul as a great symbol of regional cooperation.
"Earlier this year, President Xi Jinping and Prime Minister Narendra Modi had multiple meetings and reached important understandings on China-India Plus cooperation. They identified Afghanistan as a priority partner and agreed to start by jointly training Afghan diplomats," Chinese State Councilor and Foreign Minister Wang Yi said in a message read out by Luo Zhaohui, the Chinese Ambassador to India, at the launch event for the China-India Joint Capacity Building Program for Afghan Diplomats at the Indian Foreign Service Institute (IFSI) in New Delhi
Screenshots of tweets from Ravish Kumar, spokesperson of India's Ministry of External Affairs (above), and Luo Zhaohui, China's Ambassador to India, mentioning about the China-India joint training program for Afghan diplomats.
Under the joint initiative, 10 Afghan diplomats will be trained at the IFSI, New Delhi's premier institute for foreign services, from October 15 to 26 and later travel to China for a similar 10-day training program.
"The launch of this program marks an important step forward. It reflects the closer coordination and cooperation between our two countries on regional affairs and represents a positive development in China-India relations," Wang's message said.
"It is a testament to the joint aspiration and endeavor of China and India, both being major, responsible developing countries, to contribute to regional peace and stability," he said.
Indian Foreign Minister Sushma Swaraj's message, read out by IFSI Dean J S Mukul, echoed Wang's statement.
"The seeds for joint cooperation in Afghanistan were sown at the meeting between the Prime Minister of India and the President of China when they met in Wuhan in April 2018. Today, we see it blooming with the initiation of this training program. This marks the beginning of what we visualize as a long term trilateral partnership for the benefit of Afghanistan."
'Just the beginning'
In his own remarks, Luo said that China and India share common interests and similar stance on Afghanistan, stressing that "the training program is the first step for China-India Plus cooperation" and leads to many more areas of cooperation in the war-torn country.
"This is just the beginning. China and India have respective advantages. For example, India has remarkable edge in agriculture and medical services, and China in hybrid rice and poverty reduction. I am sure that in the future days China-India cooperation in Afghanistan will span from training program to more concrete projects," said the Chinese Ambassador.
Highlighting the fact that both China and India are members of Istanbul Process and Shanghai Cooperation Organization (SCO), Luo said that Beijing and New Delhi are in discussing further cooperation in regional connectivity initiatives, such as International North-South Transport Corridor, India-Afghanistan-Iran transit and trade arrangement and China-Pakistan-Afghanistan cooperation.
"All of these have provided a solid foundation for the current and future cooperation between China and India in Afghanistan," he explained.
The Chinese envoy proposed to expand the framework of China-India Plus cooperation to include other countries and multilateral forums in the region.
"China-India Plus cooperation should be extended from Afghanistan to other countries, such as Nepal, Bhutan, Maldives, Iran and Myanmar. We can also join hands under the mechanisms of SAARC (South Asian Association for Regional Cooperation), BIMSTEC (Bay of Bengal Initiative for Multi-Sectoral Technical and Economic Cooperation) and BCIM (Bangladesh–China–India–Myanmar Forum for Regional Cooperation) to promote regional peace, stability and prosperity," he elaborated.
A 'game-changer'
Luo Zhaohui, China's Ambassador to India (front row third from right), pose with Afghan diplomats and Indian officials at the launch event for China-India joint training program for Afghan diplomats in New Delhi, India, October 15, 2018. /Photo via Chinese Embassy in India
Analysis: Ahead of SCO Summit, is India softening its stand on China's BRI?
Hailing the joint China-India program as a "game-changer", a top Afghan official told CGTN Digital that the coming together of both the Asian powers is a "win-win situation" not only for Afghanistan but for the entire region.
"The training program is aimed to help capacity building in Afghanistan but its significance is bringing China and India together in Afghanistan and promoting cooperation instead of competition," Amir Ramin, Director General of Regional Cooperation, Ministry of Foreign Affairs Afghanistan, told CGTN Digital.
"China and India, and in fact the whole region can be the winners of their cooperation in Afghanistan as this can serve as a game-changer in addressing regional security challenges and providing a conducive environment for sustainable economic development," he said adding that peace in the region is crucial for both China and India for their proposed economic projects in South and Central Asia to bear fruits.
Lauding the visionary leadership of Xi and Modi in realizing that cooperation is more productive than rivalry, he also highlighted the role of his country "in providing the necessary space for both China and India to be able to start this cooperation in Afghanistan."
Emphasizing that "rivalry has inflicted great human and capital costs throughout the history especially in our region," the Afghan official said that Kabul over the past few years has "strongly advocated the notion that Afghanistan can be a center for cooperation, but not competition."
Agreeing with Luo that the joint training program is just a first step, the Afghan official revealed that "additional projects will be discussed in a trilateral consultative mechanism." The future trilateral collaboration, Ramin revealed, could focus on what he described as "soft" and "hard" projects.
"Soft projects could be programs such as the joint training that just began.Hard projects could include quick impact projects as well as big projects particularly in the areas of infrastructure and connectivity," he added.