Trump hints open to negotiate new nuclear deal with Iran
US President Donald Trump hinted on Monday that he was open to negotiate a new deal with Tehran, while kept demeaning the current nuclear deal ahead of a looming deadline for Washington to decide whether or not to leave the landmark pact.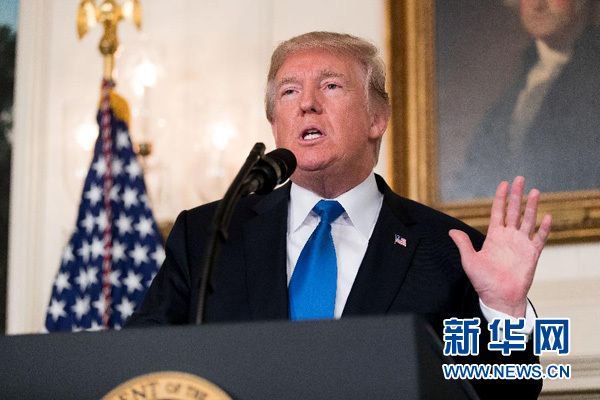 Photo: Xinhua
Trump, at a news conference at the White House, attacked the "horrible" deal again, which has been struck by the Obama administration with Iran in 2015 along with other world powers.
"In seven years that deal will have expired, and Iran is free to go ahead and create nuclear weapons. That's not acceptable," Trump said.
Meanwhile, the US president said he was open to negotiate a new deal with Tehran.
"So that doesn't mean I wouldn't negotiate a new agreement. We'll see what happens," he said.
Trump declined to reveal whether Washington will leave the nuclear deal before a May 12 deadline.
"And on or before the 12th, we'll make a decision," Trump said.
Trump has been criticizing the nuclear deal since it was signed in 2015, which has been widely seen as providing "clear and tangible" benefits by limiting Iran's nuclear program.
In January, Trump extended sanctions relief on Iran under the deal for the last time, threatening a US withdrawal if the US Congress and his European allies cannot fix the alleged "disastrous flaws."
One of Trump's major critiques about the deal was the "sunset clauses," which allow Iran to restart its uranium enrichment program after 2025.
US Secretary of State Mike Pompeo signaled on Sunday that Trump was willing to walk away from the landmark deal even as European allies warned the agreement was the best way to keep Tehran nuke-free.
Pompeo, newly appointed to the post, said on a Middle East tour that Washington is "determined to make sure it never possesses a nuclear weapon," adding the Iran deal in "its current form does not provide that assurance."
Trump's remarks came after Israeli Prime Minister Benjamin Netanyahu on Monday disclosed files which he said could "prove" Iran's secret development of nuclear weapons.
"Iran lied about never having a nuclear weapons program," the Israeli prime minister said.
Iranian Foreign Minister Javad Zarif accused Netanyahu of deception on Monday evening,
"The boy who can't stop crying wolf is at it again. You can only fool some of the people so many times," Zarif wrote on his Twitter account.
Iranian Deputy Foreign Minister Abbas Araghchi said Monday that Israeli prime minister's allegations against Iran aimed to influence Trump's upcoming decision about the deal.