UK calls for climate change steps to be included in economic recovery strategy
China Daily Global
1588042219000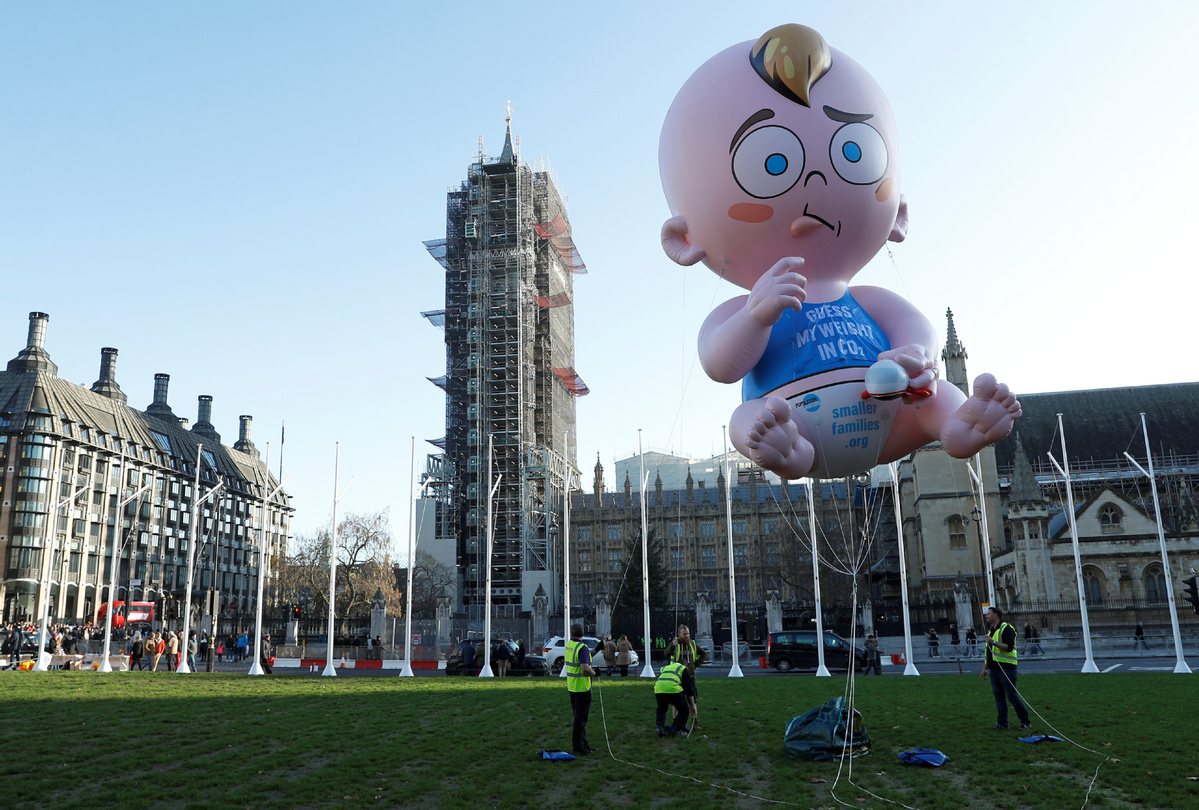 A giant baby balloon inflated by climate change protesters is seen during a demonstration as part of the Global Climate Strike of the movement Fridays for Future, in London, Britain, Nov 29, 2019. (Photo: Agencies)
Action on climate change must be built into solutions for the economic effects of the COVID-19 crisis, the United Kingdom's government will tell environment ministers at a major online conference taking place this week.
Glasgow was due to host the 2020 United Nations Climate Change Conference, or COP26, later this year, an event that has now been put on hold indefinitely. This week, ministers from 30 countries will take part in a discussion called the Petersberg Climate Dialogue, being co-hosted by the UK and Germany. Major economic powers and developing nations will take part, as well as senior figures from business and organizations including the United Nations.
"I am committed to increasing global climate ambition so that we deliver on the Paris Agreement (to stabilize temperature rise well below 2 C)," said UK climate secretary and president of COP26, Alok Sharma.
"The world must work together, as it has to deal with the (novel) coronavirus pandemic, to support a green and resilient recovery, which leaves no one behind.
"At the Petersberg Climate Dialogue, we will come together to discuss how we can turn ambition into real action."
The European Union has already got wheels in motion delivering its own green economic recovery program, through its Green Deal.
"The European Green Deal is a growth strategy and a winning strategy," tweeted the initiative's head, Frans Timmermans. "It's not a luxury we drop when we hit another crisis. It is essential for Europe's future."
The Green Deal, which aims to transform the 27-member bloc into a low-carbon economy without a negative impact on economic prosperity, was unveiled before the virus outbreak, in December 2019, and hailed at the time by European Commission President Ursula Von Der Leyen as Europe's "man on the moon moment".
But there are already fears that it is overambitious for the new post-novel coronavirus world.
"The Green Deal was a gigantic challenge for an economy in top shape. After the corona bloodletting, it is simply not financially viable," Markus Pieper, a member of the European Parliament for Germany's center-right CDU party, told Focus magazine.
Helen Clarkson, CEO of international climate change action organization The Climate Group said the novel coronavirus outbreak offered governments a chance to "rebuild society differently.
"A side-effect of the reduced economic activity we are seeing is cleaner air and clearer skies-through positive international cooperation we can begin to understand how we keep those things without compromising on economic growth," she said.
"We have received signals from our partners, including 300 of the world's largest businesses, that their commitment to climate action overwhelmingly remains despite the challenging circumstances.
"Electric vehicles and renewable, efficient energy are profitable, long term investments. We need these smart green stimulus policies to not just maintain momentum but rapidly ramp-up investment to another level, and help deliver the halving of emissions we need in this decade."