Iraqi intelligence service captures 13 French IS militants inside Syria
BAGHDAD, Feb. 21 (Xinhua) -- Iraqi intelligence service arrested 13 French citizens affiliated with Islamic State (IS) militants in an operation inside neighboring Syria, media reports said on Thursday.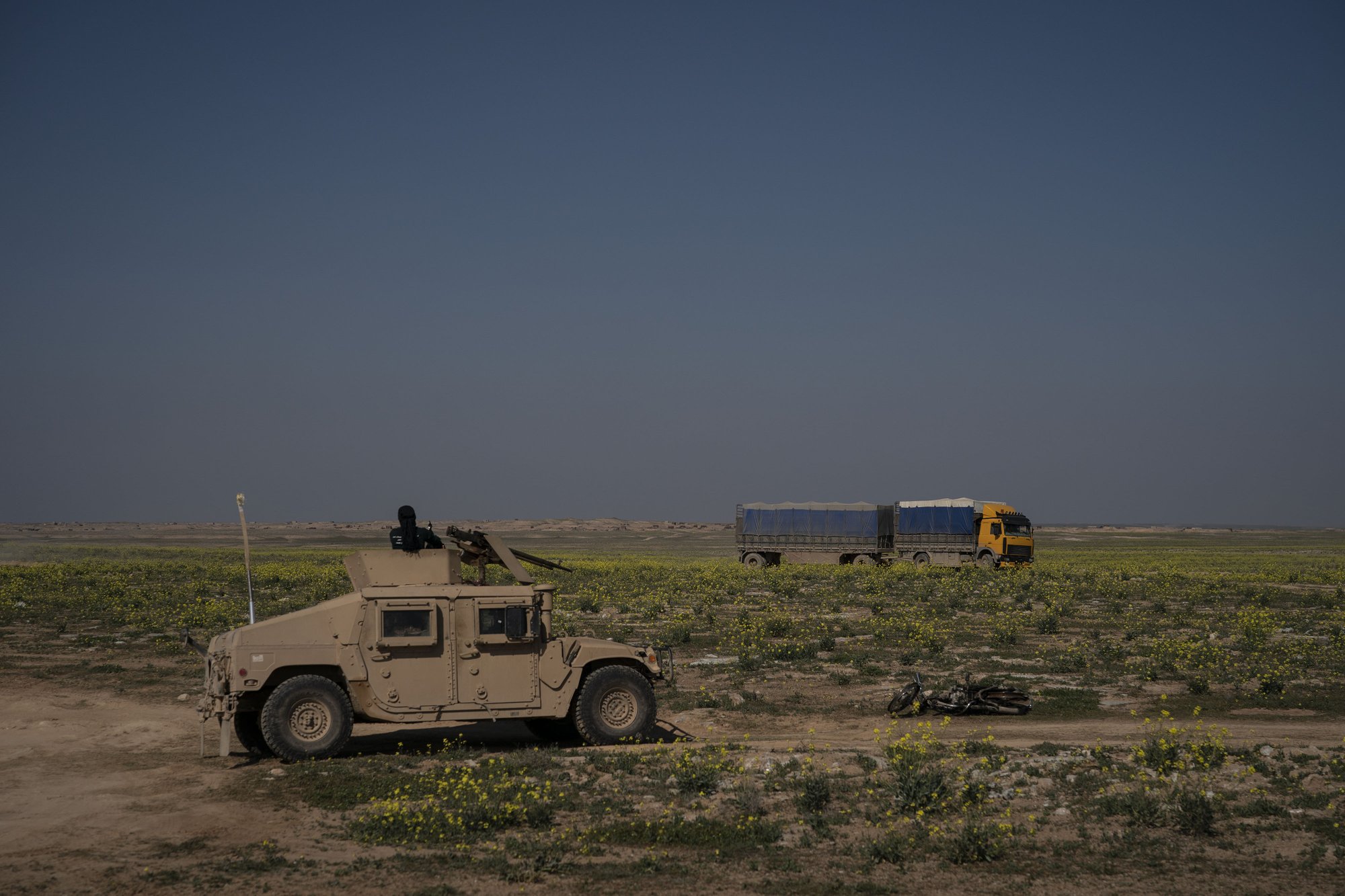 A US-backed Syrian Democratic Forces (SDF) Humvee stands by as a truck that is part of a convoy evacuating hundreds out of the last territory held by Islamic State militants, passes in Baghouz, eastern Syria, Wednesday, Feb. 20, 2019. (Photo: AP)
"The Iraqi national intelligence service arrested 13 French citizens, including leaders of IS group, during a security operation inside Syria," said a report by local al-Furat News Agency, citing anonymous Iraqi intelligence source without giving further details.
Meanwhile, Iraqi media reports also said that the Iraqi intelligence "dismantled, two days ago, the largest Daesh (IS group) cell tasked with funding the terrorist group," according to separate intelligence source.
The dismantled cell members were tracked in more than one regional countries and that some of the group's members were Iraqis, the reports said.
An Iraqi intelligence officer confirmed to Xinhua that a force affiliated to the Iraqi intelligence had dismantled the largest IS cell during the past few days, without giving further details.
Earlier in the day, Qateri al-Obaidi, leader of a paramilitary tribal force in Iraq's western province of Anbar, said that the US-backed Syrian Democratic Forces (SDF) in neighboring Syria handed over a total of 150 IS militants to the Iraqi al-Jazira Operations Command in western Iraq.
"The detainees were captured earlier by SDF during the battles of liberating the last IS stronghold in Baghouz area in eastern Syria," al-Obaidi told Xinhua.
"Most of the IS militants received by the Iraqi forces were criminals wanted by Iraqi authorities, for committing killings and torture against Iraqi civilians as well as fighting against Iraqi security forces," al-Obaidi added.
"The handover process between Iraqi forces and SDF was carried out through cooperation between the Iraqi army and the Iraqi intelligence service," he said.
Earlier in the month, the Syrian Observatory for Human Rights said that around 200 IS militants surrendered to the SDF as part of an undeclared deal in the eastern Euphrates.