At least 50 killed in road accident in northwest Kenya
KERICHO, Kenya, Oct. 10 (Xinhua) - At least 50 people were killed and 14 others injured in a grisly road accident involving a commuter bus in western Kenya early Wednesday, the police said.
Francis Munyambu, regional police commander, said 42 commuters died on the spot while 8 others succumbed to injuries in hospitals.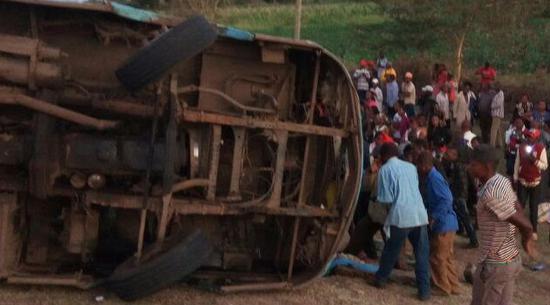 (Photo: AFP)
Munyambu said they have not established the cause of the accident, which happened on the Kisumu-Muhoroni highway at Fort Tenan area in Kericho at around 5 a.m. local time (0200 GMT).
James Mugera, Kericho County police commander said the 67-seater commuter from Nairobi to Western Kenya veered off a flyover while descending a steep slope and rolled several times after hitting a guard rail.
"The cause of the accident is still not clear as rescue efforts continue in the area," said Mugera, adding that the casualties could rise since more people are still trapped in the wreckage.