Ukraine's Roma under attack in wave of hate crimes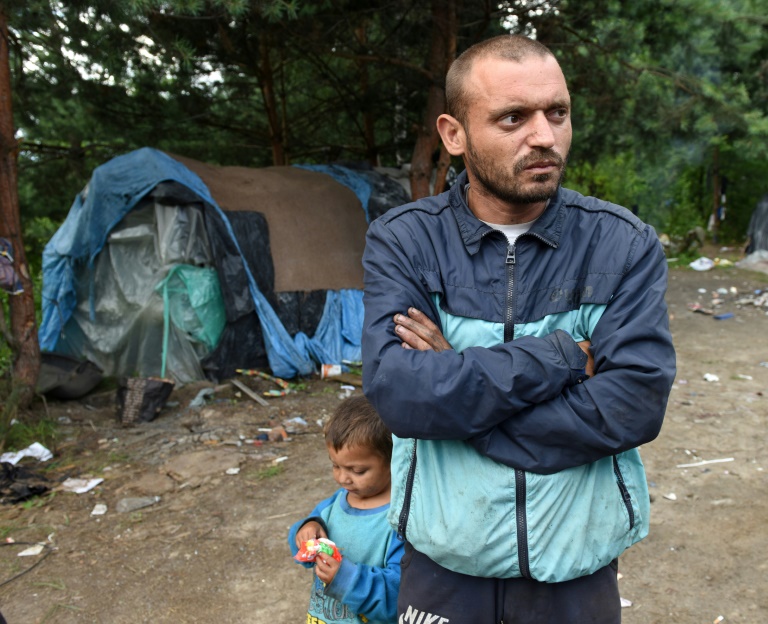 Misha, who lives in a Roma camp on the outskirts of Lviv in Ukraine, said their camp was attacked in early May by men with sticks who beat everyone, including the children.(Photo: AFP)
Blood-stained clothes, shoes and kids' toys lie scattered in several old tents where a Roma man was murdered in an attack on a forest camp in western Ukraine last week.
More than a dozen Roma people were forced to flee the camp outside the city of Lviv after about 10 masked assailants armed with batons and knives attacked them late Saturday.
They killed one and injured four, including a child, officials said.
It was the latest in a string of brutal attacks against Ukraine's 260,000-strong Roma community over recent months. But it was the first such fatal attack. The 24-year-old man died from stab wounds.
Six attacks on Roma settlements have been reported in the capital Kiev and the west of the country since April.
Those wounded in the latest assault received temporary shelter from Lviv authorities. They refused to speak to journalists.
But with the help of a priest who takes care of the local Roma community, AFP reporters reached another camp hidden in the forest on the other side of the city.
Misha, 34, a member of one of four large families that live here, said that their camp too came under attack in early May.
"First they hurled stones. Then they attacked with sticks. They beat everyone, even children," the dark-haired lean man said.
"They burned our camp. The children hid like mice in the bushes," said Klara, a 39-year-old mother of eight, with tears in her eyes as she breastfed a child.
Residents of her 10-tent camp repeatedly shift location to avoid possible assaults.
"We are very afraid of new attacks. We do not know if we can stay here," she said.
Far-right groups
Roma people struggled to explain the increase in attacks but police and rights campaigners pointed to far-right groups.
"We are accused of stealing. But we do not steal anything. We expel from the camp those who steal," another Roma woman also named Klara, 55, told AFP.
"Why do the police not catch those who steal?"
Following the deadly attack, police detained eight suspects: seven attackers aged 16 and 17 and their 20-year-old alleged organiser.
It said the suspects were members of a radical group called Sober and Angry Youth. It has ties to the Azov battalion, a former volunteer force that fought against Russian-backed separatists in eastern Ukraine.
Members of the organisation did not respond to a request for an interview made by AFP via social networks.
A YouTube channel operated by the group was deleted shortly after last week's attack. The channel is called Lemberg Jugend (Lviv Youth in German), an apparent reference to the Nazi-era Hitler Youth.
Members of the group also used in their videos symbols of the far-right Misanthropic Division, a neo-Nazi group that was reportedly launched by radical Ukrainian football fans.
The organisation posted Nazi-themed slogans and pictures on its channel on the Telegram messenger service, where it has just a few dozen subscribers.
Authorities 'negligent'?
In Kiev, AFP spoke to the leader of another far-right group, C14. It was accused of attacking a Roma camp in a park in the capital in April.
A YouTube video showed the group threw stones and sprayed gas at the Roma before burning their abandoned tents.
The group's leader Yevgen Karas said it acted in "reaction to a violation of the law."
He accused the Roma of causing "bonfires and deforestation" and of robbing local residents.
Police said they were placing all Roma camps in Ukraine under protection following the latest deadly attack.
Rights campaigners accused authorities of negligence, saying this made the attackers feel they could get away with it.
"If from the very beginning it had been a tough reaction and all those responsible had been brought to justice... then this would have become a very serious sign for radical groups," Zola Kondur, a vice-president of the Kiev-based Roma fund "Chirikli", told AFP.
"When attackers see that no one is held responsible, then they continue such actions."
Kondur urged the authorities to develop a program to help Roma find employment, improve their living conditions and facilitate access to education for their children.
"We lack mutual understanding and a friendly attitude to... different national minorities and people of different ethnic origins," she said.