Train strike brings UK services to a halt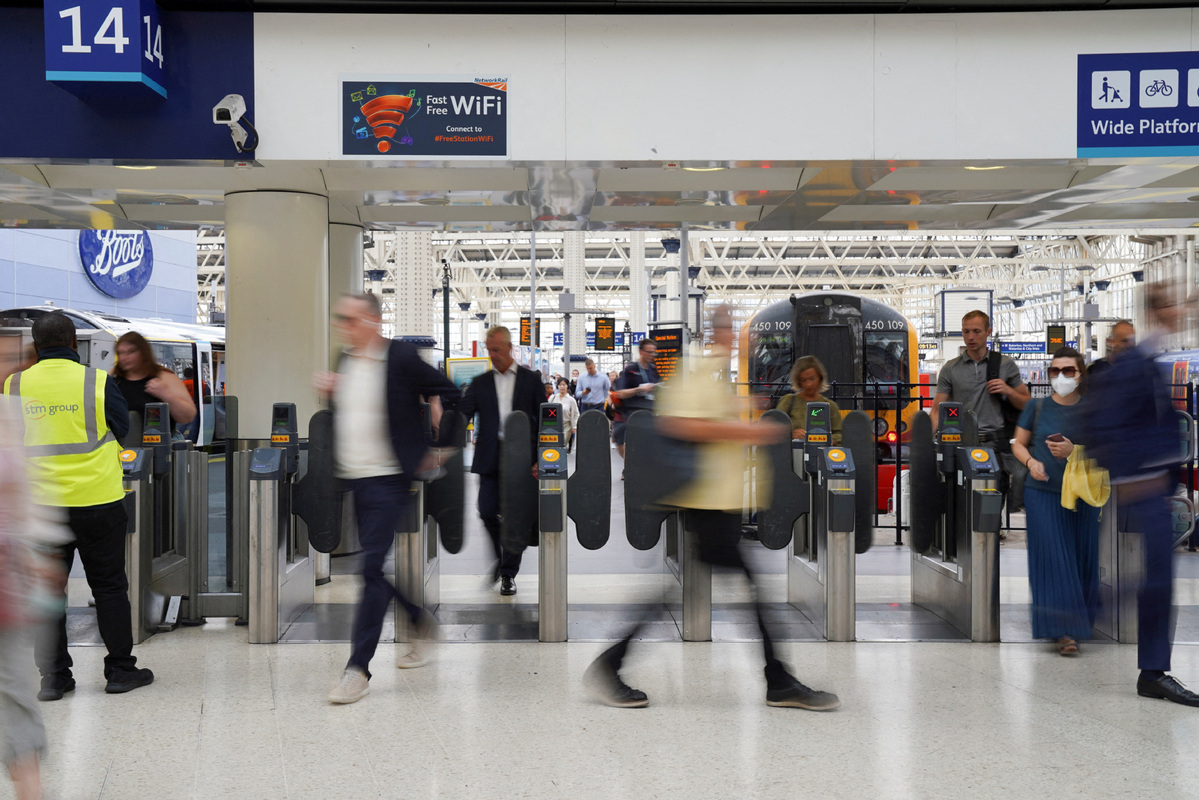 Just 11 percent of railway services across the United Kingdom were running on Saturday, with many areas having no service whatsoever, as four unions combined for the biggest train strike the country has seen in decades.
Up to 50,000 members of the Rail Maritime and Transport Union, or RMT, the Associated Society of Locomotive Engineers and Firemen, or ASLEF, and the Unite and the Transport Salaried Staffs' Association, or TSSA, took part in what is the first of three scheduled days of action. Further strikes are planned for Wednesday and Saturday.
Industrial action that had been scheduled for September was postponed after the death of Queen Elizabeth II, then rearranged for the weekend that the ruling Conservative Party began its annual conference in the West Midlands city of Birmingham.
There were no direct trains from London to Birmingham, Manchester or Edinburgh during the 24 hour walkout. ASLEF general secretary Mick Whelan warned that more are likely to follow.
"The government are making it more and more difficult," said Whelan. "They are telling firms we can't have a pay rise, and lifting the cap on bankers bonuses to four times their salary.
"Food and energy prices are going through the roof, mortgage rates and rent — while we've seen the top 350 FTSE firms increase their profits by 73 percent. Inflation isn't being driven by workers' pay; it's profiteering."
RMT general secretary Mick Lynch apologized to the public for the disruption but said his members had been pushed into their position by the government.
"We don't want to inconvenience the public and we're really sorry that that's happening," he told BBC's Breakfast program. "But the government has brought this dispute on. They (put) the challenges down to us, to cut our jobs, to cut our pensions and to cut our wages against inflation."
Lynch had been at loggerheads with former transport secretary Grant Shapps for some time, but said his successor in new Prime Minister Liz Truss's government, Anne-Marie Trevelyan, was adopting a more constructive tone.
"We need to work as a family to find balance," the new transport secretary told London's Evening Standard newspaper.
"I'm a mum of a family. Negotiation, compromise, everyone not quite getting every vegetable on the plate that they want, or every pudding that they want, that's how life works and in this it's no different," said Trevelyan.
Speaking to Sky News, Lynch said: "All (Shapps) did was go media rounds and hurl abuse at trade unionists and me individually, and other trade union leaders, which is completely unhelpful."
"She's gone onto the media last week and said that she wants to work constructively. I welcome that," Lynch added.
The strike has been criticized for affecting people wanting to travel to the London Marathon, which draws huge crowds and raises enormous sums for charity.
"We don't want to disrupt (runners and spectators), but we have to keep this dispute going on behalf of our members … our action is aimed quite explicitly at the Tory Party conference, which is also happening (on Sunday)," Lynch said.
"So this dispute will continue and, unfortunately, there will be disruption.
"But if we can limit that by getting a settlement to the dispute, that's what we'll do and we'll get everyone back to normal."