US, DPRK consider exchanging liaison officers: report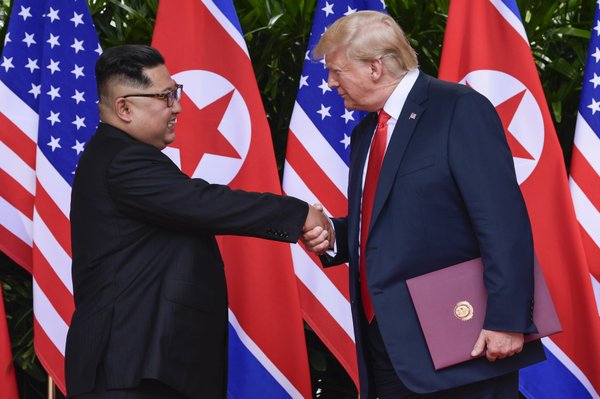 North Korea leader Kim Jong Un and US President Donald Trump shake hands at the conclusion of their meetings at the Capella resort on Sentosa Island in Singapore, June 12, 2018. The newly appointed US special envoy for North Korea will make his first diplomatic trip abroad next week in the Trump administration's latest effort to press for progress in uncertain denuclearization talks. (Photo: AP)
WASHINGTON, Feb. 18 (Xinhua) -- The United States discussed exchanging liaison officers with the Democratic People's Republic of Korea (DPRK), US media reported on Monday.
Washington and Pyongyang were seriously considering exchanging liaison officers, an incremental step toward building formal diplomatic relations, according to a CNN report citing two high-level diplomatic sources.
The sources said that if this plan were to move forward, there would be several US liaison officers sent to set up an office in Pyongyang, led by a senior foreign service officer who speaks Korean.
US State Secretary Mike Pompeo said in an interview last week that a US work team would travel to Asia to prepare for the upcoming summit between President Donald Trump and top leader of the DPRK Kim Jong Un in Hanoi at the end of February.
Stephen Biegun, US special representative for DPRK affairs, said last month that the US side expected to hold working-level negotiations with DPRK in advance of the summit with the intention of achieving a set of concrete deliverables, reiterating that sanctions against the DPRK would not be removed until denuclearization is complete.
Trump announced on Feb. 8 that his second meeting with Kim would take place in Hanoi on Feb. 27-28. He met with Kim for the first time in Singapore on in June 2018, reaching several consensuses, which have led to the improvement of US-DPRK relations.
However, differences on such key issues as the roadmap of denuclearization, U.S. lifting sanctions and whether to issue a war-ending declaration, still haunt the two sides and hinder negotiations.