Kenyans donate blood to show love on Valentine's Day
chinadaily.com.cn
1550234176000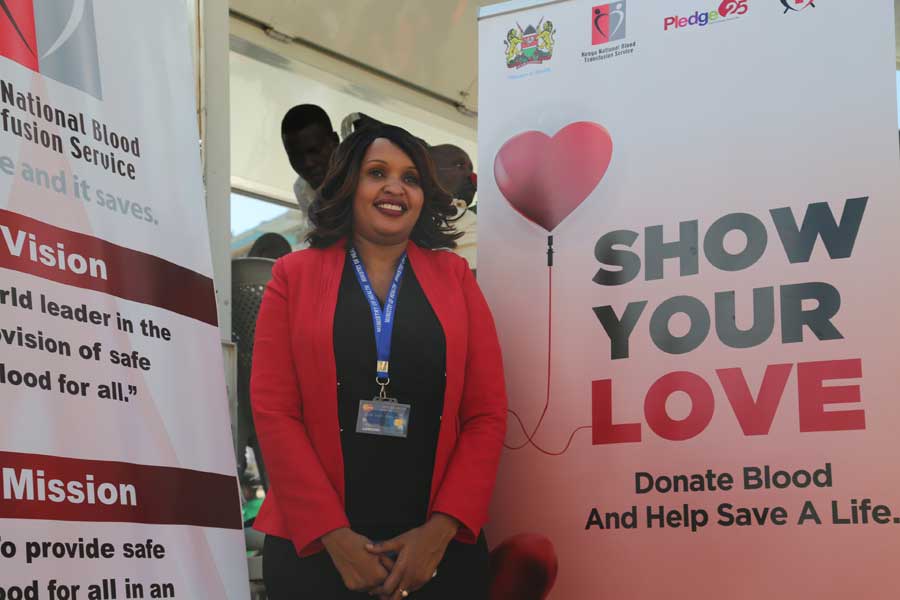 Dr Josephine Githaiga, KNBTS director, during the blood donation drive in Nairobi. (Photo: China Daily)
To mark Valentine's Day on Feb 14, Kenyans showed their love by donating blood.
The blood donation campaign was spearheaded by the Kenya National Blood Transfusion Service (KNBTS), an organization that collects and processes transfusion blood for hospitals.
According to Dr Josephine Githaiga, KNBTS director, while there are many different ways to celebrate Valentine's Day, saving a life through blood donation is one of the best to show love.
Dr Githaiga said their target was to collect 1,000 units of blood from Nairobi and 5,000 from across the country.
She said the institution ran the campaign in 27 counties.
"Our key aim was to sensitize and create awareness among Kenyans that there is an institution where they can get blood. We also wanted to encourage people to embrace the culture of donating blood, in order to curb cases of losing lives due to lack of blood in hospitals," Dr Githaiga said.
She commended Kenyans for their generosity donating blood during emergencies such as the recent Dusit Terrorist attack and during blood donation drives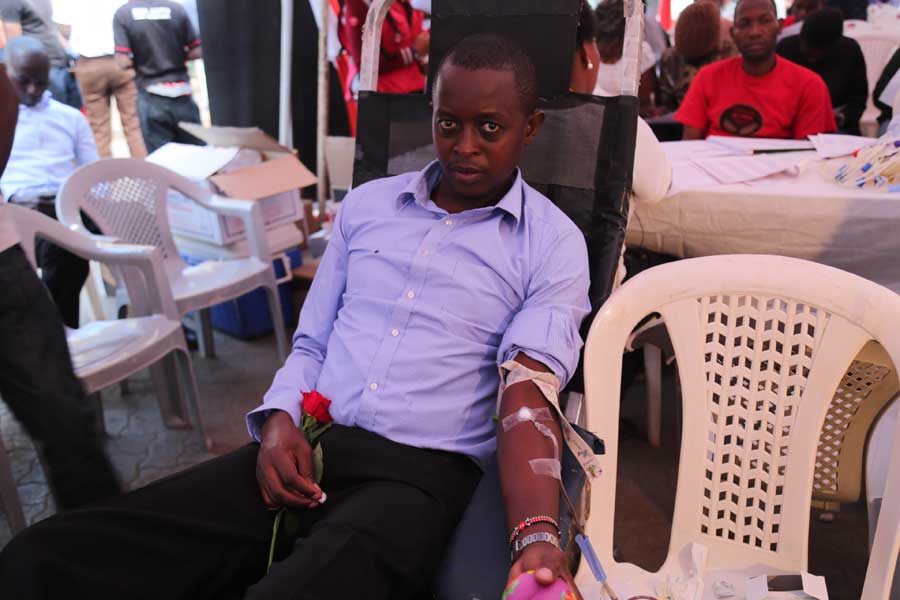 Patrick Wainaina donates blood on Feb 14, during a blood donation drive in Nairobi. (Photo: China Daily)
Patrick Wainaina, one of the blood donors, said he considered the drive an opportunity to make a real difference to someone's life.
"I received blood freely from God, and I'm willing to donate it so that a life can be saved."
Grace Nyokabi, a Nairobi-based businessperson who also participated in the drive, said she was happy that one day her blood could help save a life.
In addition to the donation campaign, Kenyans celebrated Valentine's Day by exchanging gifts with loved ones and taking them out for lunch or dinner.
Businesses ranging from telecoms, hotels, airlines, e-commerce companies and electronic shops offered discounts, while some companies launched customized products like watches and clothing.
Online shop Zawadi Team offered personalized products including notebooks, pens, sweatshirts, hoodies, mugs, leather belts, and key holders, with prices ranging from Ksh850 ($0.9) to Ksh2,500 ($2.5).
Florists also cashed in, while KNBTS gifted every donor with a fresh rose, as did public bus drivers with their commuters.
Supermarkets offered discounts on select products, sending mass text messages to advertise their deals.
Meanwhile commercial banks ran adverts encouraging Kenyans to take out loans to fund their Valentine's celebrations.