ROK police arrest woman owner of banned revenge porn site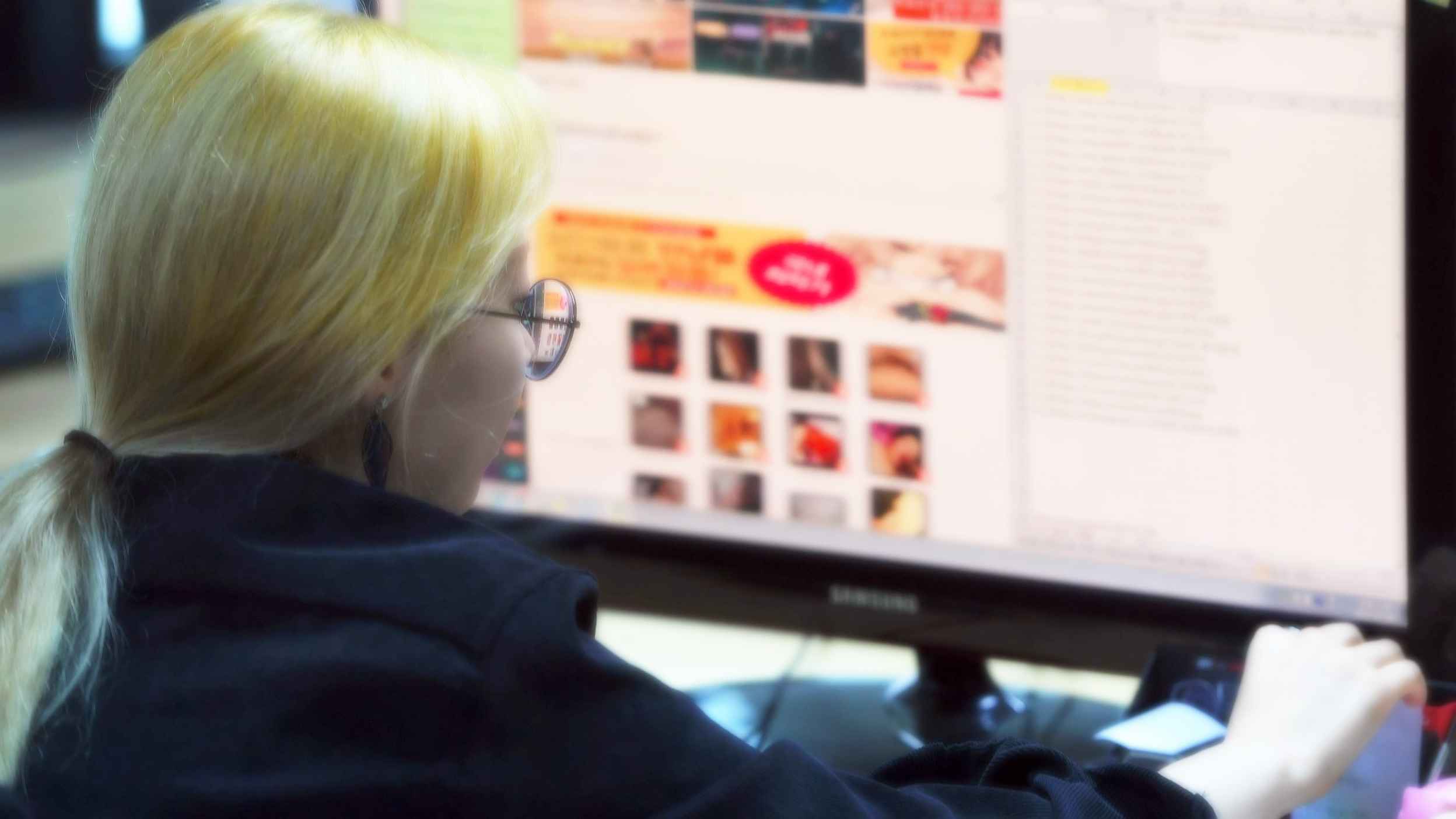 (Cove: Aan employee of Santa Cruise "digital laundry" company monitoring a computer screen to find "revenge porn" at the company in Seoul on July 24, 2017. The company is tasked with taking down videos posted without consent - including so-called "revenge porn." Photo:VCG)
Police in Republic of Korea (ROK) have arrested one of the owners of Sora.com, a banned illegal file-sharing site notorious for revenge porn content, according to several media reports.
The Korea Herald reported that the arrested person is a 45-year-old woman, identified only by her last name Song. She is among a group of four people, which included her husband, who ran the illegal site from 1999 to 2016, when it was banned.
The woman is the first among the four to be placed under arrest. Two more suspects are already in police custody in connection with the case. The report revealed that some of the remaining suspects are foreign passport holders and currently live overseas.
Before getting banned in 2016, Sora.net had more than a million users and hosted thousands of videos taken and shared without the knowledge or consent of the women featured.
A BBC report cited Korean police as saying the website's owners made money from illegal brothel and gambling ads on the site. But the suspect Song has denied the allegations saying the site's users created the illegal content.
Song was detained after her return to Seoul from New Zealand, where she had lived for the past three years. Her Korean passport was suspended by the ROK's foreign ministry last year.
Producing and disseminating pornography is illegal in ROK. Song has been charged under the Children and Juvenile Sex Protection Law.
Police said Song's husband, as well as the two other main suspects, are either Australian nationals of permanent residents in that country. ROK has sought Interpol's help to nab the remaining suspects.
Sora.net is one of the first internet sites that led to rampant online circulation of revenge porn and spy-cam porn in ROK, according to the Korea Herald.
Users would circulate sexually explicit contents - better known as "revenge porn" - without their ex-partners' consent or knowledge, as a form of "revenge" to "punish" the women who chose to leave them. Sora.net users would also post spy-cam videos, secretly captured in toilets or changing room.
ROK authorities so far, have recovered some 80,000 illegal, sexually explicit videos and photos from the now-defunct site. It is estimated that a much higher number of illicit files had been shared among the site's users.
The site was shut following a public outcry. Some of the women who had appeared in the videos took their own lives.