Thailand cave rescue has more complications
People's Daily app
1530921054000
Bangkok (People's Daily) – The sounds of cheers and elation voiced by many when the lost 12 youth soccer players and their coach were discovered on Monday in a Thailand cave have now turned to sounds of concern after rescue efforts turned deadly.
Samarn Poonan, 38, a former member of Thailand's elite navy SEAL unit, died Thursday night as he laid oxygen tanks along a potential exit route deep underground to save the trapped individuals, according to Admiral Arpakorn Yuukongkaew, the director of SEAL.
"We won't let his life be in vain," Arpakorn said. "We will carry on."
Arpakorn said that he thought that the children could stay in the cave for a long time, but that the situation has changed and the trapped individuals have "limited time."
Saving the children and their coach will be difficult, since none of the trapped individuals have diving experience and many cannot swim.
The situation is growing worse, since weather forecasts in the area will have heavy rain in the coming week – meaning that the water level in the cave may rise to dangerous levels.
Rescuers now have to figure out the best options to get the group safely out through several kilometers of dangerously flooded tunnels.
One option had been to keep the 13 inside the cave until the flood waters recede at the end of the rainy season. However, the extra heavy rainfall could complicate this plan.
The rainy season in Thailand generally lasts until around October, meaning that trapped 13 may have to wait four months to get out of the cave. However, rescue experts claim that the oxygen levels in the cave are getting dangerously low and that the trapped children and their coach cannot last that long.
Officials are also considering whether it is possible to drill a shaft into the cave chamber from the mountain above.
"We left the cave and finished our looking for the new entrance when they found the 13 on the night of second of July," said Wang Xudong, director of a Chinese volunteer rescue team. "We still can't find it but now a new and convenient entrance may be necessary."
According to members of SEAL, efforts are being made to find any new entrances to the caves through the mountains.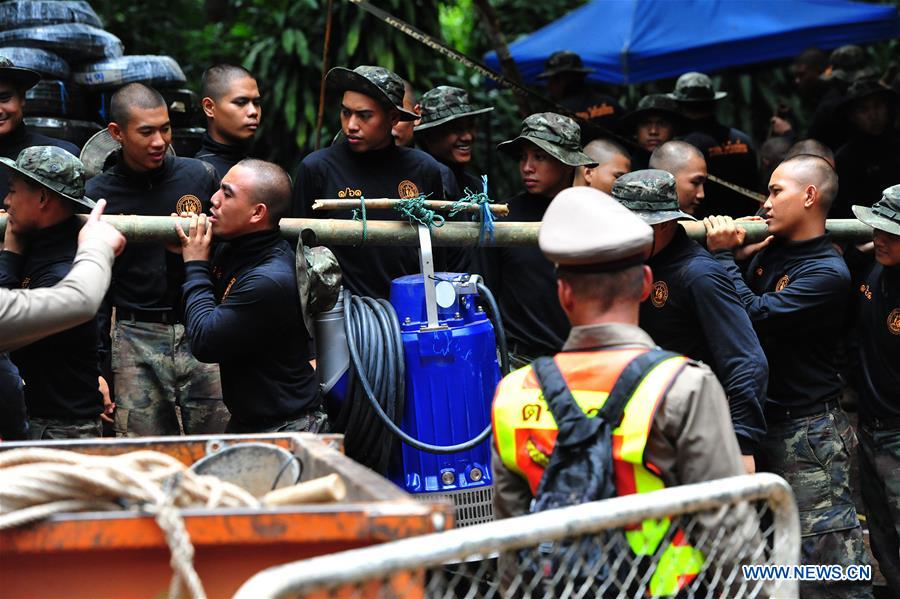 Rescuers carry a giant water pump into a cave in Chiang Rai, Thailand on July 6, 2018. With more rain coming, Thai rescuers are racing against time to pump out water from a flooded cave before they can rescue 12 boys and their soccer coach with minimum risk, officials said Thursday. (Xinhua/Rachen Sageamsak)