Think tanks issue grim unemployment warnings
China Daily Global
1602554531000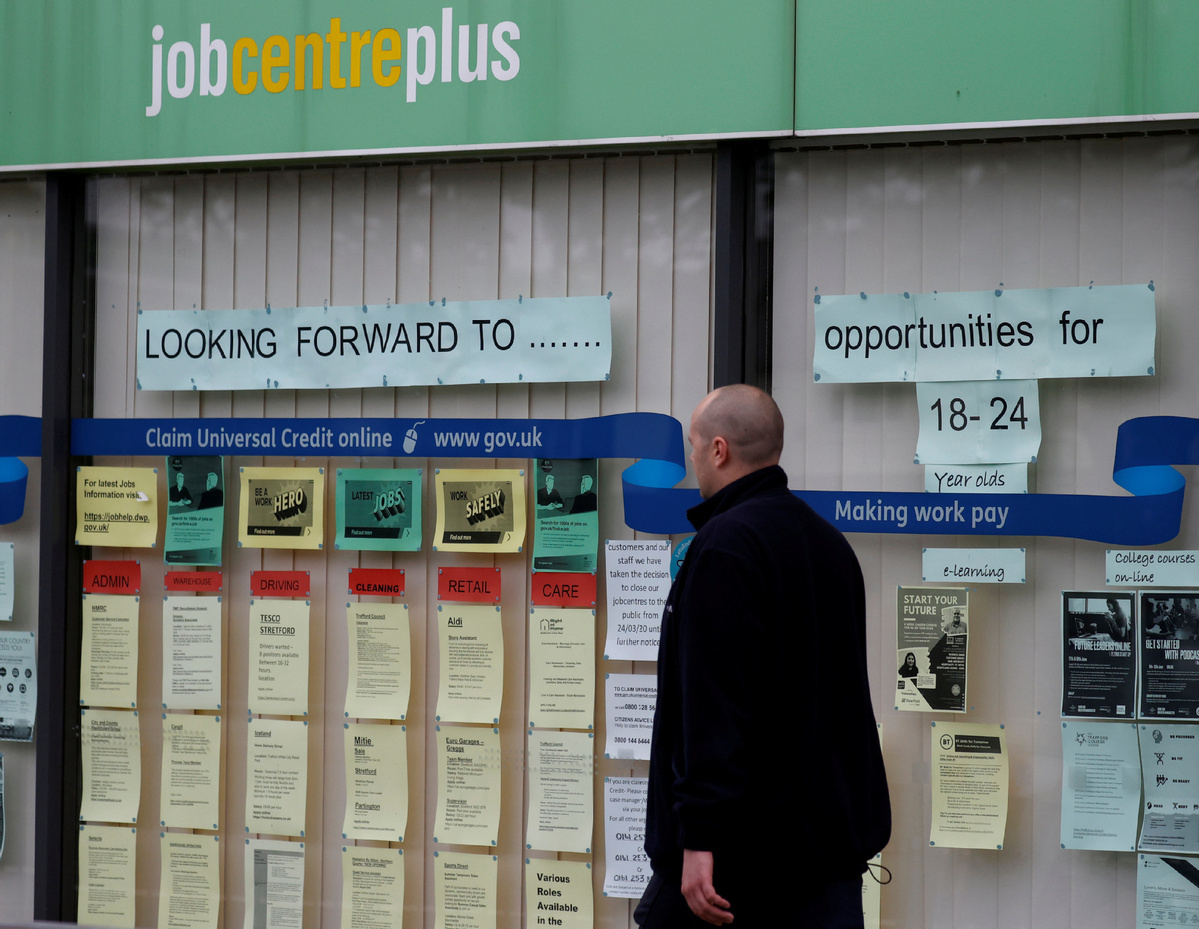 A man walks past a job centre following the outbreak of the coronavirus disease (COVID-19), in Manchester, Britain, July 8, 2020. (Photo: Agencies)
Several leading economic think tanks have warned that Chancellor of the Exchequer Rishi Sunak's efforts to help revive the economy could be wiped out by a second wave of COVID-19 infection, leading to a sharp rise in unemployment before Christmas.
The Centre for Economics and Business Research, also known as the CEBR, says at least 1.25 million more people could lose their jobs between now and the end of the year. Previously, it had estimated the figure would be closer to 1.5 million, but it now says new measures announced by Sunak last week as a follow-up to the furlough scheme could reduce that number slightly.
The Institute of Public Policy Research, or IPPR, paints a bleaker picture, saying as many as 3 million jobs could be lost, and this comes on the back of a survey by law company Fladgate warning that 35 per cent of small and medium-sized businesses feared they would not be around this time next year.
Another think tank, the Resolution Foundation, which focuses on improving the living standards of those on low and middle income, has said the current climate risks producing a "Covid generation" of young people facing up to long-term unemployment in a way not seen since the 1980s.
Currently, youth unemployment stands at a record low of 5.5 percent, but the Foundation says young people, along with pension-age workers, are most economically at risk from a second wave, with fears that youth unemployment among economically active 18-to 29-year-olds, meaning those in work or seeking it, could rise as high as 17 percent.
"With infections rising again, the Covid crisis is sadly far from over," said Foundation president and former government minister David Willetts. "That means the risk of losing a Covid generation to long-term youth unemployment is real.
"But there is plenty that policymakers can do to prevent it, from extra training provision to a greater focus on creating new jobs to support people out of this crisis."
Elsewhere, Labour's shadow business secretary Ed Miliband has warned that fewer than one in 15 jobs in shut-down businesses will benefit from the latest expansion of the Government's job support scheme announced by Sunak last week.
Some sectors, such as events and conferences, and those to do with the wedding business, have all but shut down, but not technically closed, and Miliband warned that huge numbers of people involved in these jobs would be afforded no protection.
He accused the government of putting large sectors of the economy, close to one million jobs, on the "scrapheap" and said minister "urgently rethink their damaging sink-or-swim approach".
Economic forecasting group the EY Item Club says it expects economic growth of no more than 1 percent in the final quarter of 2020.