UK joins call to sanction Russia over Navalny case
China Daily Global
1602213239000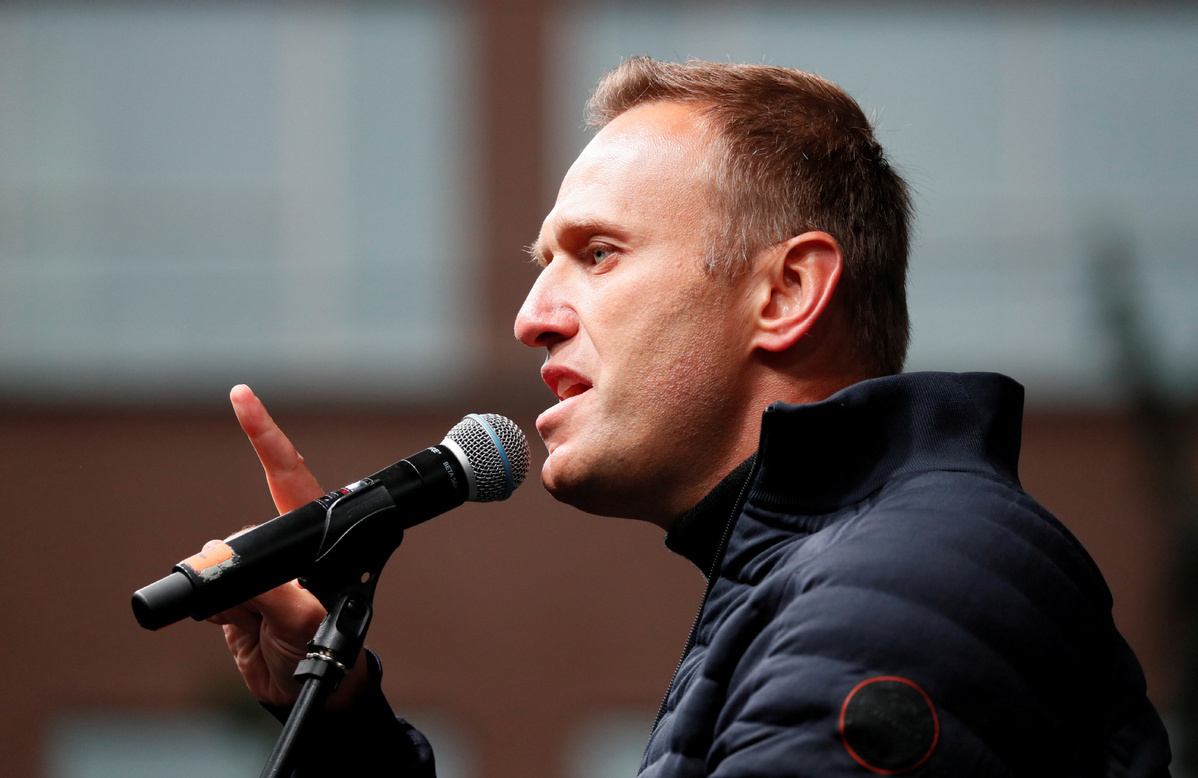 File photo of Alexei Navalny. (Photo: Agencies)
Russia has repeated its strong insistence that it had nothing to do with the alleged apparent poisoning of the prominent opposition politician Alexei Navalny after the United Kingdom joined France and Germany in ramping up allegations against Moscow amid calls for European Union sanctions against it.
The British foreign secretary said he believes evidence points toward Navalny having been poisoned with a military-grade nerve agent that is known to have been developed by Russia.
Dominic Raab said the UK stood, therefore, "side by side" with France and Germany in demanding action against Moscow.
Raab said: "Despite having a clear case to answer, the Russian authorities continue to make no credible attempt to investigate this attack. There is no plausible explanation for Mr Navalny's poisoning other than Russian involvement and responsibility for this appalling attack."
The Organisation for the Prohibition of Chemical Weapons said on Tuesday that nerve agents from the Novichok family of chemicals were found on Navalny after he was taken ill on an aircraft on Aug 20. He has since largely recovered after receiving treatment in Berlin.
Navalny told the BBC's Russian service earlier this week he is now "doing much, much better" but is not yet back to normal.
He said he hopes, eventually, to return to Russia.
Sky News noted that France and Germany initially called for new EU sanctions that would "target individuals deemed responsible for this crime and breach of international norms".
But the Russian Foreign Ministry reacted by saying European nations had replaced earlier comments on the incident with "threats and attempts to blackmail" and insisted it was not responsible for Navalny's illness.
And the German-language news website Der Spiegel reported on Wednesday that two United Nations special rapporteurs will investigate the case.
The Russian news agency TASS said the pair had already arrived in Berlin at Navalny's request and had begun their probe.
The agency said Navalny, who has been described in the West as a Russian opposition politician, legal expert, and anti-corruption activist and who is often described in Russia as a blogger, was initially taken ill on a fl ight from Tomsk to Moscow before being taken to a hospital in the Siberian city of Omsk, where he slipped into a coma and was put on a ventilator in an intensive care unit. He was then taken to a hospital in Berlin.
Kremlin spokesman Dmitry Peskov told TASS Russia will cooperate with Germany but that no poisonous substances had been detected in Navalny's system before he was transferred to Berlin.
Navalny has claimed in online videos that he was silenced by the Russian secret service ahead of elections in Russia, a claim Moscow vehemently denies.
Al Jazeera, the state-owned broadcaster in Qatar, noted that regional elections took place in Russia between Sept 11 and Sept 13 and that Navalny's allies made gains.
It said Russia's parliamentary elections are due to take place in September 2021 but that there is a chance they will be brought forward.